Pittsburgh Selects Hard-Throwing LSU Pitcher Paul Skenes with Top Pick of Amateur Draft
17:44 JST, July 10, 2023
SEATTLE (AP) — LSU's stars stole the spotlight at the College World Series. It carried over to the top of baseball's amateur draft.
The Pittsburgh Pirates selected hard-throwing LSU right-handed pitcher Paul Skenes with the top pick in the draft on Sunday night, with teammate Dylan Crews going No. 2 to the Washington Nationals.
It's the first time in the draft's history teammates went 1-2.
"It's super humbling. I was in shock when I heard," Skenes said. "A year ago, two years ago, I never through it was a possibility to be the first overall pick. I don't know what I was expecting going into today, but it means a lot."
Skenes went 12-3 with 209 strikeouts in 122 2/3 innings in helping lead the Tigers to the College World Series championship. The pick was announced by Hall of Famer Ken Griffey Jr., the top pick of the 1987 draft by the Seattle Mariners.
Skenes was the first college pitcher selected No. 1 overall since Casey Mize by Detroit in 2018.
"He had an incredibly special season at LSU. He obviously took another step forward this spring," Pittsburgh general manager Ben Cherington said. "It's a really special combination of pitches and just as much about the mix and command than any one pitch."
For the second time in three years, the Pirates held the top overall selection thanks to winning the first draft lottery and jumping Washington in the selection order. The Pirates picked catcher Henry Davis at the top in 2021; he made his major league debut last month for Pittsburgh.
Skenes' signing bonus is expected to be near the slot value of about $9.7 million. Cherington said the hope is an agreement can come quickly and Skenes could pitch somewhere in the Pirates organization in 2023.
"It will have been a little while since he last pitched in the World Series and we want to be sure that whatever that schedule and progression looks (like) makes sense for him," Cherington said.
It seemed to be a debate between Skenes and Crews for the top pick. It didn't take long for Crews to come off the board after hitting .426 with 18 home runs while playing center field for the Tigers. Crews had a 26-game hitting streak as part of his standout season for the Tigers and finished his career at LSU by reaching base in each of his final 75 college games.
Crews said he's never been to Washington, but saw plenty of the Nationals while growing up and watching Bryce Harper.
"Seeing him in a Nationals uniform, it was pretty awesome," Crews said. "I'm going to play my game and hopefully have as much impact as him. … He's just a complete player."
Crews is the first college position player taken by Washington with its first pick since Anthony Rendon in 2011.
"A guy we've watched since he was in high school," Nationals president of baseball operations Mike Rizzo said. "He's the type of guy that we want here in Washington. He's a terrific person. He's got great character. He's very competitive and he's a winner."
Four LSU players total were selected on the first day, with right-handed pitchers Ty Floyd (No. 38 by Cincinnati) and Grant Taylor (No. 51 by the Chicago White Sox) also picked.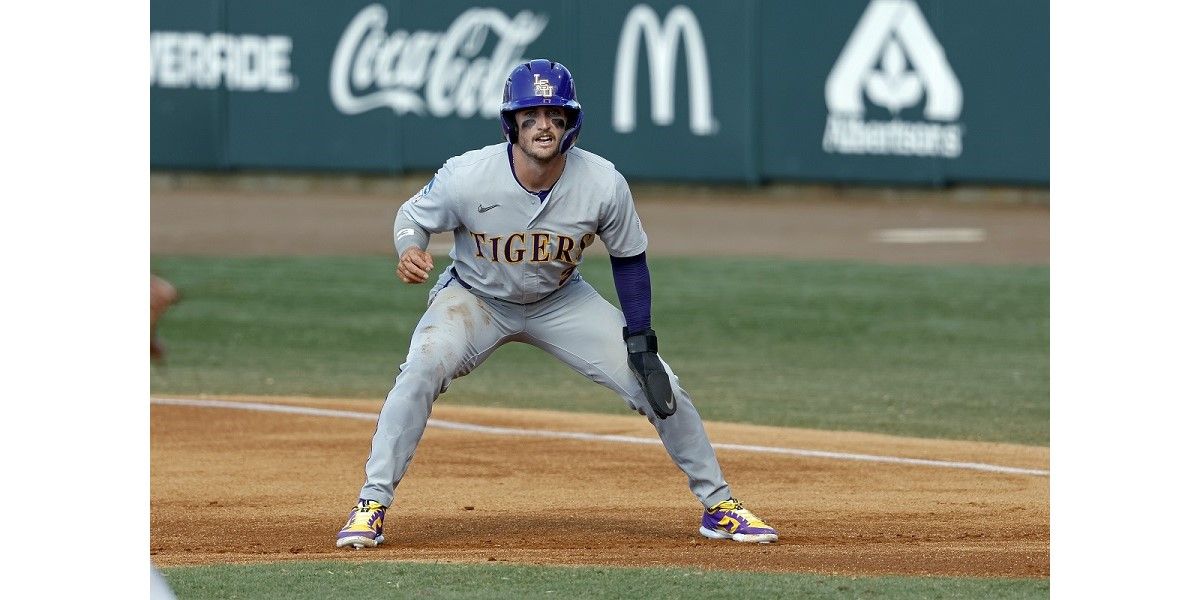 Detroit selected high school outfielder Max Clark from Franklin, Indiana, at No. 3. Clark was the Gatorade national player of the year after hitting .646 with six homers and 33 RBIs during his high school season.
But the first round was tilted to college players, with 17 of the 28 selections.
Florida outfielder Wyatt Langford went No. 4 to Texas, and high school outfielder Walker Jenkins, from Oak Island, North Carolina, went fifth to Minnesota.
Oakland took college shortstop Jacob Wilson, the son of former major league shortstop Jack Wilson, from Grand Canyon at No. 6.
Wake Forest right-hander Rhett Lowder went No. 7 to Cincinnati, Kansas City selected high school catcher Blake Mitchell, from Sinton, Texas, at No. 8, and Colorado picked Tennessee right-hander Chase Dollander.
The top 10 concluded with Miami selecting high school righty Noble Meyer from Jesuit High School in Portland, Oregon.
The first round ended with Houston taking Nebraska shortstop Bryce Matthews at No. 28, but only after Commissioner Rob Manfred had to pause due to boos about the mention of the Astros.
Seattle was the only team with three picks in the first 39 selections after becoming the first team to be awarded an extra promotion incentive pick under the new collective bargaining agreement. That pick was the result of Julio Rodríguez winning AL Rookie of the Year last season and getting a full year of major league service.
Seattle used that incentive pick to take high school outfielder Jonny Farmelo, from Chantilly, Virginia. Seattle also selected high school shortstops Colt Emerson, from New Concord, Ohio, at No. 22 and Tai Peete, of Sharpsburg, Georgia, at No. 30.
The New York Mets and Los Angeles Dodgers each had their first picks dropped by 10 spots for going more than $40 million over the luxury tax threshold last year. The Mets picked 32nd and Dodgers 36th.
The Mets took high school shortstop Colin Houck from Lilburn, Georgia, at No. 32 overall and the Dodgers picked high school outfielder Kendall George from Humble, Texas, at No. 36.
Add TheJapanNews to your Google News feed.