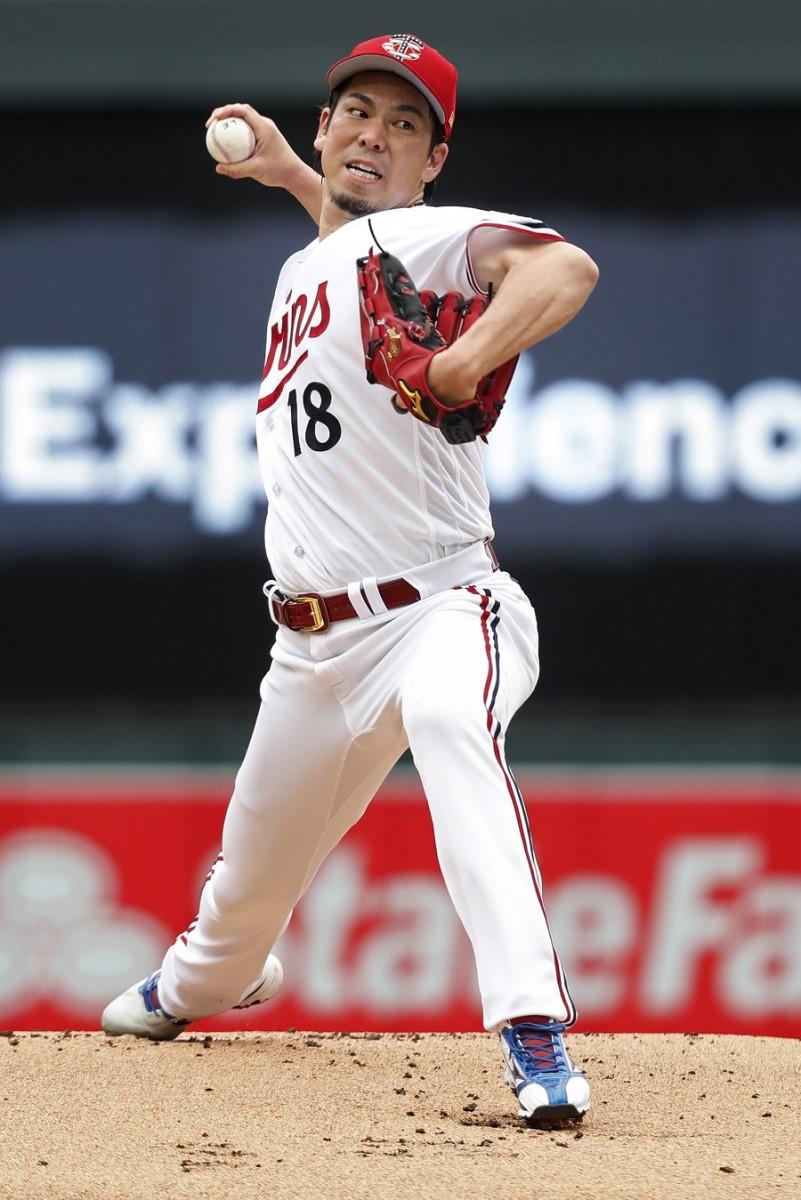 10:19 JST, July 5, 2023
MINNEAPOLIS (AP) — Max Kepler had four RBIs, including a three-run homer, while Kenta Maeda continued his strong comeback from the injured list for the Minnesota Twins in a 9-3 win against the Kansas City Royals on Tuesday.
Donovan Solano and Byron Buxton each had three hits and added back-to-back homers in the fifth inning for Minnesota, which has won four of five after being swept in Atlanta that caused manager Rocco Baldelli to criticize his team's effort. Carlos Correa added a third-inning single for his 1,000th career hit at 28 years old.
Maeda (2-5) made his third start since coming off the injured list for a right triceps strain. He gave up two runs and three hits in a season-high seven innings. He struck out nine. In the three starts, Maeda has given up just three earned runs in 17 innings.
"I had the time to look over my mechanics while I was on the IL," Maeda said through an interpreter. "And now I can concentrate on each hitter I'm facing, so that's a plus. I can attack with confidence and not have to worry about the mechanics. That's huge."
The 35-year-old right-hander was the Cy Young Award runner-up in 2020 for the Twins, but he struggled in April in his return from Tommy John surgery that kept him out all last season.
"What we saw today was basically the very good version of Kenta that we've seen a lot of," Minnesota manager Rocco Baldelli said. "We know what that looks like. It's almost surgical out there the way he goes about attacking the hitters."
Zack Greinke (1-9) started for Kansas City, giving up six runs in 5 1/3 innings before leaving with a team athletic trainer. After Jose Miranda's popup to shortstop to lead off the sixth, catcher Salvador Perez immediately called to the dugout for a trainer and manager Matt Quatraro.
While he showed no signs on the mound, the team announced that Greinke left the game with right shoulder discomfort. Quatraro said the discomfort is "very mild" and not "overly concerning."
"He's very good about knowing how he feels and letting us know how he feels," Quatraro said. "So, it was definitely the right thing to do to get him out of there."
Greinke hasn't won a road start since Aug. 13, 2021. He's 0-15 with a 6.39 ERA in 26 starts during that span.
Bobby Witt Jr. added his 13th homer of the season for Kansas City.
Add TheJapanNews to your Google News feed.