Turner Homers Twice, Including Grand Slam, to Help Red Sox Rout Rival Yankees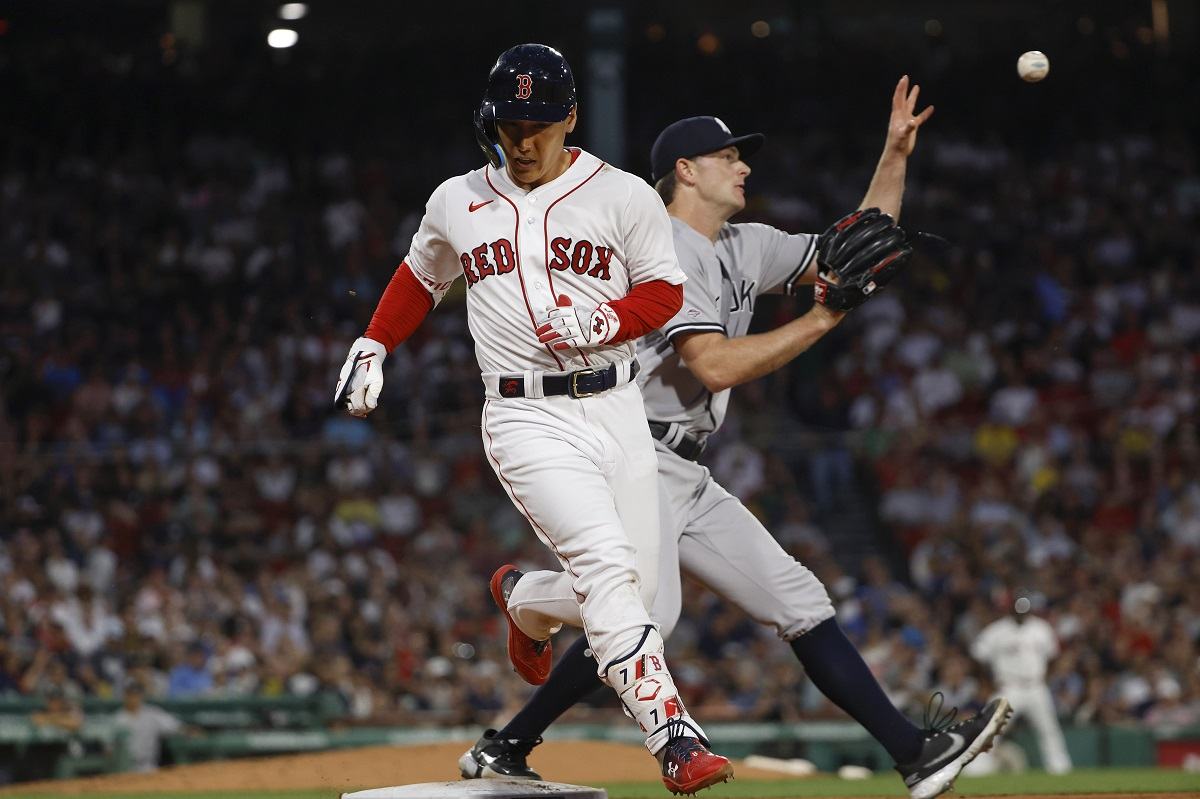 16:09 JST, June 17, 2023
BOSTON (AP) — Red Sox manager Alex Cora has sounded hopeful tones about his team possibly turning a corner after an up and down first half.
In its first Fenway Park matchup against the Yankees, Boston's bats combined with New York's fielding follies to give the Red Sox their biggest offensive night this season.
Justin Turner had a grand slam, a two-run homer and a double, Masataka Yoshida drove in three runs and the Red Sox routed the New York Yankees 15-5 on Friday.
"It was just good offense all the way around," Turner said. "Using the whole field. Our left-handed hitters just wore out the Monster all night."
Turner tied his career high with six RBIs and scored three runs, and Yoshida had four hits. Boston earned its third victory in four meetings with its rival after winning two of three last weekend at New York.
Boston's 15 hits and 17 hits marked season highs, and the Yankees tied their season high for runs allowed.
"JT hit the ball in the air a few times. Finally, I think this is probably the hottest game we've played all season," Cora said of the 73-degree gametime temperature. "It seems like every game we've played has been in the 50s. Today it felt like summer. You know how it plays here, the ball will carry."
Tanner Houck gave up one run and four hits with two strikeouts and a walk before leaving the game in the fifth inning after being struck in the face by a line drive by Kyle Higashioka.
Houck immediately went to the ground and stayed down for a few minutes while he was attended to by athletic trainers. His right cheek was bleeding, but he was able to get to his feet and walk off the field on his own power. He received stitches and was checked out in a hospital.
"He was conscious the whole time, so that's good," Cora said. "But he got lucky."
Houck was replaced by Joe Jacques (1-0), who gave up three runs over two innings for his first big league win.
Aaron Judge missed his 10th game since spraining his right toe. The Yankees are 8-12 with Judge on the injured list and 31-19 when the AL MVP is available.
The Yankees were credited with just two errors but were out of sorts defensively throughout. They made wild throws, mishandled ground balls and were out of position other times, allowing infield hits.
"Overall we just did not play a very clean game," Yankees manager Aaron Boone said.
Yankees starter Domingo Germán (4-4) was chased in the third inning after he gave up a leadoff double to Adam Duvall, RBI single to Yoshida and double to Christian Arroyo. Germán allowed seven runs, his most since June 13, 2021, at Philadelphia, while allowing seven hits, two walks and a wild pitch.
He was replaced by Matt Krook, a 28-year-old left-hander who made his major league debut after being on the roster for 12 prior big league games. Krook got two outs via grounders before Pablo Reyes scored off a groundball to third that was mishandled by Josh Donaldson.
Alex Verdugo singled to load the bases, and Turner cleared them with his second homer of the night, a 429-foot drive to center field.
Krook's night ended in the fourth after 1 2/3 innings that saw him give up three runs, four hits and a walk.
Add TheJapanNews to your Google News feed.