Ohtani Pitches 7 Innings, Reaches Base 5 Times as Angels Beat Orioles 9-5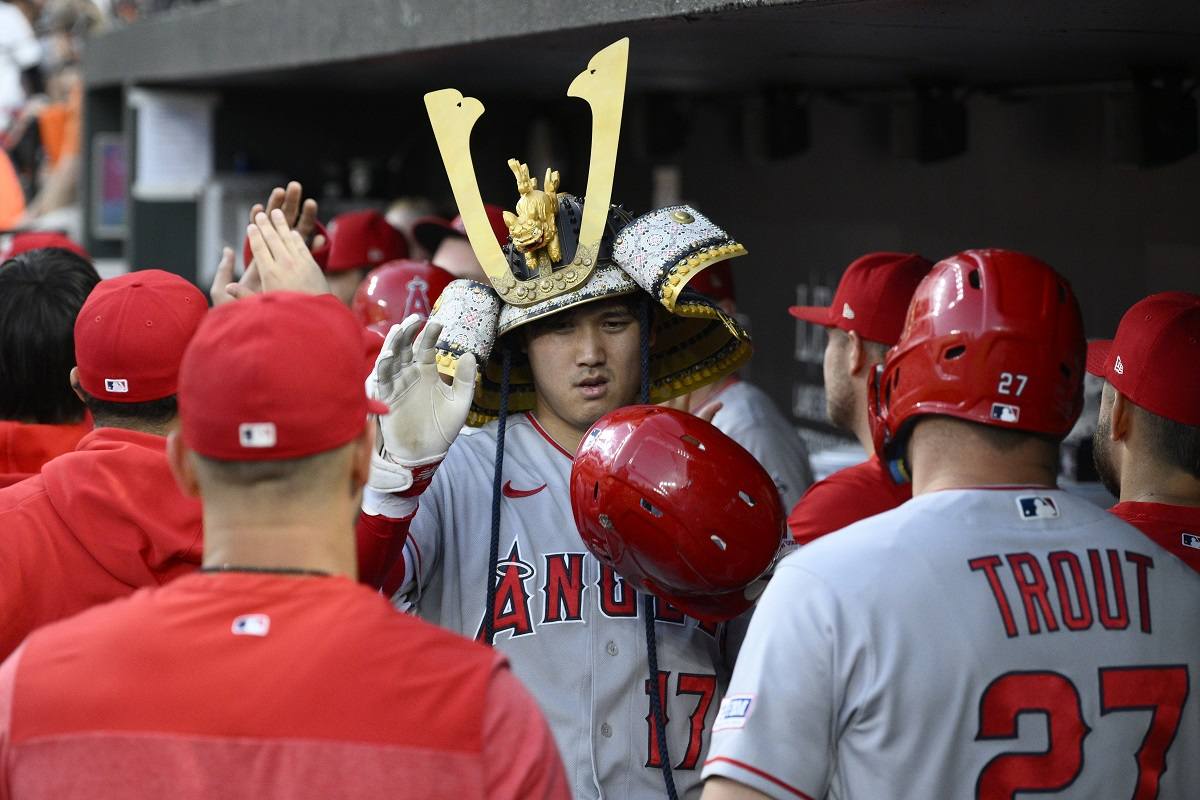 12:10 JST, May 16, 2023
BALTIMORE (AP) — Shohei Ohtani turned a shaky start on the mound into another night of historic excellence.
Ohtani became the first starting pitcher since 1964 to reach base five times in a game as the Los Angeles Angels beat the Baltimore Orioles 9-5 on Monday night. Ohtani had four hits and a walk, making up for his pitching struggles with a stellar performance at the plate. He hit a titanic three-run homer and finished a double shy of the cycle on a night the Orioles hit three home runs off him.
"I'm sure all those records come because the sample size is so small, so I don't really look too deeply into it," Ohtani said through a translator.
The sample size — of players who can hit and pitch like this — is indeed small. That is, of course, what makes Ohtani such a marvel. The last person to reach base five times in a game he started on the mound was Mel Stottlemyre of the New York Yankees, on Sept. 26, 1964, against Washington.
Ohtani (5-1) allowed five runs on four hits in seven innings, but he did plenty of damage with a bat in his hands. In addition to his 456-foot drive in the fourth that gave the Angels a 7-4 lead, he had a walk, two singles and a triple.
"He's a once-in-a-generation player. Once in a lifetime, really," Orioles infielder Adam Frazier said. "Special guy, and I'm glad to say I can compete against him, because it's fun. He brings out the best in everyone."
Needing a two-base hit for the cycle, Ohtani grounded into a forceout in the seventh. In the ninth, there was an audible cheer from the Baltimore crowd when Mike Trout drew a two-out walk to give Ohtani another plate appearance. He singled directly to the left fielder, and there was no real chance of it turning into a double.
No starting pitcher has ever hit for the cycle, according to Sportradar.
"I was definitely happy to see that walk give me a shot for the cycle," Ohtani said. "But I failed."
Orioles rookie Grayson Rodriguez (2-1) allowed eight runs and nine hits in 3 1/3 innings. With the score tied at 4 in the fourth, Ohtani connected for his ninth home run of the season. The ball appeared to bounce off the gate behind the seating area in right-center field at Camden Yards.
"I was actually pretty relaxed at the plate today," Ohtani said. "Hung the curveball in a good spot. I didn't even really take a hard swing, but the ball went where it went."
Matt Thaiss added an RBI double that inning. Then in the fifth, Ohtani tripled and scored his third run of the game on Hunter Renfroe's double.
The Orioles had more success against Ohtani while he was pitching. Frazier hit a two-run homer in the second to give Baltimore a 2-1 lead, and after Gio Urshela of the Angels hit a two-run double in the third, Anthony Santander answered with a two-run homer in the bottom of the inning to put the Orioles up 4-3.
Chad Wallach led off the fourth with a home run for the Angels, and they went on to score four more runs in the inning.
Cedric Mullins hit a solo shot for Baltimore in the fifth. After allowing only two runs in 28 innings through his first five starts, Ohtani has allowed 17 runs in 25 innings over his past four. In those last four starts, he's yielded eight home runs.
"Sometimes he does get tired," manager Phil Nevin said. "Impressive night. I know he gave up the five runs, but … the damage was minimal because the hits were down. Not a lot of guys on base."
Add TheJapanNews to your Google News feed.