14:24 JST, April 27, 2023
ANAHEIM, Calif. (AP) — Brandon Drury spent his first three weeks with the Angels in a fog. The veteran found his way out of it right when the lowly Oakland Athletics came to Anaheim.
Drury homered, doubled and drove in three runs in his third straight monster game, and Shohei Ohtani hit a late two-run homer in Los Angeles' 11-3 victory Wednesday night.
Drury had an RBI double in the second, and he hit a two-run homer in the fifth to put Los Angeles up 8-3. The well-traveled utility infielder started slowly with his new team, batting .179 in his first 20 games, but he is 7 for 13 with three homers and nine RBIs in the Halos' first three games against Oakland this week.
"Ball is a crazy game," Drury said. "You start thinking a little bit too much and trying a little bit too hard. It's one of those games where you've just got to keep going, because you never know. You take that one swing or see that one pitch, and you remember, 'That's it. That's what it was.'"
Drury said he took that one swing on a homer against Oakland's Ken Waldichuk on Monday, and it helped him to reset his mind and his body.
"It's all feel for me," Drury said. "When I'm in there thinking about what I'm supposed to be doing, I'm really bad, as you saw the first three weeks. It's as bad as it gets. And when I'm just in there trusting myself, being the dangerous hitter that I am, it's a lot better. … For me, I'm good when I'm not thinking."
Hunter Renfroe also homered and Ohtani drove in three runs for Los Angeles, which has won four of six. Oakland became the fifth team in major league history to lose 20 games in April.
Drury, Matt Thaiss and Zach Neto all had run-scoring doubles in the Angels' five-run second inning against Oakland's Luis Medina (0-1), who gave up seven earned runs and eight hits over five innings in his major league debut.
Patrick Sandoval (2-1) became the only Angels starter other than Ohtani to last seven innings in a game this season, yielding six hits and two earned runs with a wealth of run support.
"We raked one through nine," Sandoval said. "It's awesome. It's going to be fun this year."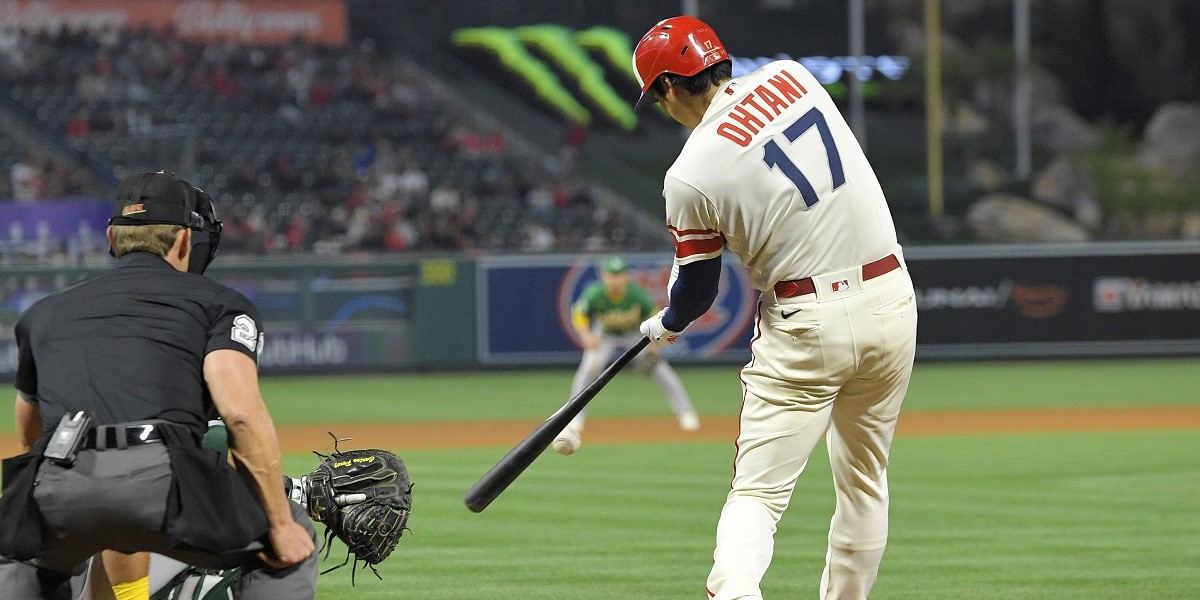 Kevin Smith hit his second homer of the series for the A's, who have lost 11 of 13. The April record is 22 losses by the 1988 Baltimore Orioles, and Oakland still has four games to play before May.
Esteury Ruiz had two hits and drove in a run while stealing four bases for Oakland, becoming only the third A's player to swipe that many bags in the past 30 years. He stole second base three times, and he stole third in the third inning as well.
Medina is a former Yankees prospect acquired by Oakland last year, and the 23-year-old right-hander from the Dominican Republic got the call to the majors Tuesday after only three Triple-A starts.
His fastball touched 99.9 mph in a clean first inning at the Big A, but the Angels batted around in the second. Thaiss had a two-run double among Los Angeles' five hits.
Renfroe then led off the third with his seventh homer in April, the most in a single month in his career.
Ohtani tacked on his sixth homer in the eighth inning.
Shintaro Fujinami pitched two innings of two-hit relief for Oakland in his first appearance since being moved to the bullpen Monday.
UP NEXT
Ohtani (3-0, 0.64 ERA) has the sixth outing of his spectacular pitching season while carrying a streak of 12 straight starts allowing two or fewer runs. Oakland finishes the series with JP Sears (0-1, 4.98) on the mound.
Add TheJapanNews to your Google News feed.