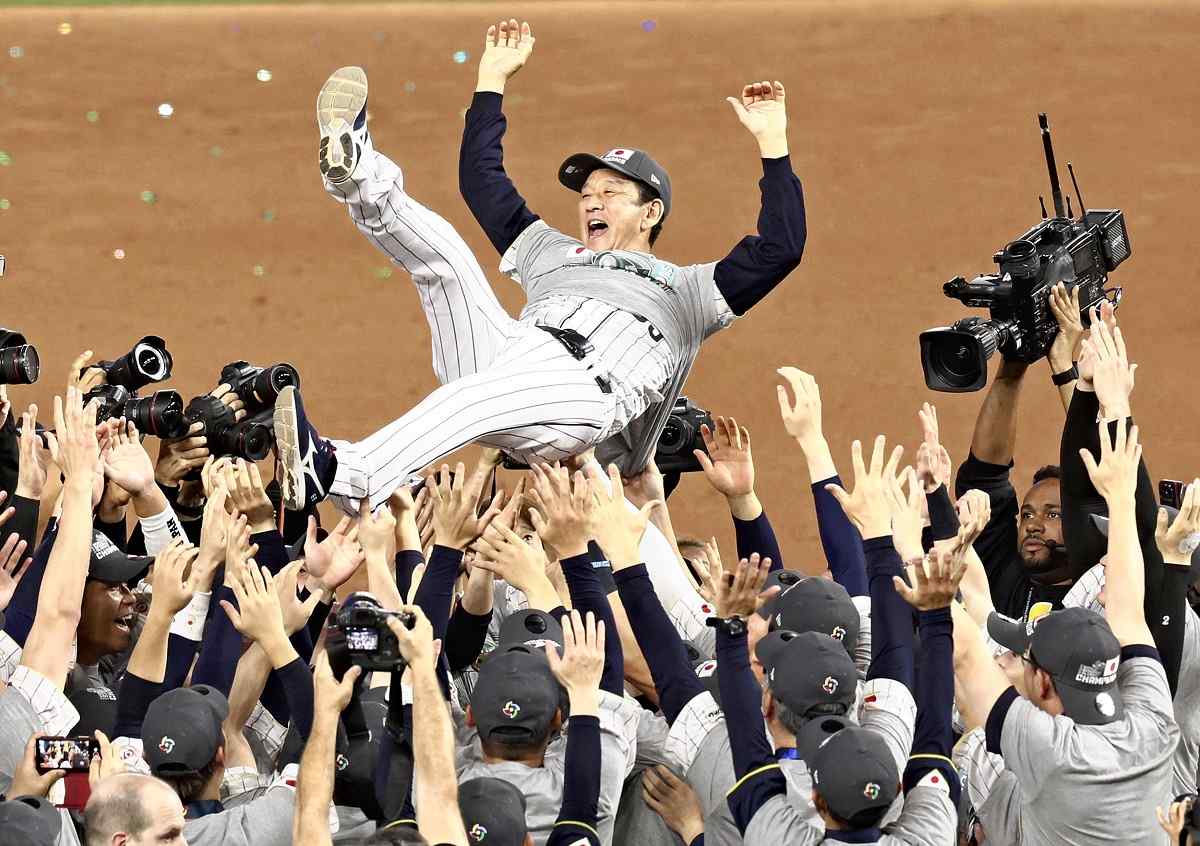 2:00 JST, March 23, 2023
MIAMI — Los Angeles Angels superstar Shohei Ohtani was the starting pitcher against China, Japan's first opponent in this year's World Baseball Classic. He was also the designated hitter, batting third in the lineup, during the game at Tokyo Dome on March 9.
Japan won that game 8-1 with Ohtani getting the win. He pitched four innings, giving up one hit with five strikeouts, while going 2 for 4 at the plate with two walks, a double and two RBIs.
From the dugout, manager Hideki Kuriyama watched the two-way player and reportedly murmured, "Looks like he's turned out fine."
Kuriyama was the manager of the Hokkaido Nippon-Ham Fighters when Ohtani started his professional career there in 2013. Together, they approached the challenge of making Ohtani a two-way player, a rarity in professional baseball.
At the time, some critics said they were making a mockery of the game.
Kuriyama first used Ohtani mainly as a pitcher. His plan consisted of Ohtani not playing in the game after he had pitched and not pitching in the game after he had batted.
In 2016, Kuriyama employed Ohtani as a true two-way player. While paying close attention to any injury risks, he had Ohtani pitch and bat as the designated hitter in the same game.
Ohtani moved to the Angels in 2018 and sought to stay as a two-way player in the major leagues.
"Many fans have been supporting me" to be a two-way player, Ohtani said. "It's not something that belongs only to me anymore."
Since then, he has overcome surgeries to his right elbow and left knee to become the MVP of the American League in 2021 and this year's WBC.
In the past six years, Kuriyama had of course seen video of Ohtani, but hadn't had the two-way superstar play for him. Finally, Kuriyama could see with his own eyes how Ohtani has grown into the role they had started planning a decade ago.
Ohtani appeared in the starting lineup for every Japan game. There was some thought that Kuriyama would rest him for the third first-round game, against the Czech Republic, after the team had beaten South Korea in its second game, but the manager didn't hesitate to write Ohtani's name on the lineup card. With Ohtani stronger than ever, Kuriyama had great confidence in his star player.
Before the opening game against China, Kuriyama had this to say: "How we begin is very important. I'm going with Shohei Ohtani. That's all there is to it."
For the quarterfinal against Italy, Kuriyama again named Ohtani the starting pitcher.
"Pitching and hitting as a two-way player," Kuriyama said, "that's his style."
In Tuesday night's final against the United States, Ohtani came on in relief to close out the game in the ninth inning. He preserved Japan's 3-2 victory by striking out Angels teammate Mike Trout, the U.S. captain.
Ohtani, who had dreamed of playing in the major leagues, and his manager Kuriyama, who helped prepare him for MLB, have spun a second chapter in their story after six years apart, culminating in a deserved championship.
Add TheJapanNews to your Google News feed.