Great East Japan Earthquake Survivor Roki Sasaki Throws With Gratitude For Support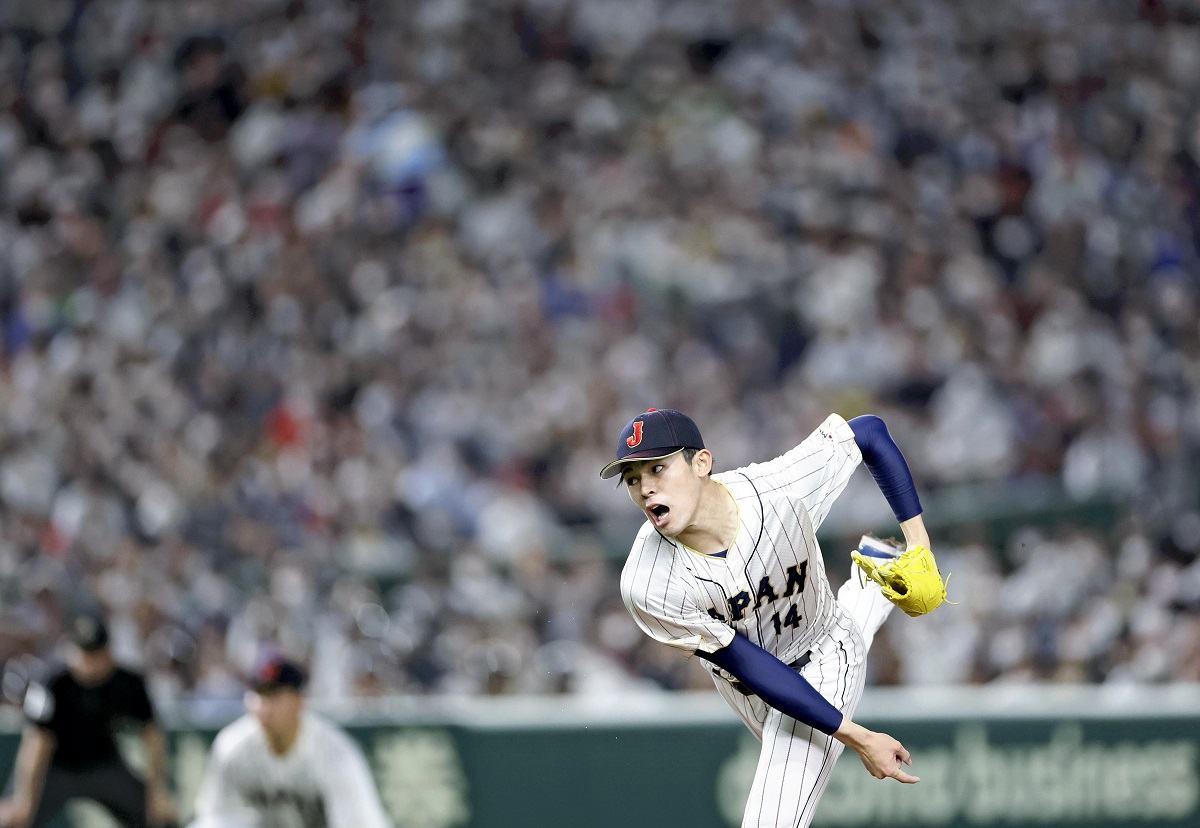 7:00 JST, March 13, 2023
Chiba Lotte Marines ace Roki Sasaki got the start in Samurai Japan's third game in pool play at the World Baseball Classic on Saturday, working into the fourth inning and holding the Czech Republic to one run while racking up eight strikeouts to earn the win in a 10-2 victory.
The native of Rikuzentakata, a coastal city in Iwate Prefecture, lost his 37-year-old father and grandparents in the Great East Japan Earthquake on the same March 11 day in 2011. However, with the support of those around him, he fulfilled his dream of becoming a professional baseball player and has finally taken his first step toward the world stage.
"Although the pain and sadness from the loss doesn't easily go away, I was able to devote myself to baseball thanks to the support of so many people. I have nothing but appreciation for them," said Sasaki, pouring out his feelings as he reflected on his life.
The pitcher was a third grader when the earthquake rocked Japan, including his city.
The ensuing tsunami took away simple everyday life from him.
He was at the elementary school in Rikuzentakata, which suffered devastating damage in the disaster, when the tsunami struck the region and he escaped to higher ground.
After losing family members and their house, Sasaki's family had to take shelter for some time at a nursing home before moving to Ofunato, a neighboring city where his mother's relatives lived.
"All I could do was to play baseball," Sasaki recalled.
However, the environment in which they played presented challenges. He had changed schools and the field at the elementary school where his new team practiced was not only lined with temporary housing, the nearby open stretches near the river bank were full of weeds.
Practice would start around 4 p.m., but there was no lighting at the facility and the area was quickly covered in darkness.
The parents of the players decided to paint the baseballs in orange fluorescent colors so they were visible in the dim lighting, allowing players to have minimal practice time after dark.
When the paint peeled off the balls, their parents then parked several cars strategically and used their headlights to illuminate the field.
Lightning equipment used for construction work was also brought in, and Sasaki and his teammates practiced hard when those lights were available.
It has not been a smooth road for the pitcher. There were times in junior high school when he could not pitch because of an injury.
One day he felt pain in his hip. Kenta Suzuki, his coach at the time, took him to a hospital in Aomori Prefecture — a four-hour drive away.
The diagnosis was a stress fracture in his back. He cried tears of frustration when his coach told him that he would not let Sasaki pitch until he was healed, but the pitcher now believes that decision is the reason he is where he is today.
His mother had to drive him to Aomori a few times a month for rehabilitation, including stretching exercises, as part of his treatment.
Sasaki wanted to remain close to his hometown and chose to attend Ofunato High School after finishing junior high.
Last season, three years into his pro career, he became the youngest pitcher in Japanese Professional Baseball history to throw a "perfect game."
Said Suzuki: "Sasaki is trying to do what he wants to do to the best of his ability, and I think that has led to a mentality that does not waver on the mound in a game. I hope he will continue to pitch and be a beacon of hope for children playing baseball in the disaster-affected areas.
Add TheJapanNews to your Google News feed.