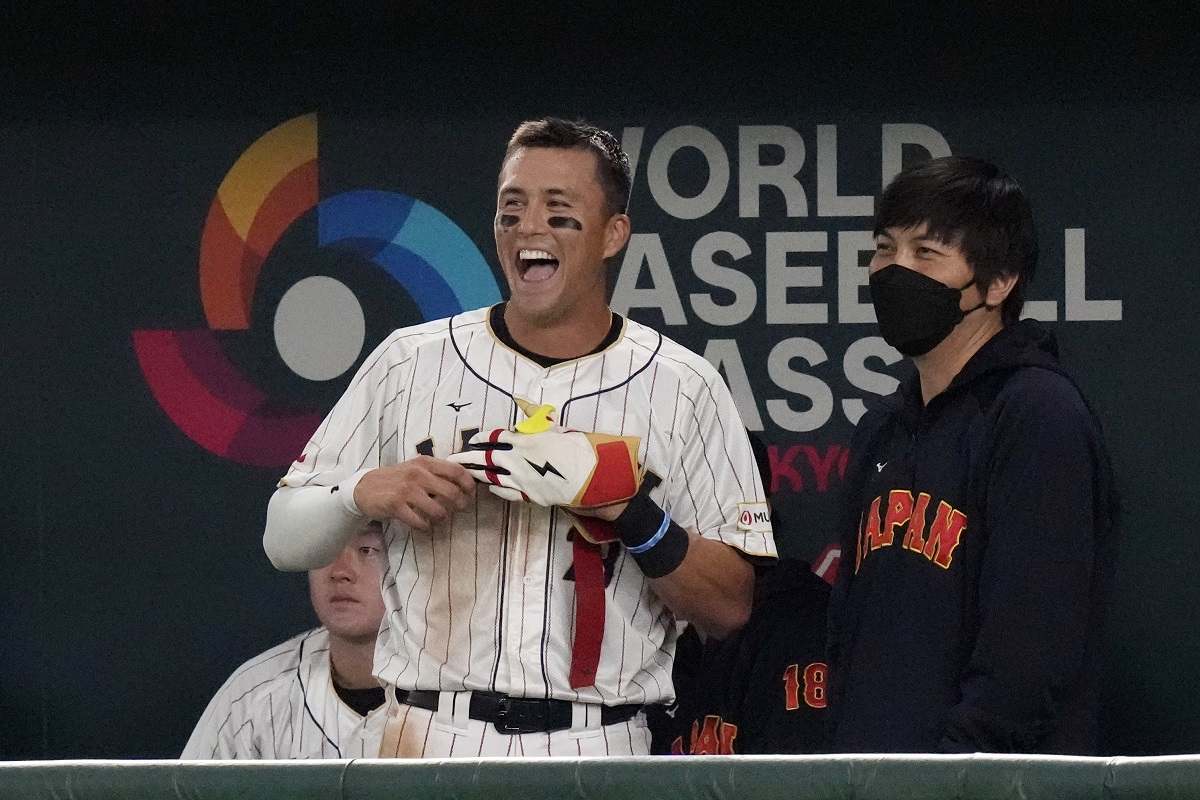 15:52 JST, March 12, 2023
TOKYO (AP) — Most Japanese couldn't recognize Lars Nootbaar a few weeks ago, before the World Baseball Classic opened. Few could even pronounce his name or spell it in English or Japanese.
He's becoming a household word in Japan, and fans are singing the praises of the St. Louis Cardinals outfielder at the Tokyo Dome, where he went 5 for 11 with two RBIs during Japan's 3-0 start.
The impromptu song lyrics have anointed Nootbaar as a Samurai and refer to him by his middle name — Tatsuji — which is his grandfather's name. He's playing with Japan because of his mother's roots, the first non-Japan-born player chosen for the national team by ancestry.
Hundreds now arrive at the Dome wielding pepper grinders, which has become his trademark with the Cardinals. Fans hold up signs calling Nootbaar an "American-born Samurai," and his teammates address him by his Japanese nickname "Tachan."
Cardinals teammate Tommy Edman is playing in Tokyo with South Korea, also because of his mother's roots. They're sharing similar experiences, except that Japan has been winning. South Korea lost its first two games.
It's definitely different to wear a whole nation's letters across my chest, Edman said.
Los Angeles Angels two-way star Shohei Ohtani is still the most famous Japanese baseball player, but he called Nootbaar "a great talent and personality, so I have no worries about him. The more fans cheer, it will bring extra energy."
Nootbaar says he's been awe-struck by Ohtani, and has repeated the theme endlessly.
I'm just like you guys, Nootbaar said. "I think I'm just like a fan being able to watch him. I'm just fortunate to get a front-row seat to it."
Fans have picked up the "Noot-Noot-Noot" chant, and he's already among the favorites on a star-studded Japanese team that includes Yu Darivsh and Roki Sasaki, the best pitching prospect in Japanese baseball.
To be in the Tokyo Dome for the first time ever representing Japan — pretty surreal experience, Nootbaar said.
He said he was first contacted on Instagram about playing in the WBC by Ohtani's interpreter Ippei Mizuhara, who is working with Nootbaar in Tokyo.
It started on Instagram, just like of lot of relationships now. That's how everything starts, Nootbaar said.
Nootbaar's popularity started to soar when he made a pair of diving catches in the first two games, and picked up two hits in each victory.
His easy-going manner is also catching on with his teammates, who are imitating the two-fisted "pepper grinder" gesture that he debuted in St. Louis. It means simply, grind out those tough at-bats.
He glared back at the pitcher when he was hit in the back in Japan's 13-4 victory over South Korea on Friday. Korean players didn't like it, but Japanese fans immediately defended him.
If Ohtani was the perfect Japanese child growing up, Nootbaar seems like the more mischievous type. In interviews, his Japan-born mother Kumiko recalled gently reprimanding him as a child with the phrase "chotto obaka."
It's tough to translate literally, but suggests he was no saint, not a perfect kid, and made some playful mistakes.
Two things at once — walking and chewing gum for me is tough, Nootbaar said, hinting he's easily distracted.
He termed playing for Japan as "pure joy" for his extended Japanese family — and for himself.
They're proud, he said. "It's cool for me too to be able to do that for them. I don't get to talk to them very often, to see them very often. To be able to connect me and my family together from opposite sides of the world. It's a pretty special moment for me."
Growing up in California with a Japan-born mother and an American father, his Japanese is limited — but not zero. He's has endeared himself to the nation by singing the national anthem — the Kimigayo — whose lyrics derive from an ancient poem.
He also joked about the marketing opportunities for him in Japan — and chances for MLB and the Cardinals to sell more shirts and caps. And for him to get some endorsements.
I'm trying to get some deals out here so I can say: 'Hello, my name is Lars,' he explained. "And then whatever brand wants me —- after that, I'll get to say the brand."
Add TheJapanNews to your Google News feed.