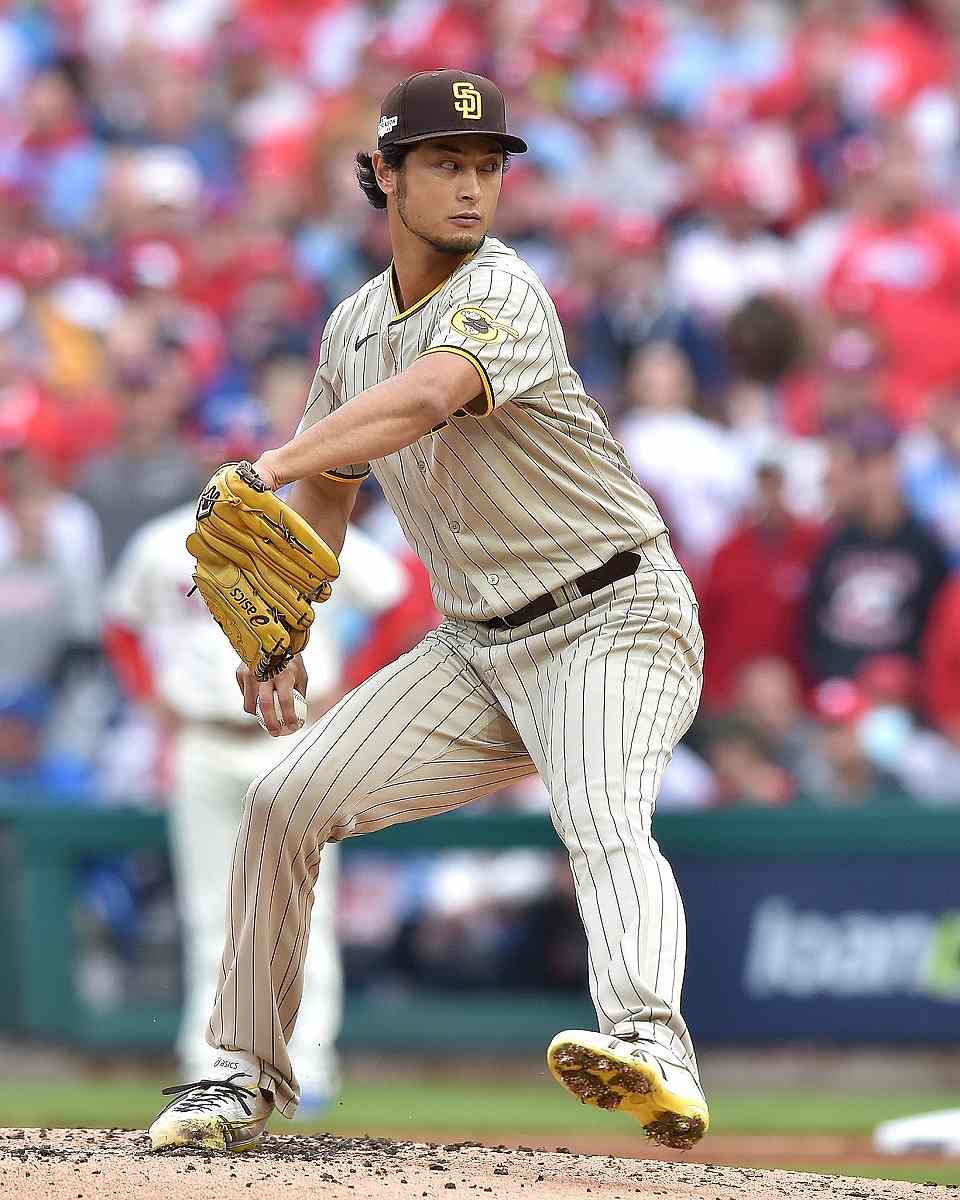 11:48 JST, February 15, 2023
SAN DIEGO (AP) — Yu Darvish will receive $30 million this year in salary and signing bonus as part of a new $108 million, six-year contract with the San Diego Padres.
The agreement, announced Thursday, replaced the final season of a $126 million, six-year contract that was due to pay the 36-year-old right-hander $18 million this season.
Darvish gets a $6 million signing bonus, of which $2 million is payable within 30 days of the deal's approval by the commissioner's office, $2 million this June 1 and $2 million this Sept 1.
He gets salaries of $24 million this year, $15 million in 2024, $20 million in 2025, $15 million in 2026 and $14 million each in 2027 and 2028.
Darvish's 2028 salary would increase by $1 million for each Cy Young Award he wins from 2023-27.
Darvish helped the Padres reach the NL Championship Series last season, which was one of the best in his 11-year big league career. He went 16-8 with a 3.10 ERA and 197 strikeouts. He was 2-1 in the postseason.
Darvish was traded by the Cubs to the Padres in 2020.
Darvish heads a rotation that also includes hometown product Joe Musgrove, who signed a $100 million, five-year deal in July. The Padres signed shortstop Xander Bogaerts to a $280 million, 11-year deal in December, even though Fernando Tatis Jr. will be eligible to return April 20 from an 80-game suspension after testing positive for a performance-enhancing drug. Tatis will move to the outfield, probably in right.
There could be more big spending ahead for the Padres, seeking their first World Series championship. All-Star third baseman Manny Machado can opt out of his $300 million, 10-year deal after this season, and the Padres would like to have him finish his career in San Diego. Machado finished second in last year's NL MVP vote.
Halos, IF Rengifo go to arbitration
ST. PETERSBURG, Fla. (AP) — Luis Rengifo went to salary arbitration with the Los Angeles Angels, requesting a raise from $730,000 to $2.3 million while the team argued for $2 million.
The infielder's case was heard by Jeanne Vonhof, Howard Edelman and Fredric Horowitz, and a decision is expected this week.
Rengifo set career bests last season with a .264 batting average, 17 homers and 52 RBIs. He walked 17 times in 511 plate appearances, at 3.3% the lowest percentage among qualified hitters.
Four other players have pending decisions: Angels outfielder Hunter Renfroe ($11.9 million vs $11.25 million), Tampa Bay relievers Ryan Thompson ($1.2 million vs $1 million) and Colin Poche ($1.3 million vs $1,175,000), and Rays outfielder Harold Ramirez ($2.2 million vs $1.9 million).
Players and teams have split six decisions.
All-Star pitcher Max Fried ($13.5 million) lost to Atlanta, outfielder Kyle Tucker was beaten by Houston and reliever Diego Castillo ($2.95 million) was defeated by Seattle.
Add TheJapanNews to your Google News feed.