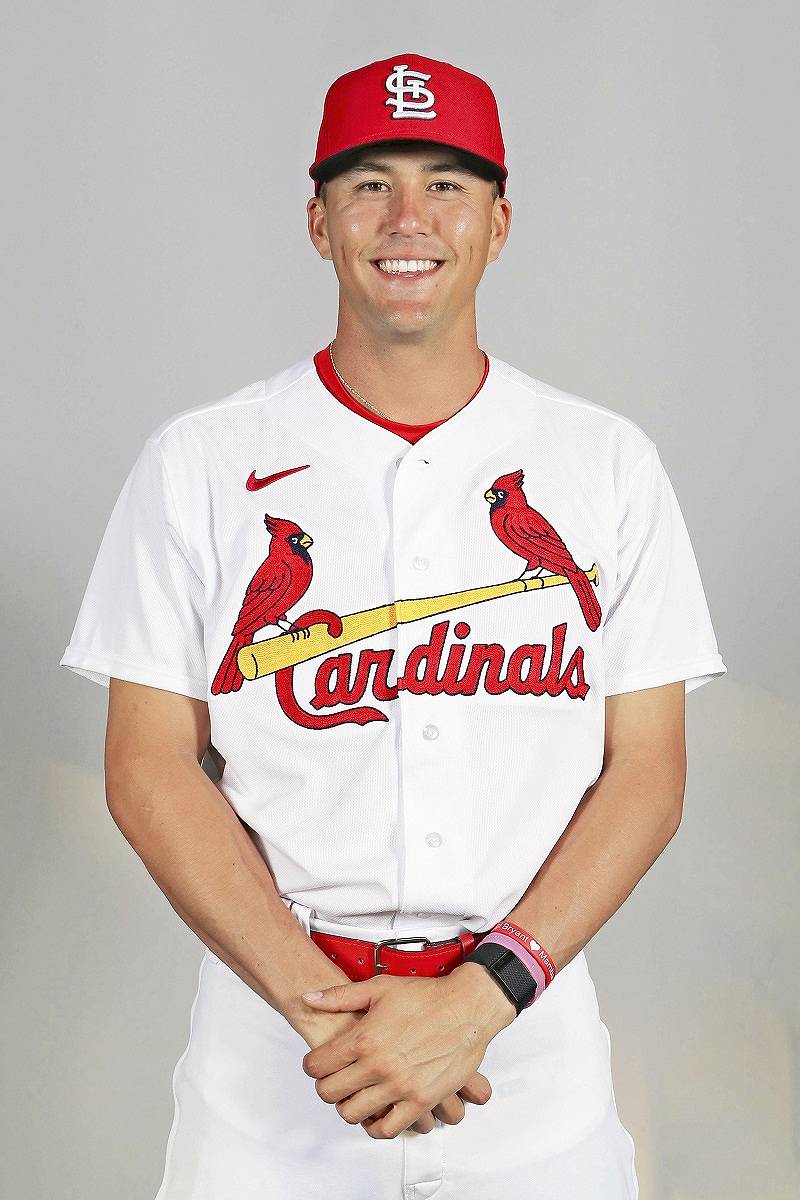 7:00 JST, February 1, 2023
LOS ANGELES — At first glance, it looks like just another photo of a young boy happily posing with a team of Japanese high school all-stars. Fast forward nearly two decades, and that boy has made a Japanese all-star team of his own, although in a roundabout way.
St. Louis Cardinals outfielder Lars Nootbaar, a Japanese-American raised in California, was recently selected to play for the Japan national team for the World Baseball Classic that begins next month.
"I'm happy I get to do something that's special for my mom really," Nootbaar said. "Obviously, for me, it's great and I can't wait to play in it and represent Japan. It's a special thing."
Nootbaar's eligibility to play for the team referred to as "Samurai Japan" stems from his Japanese mother, whose advice of learning to sing the national anthem Kimigayo he is readily following.
With his selection to the 30-man squad, Nootbaar becomes the first-ever player of Japanese origin with no experience in Japanese pro baseball to be named to the Japan team for the WBC.
The 25-year-old is the second son of Dutch-American father Charlie, 56, and mother Kumiko, 57, who hails from Higashimatsuyama, Saitama Prefecture, where his maternal grandparents still reside.
Nootbaar was born and raised in El Segundo, a city near the Los Angeles International Airport. He speaks little Japanese, but has an affinity for Japanese food such as tonkatsu pork cutlet, shabushabu hotpot dish and ramen noodles.
According to Kumiko, after Lars was shown as a child a documentary on high school baseball that aired in Japan, it sparked his admiration for players wearing "JAPAN" on their uniform.
An early and indelible link to Japan came in 2006, when he was 9 and a team of Japanese high school all-stars came to the United States for a series of exhibition games.
Included on that squad were two of the biggest stars of the day from the prestigious National High School Baseball Championship at the Koshien Stadium — pitchers Masahiro Tanaka of Hokkaido's Komazawa University Tomakomai High School and Yuki Saito of Tokyo's Waseda Jitsugyo High School.
Tanaka, who currently plays for the Tohoku Rakuten Golden Eagles, also pitched for the New York Yankees, while Saito retired in 2021 after a career with the Hokkaido Nippon Ham Fighters.
The Nootbaars served as a host family for several members of the team. Nootbaar endeared himself with the players, swinging the bat with them in the house and serving as batboy at their games. He was presented with a team cap, and he got all of their autographs. He still treasures the mementos, which are kept at his parents' house near his home.
Nootbaar has established himself in all aspects of the game — running, hitting and fielding — and batted leadoff for the National League Central Division-champion Cardinals last season.
On Jan. 8, Nootbaar had an online meeting with Samurai Japan manager Hideki Kuriyama in which he put to use some of the basic Japanese that he is currently learning. His mother said that when Kuriyama formally asked him to join the team, Nootbaar's reply in English was something to effect of "Let's win this thing."
In addition to get his swing down following the offseason, Nootbaar also has to work on getting the words to Kimigayo right, which Kumiko said is necessary for someone on a Japanese national team. She'll be listening.
"I'm a mama's boy, so anytime I can put a smile on her face and do that for her, it's pretty cool," said Nootbaar.
Add TheJapanNews to your Google News feed.