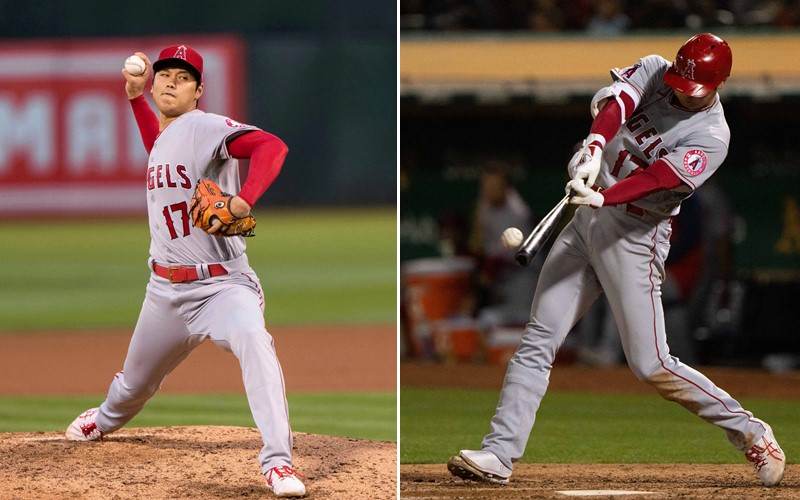 14:13 JST, August 10, 2022
Shohei Ohtani of the Los Angeles Angels stood alongside a baseball legend on Tuesday night.
The right-hander, who got the start on the mound and was the designated hitter in the No. 2 hole for the Angels, is the first player since Babe Ruth 104 years ago to have double digits in wins and home runs in a single season.
Ohtani fired six scoreless innings, striking out five and limiting the Oakland A's to four hits as the Angels beat the hosts 5-1 at Oakland Coliseum.
Ruth, who was one of five players in the U.S. baseball Hall of Fame's inaugural class, won 94 games as a southpaw mainly for the Boston Red Sox and hit 714 homers mostly during a storied career as a right fielder with the New York Yankees. In 1918 for the Sox, Ruth went 13-7 as a pitcher and hit 11 home runs.
Ohtani, who like Ruth bats from the left side, had two hits and a walk, including his 25th home run of the season. The solo shot to right in the seventh inning moved him past Seattle Mariners legend Ichiro Suzuki into second place among Japanese players in Major League Baseball with 118 home runs. Hideki Matsui, the longtime Yankees outfielder, heads the list with 175 homers.
"I'm extremely honored," Ohtani said about passing Suzuki. "I want to hit more and more."
Unlike the home runs, the wins haven't come easily for Ohtani. He failed to get the win in three opportunities to reach double digits last year, and this was his fourth attempt this season at a 10th victory.
Oakland Coliseum has been a key setting in Ohtani's history-making MLB career. In 2018, Ohtani made his major league debut there, when he also took the mound for the first time, picking up his first hit and victory.
It's also the place where Ohtani hit his 100th homer.
When taking into account Ohtani's years with the Hokkaido Nippon Ham Fighters of Nippon Professional Baseball, he now has 1,003 strikeouts in his professional career.
Add TheJapanNews to your Google News feed.