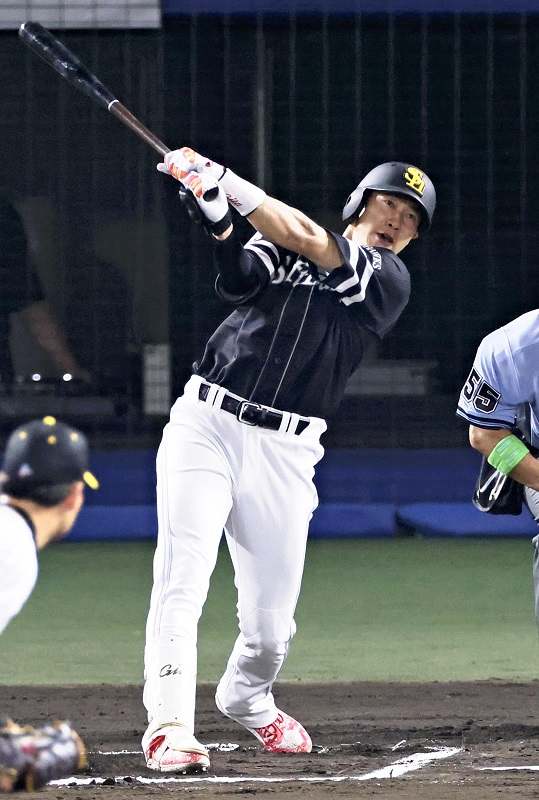 16:34 JST, July 28, 2022
Another big blast helped the Pacific League sweep the two-game All-Star series against the Central League on Wednesday.
Fukuoka SoftBank Hawks slugger Yuki Yanagita belted a solo home run to break up a tie in the sixth inning, leading to the 2-1 victory in Nippon Professional Baseball's first All-Star game in 10 years at Matsuyama Botchan Stadium in Ehime Prefecture. Yanagita was named the MVP of this game.
The home run by Yanagita, who prior to the game lost in the final of the home run derby to Brandon Laird of the Chiba Lotte Marines, was his second in an All-Star game. His first came in 2014.
In years to come, what will have people talking about this game likely will be another feat recorded by the PL's starting pitcher, Roki Sasaki of the Marines.
In the first inning, Sasaki's fourth pitch to Adam Walker of the Yomiuri Giants hit 162 kph on the radar gun to tie Shohei Ohtani's All-Star game mark for a Japanese pitcher, set in 2014 by the superstar when he played for the Hokkaido Nippon Ham Fighters.
The All-Star battery of Sasaki and 18-year-old Marines teammate Ko Matsukawa, who paired up in a perfect game earlier this season, formed a dream team for fans as the two challenged the CL hitters by going right at them.
But feeding the Central side a diet filled with fastballs didn't get Sasaki the result he wanted. The CL took the lead after loading the bases with three singles in a row off Sasaki before scoring its lone run on a sacrifice fly by Teruaki Sato of the Hanshin Tigers.
"There's no way you can get away with throwing only fastballs," Sasaki said with a grimace, before joking: "I wanted to throw more breaking pitches, but I didn't get any signs for them. So it's Matsukawa's fault that I gave up the hits."
Matsukawa made amends of sorts by tying the game the very next inning with an RBI single.
Add TheJapanNews to your Google News feed.