Prioritizing future over immediate success set stage for Sasaki perfection
14:52 JST, May 13, 2022
Roki Sasaki, the Chiba Lotte Marines' 20-year-old pitching phenom, on April 10 fired a perfect game — returning all 27 batters he faced — against the Orix Buffaloes, becoming the youngest pitcher to achieve that feat in Nippon Professional Baseball (NPB) history.
Sasaki has been blessed to be on teams with leadership and support systems that have made his future development a priority over immediate success.
No max-effort pitching
Behind the blossoming of Sasaki's talent is a combination of efforts made by coaches and staff members of his teams to train him, all the while with their eyes firmly planted on his future development.
Sasaki's Ofunato High School team lost in the final of the Iwate prefectural tournament in the summer of 2019 as the flamethrower, then in his third and final year of high school, was never even given the opportunity to take the mound in the championship game.
His manager decided to have the pitcher, who had thrown in the semifinal round the previous day, sit out the deciding game.
Ofunato manager Yohei Kokubo, a 35-year-old teacher at the school at the time, prioritized injury prevention over team success, even though the school was on the verge of punching a ticket to the national tournament at Koshien Stadium for the first time in 35 years.
Kokubo's decision to sit Sasaki drew a mixture of both support and criticism nationwide. Though Sasaki was 190 centimeters tall back then, he was rail thin.
He suffered a rash of injuries during his middle school days, when he sprouted up more than 20 centimeters, and his growth spurt continued even after he entered high school. He was also said to have heeded the advice of experts, saying, "Athletes tend to be more susceptible to injury if they do too much before the end of the growth phase."
Kokubo had always thought about creating an environment that would limit Sasaki from throwing at maximum effort, something likely to increase the risk of injury.
The manager even went so far as to prioritize finding teams that would play against Ofunato High even if Sasaki was not going to take the mound.
And when Kokubo gave a lecture last November at the Japan Society of Baseball Science, which comprises entities that are part of the baseball community, he made his priorities clear by telling the audience: "I have placed a great value on the words: 'Make the future lives of the students shine.' To advance toward something better, courage is needed."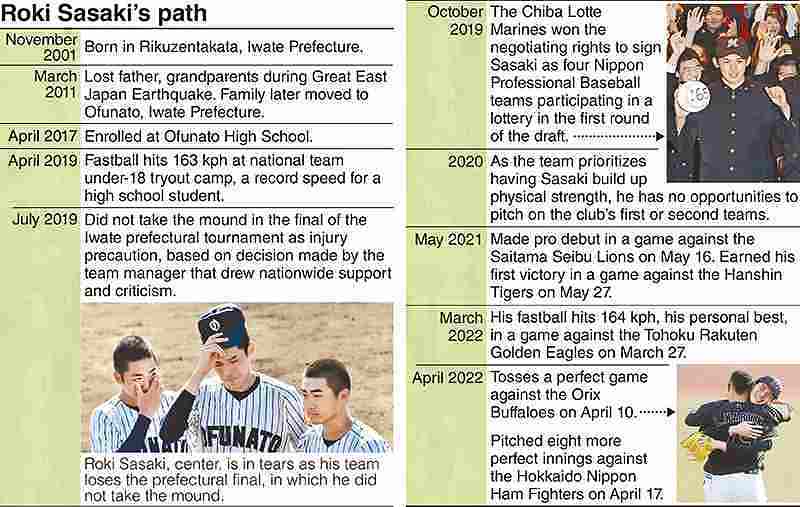 Building physical strength
The Marines, who are in charge of polishing this diamond in the rough, have also supported Sasaki's development with a carefully thought-out training regimen. The Marines determined that his physical strength had not caught up with his extraordinary pitching talent, so the team prioritized preparing him physically during his first year as a pro. As a result, Lotte never put him in a game — not on the top team or the farm.
Last year, in his second year as a pro, he made his top-team debut in May. But after that first appearance, the Marines went to unusual measures to reduce the physical stress on Sasaki, giving him more than the typical rest between starts.
This season, Marines manager Tadahito Iguchi has made it a rule to check for signs of stress on Sasaki's shoulders and elbows after every outing. Sasaki, his trainers and those who analyze the right-hander's pitching data are all involved.
Iguchi on April 17 even made the bold decision to remove Sasaki in the eighth inning of what could have been an unprecedented second consecutive perfect game, following his historic achievement the week prior.
Iguchi said before the season, "There will certainly be times when we have to rest him."
Therefore, Lotte has put methods into practice that focus on using Sasaki in ways that are not predicated on him setting records or short-term goals.
Custom plans for each athlete
The high school baseball community, for its part, has also advanced with reforms. The Japan High School Baseball Federation in November 2019 set a limit on the number of pitches high school players can throw at "500 per week," based on a proposal from the panel of experts on preventing pitchers from serious injury.
Masayoshi Ogura, a 65-year-old baseball manager at Nihon University No. 3 High School, who guided teams to the national high school championship twice, is among those officials in favor of moves to reduce the workload of high school players.
"I often have players who are still in the stage of growing physically train in ways that don't put a strain on their bodies," Ogura said.
Having been aware of the need for working out a training regimen that is in tune with each individual player, Ogura even sought advice from a volleyball coach to find better ways to train players who are on the taller side.
Yet, he has also seen his share of students who were unable to train without limitations during the growth phase, and eventually had to quit baseball without reaching their potential.
"Training plans that fit individual athletes are being called for now. Yet, it is quite difficult to look down the road for every athlete," said Ogura, pointing out that this is a challenge facing the entire high school baseball community.
Add TheJapanNews to your Google News feed.