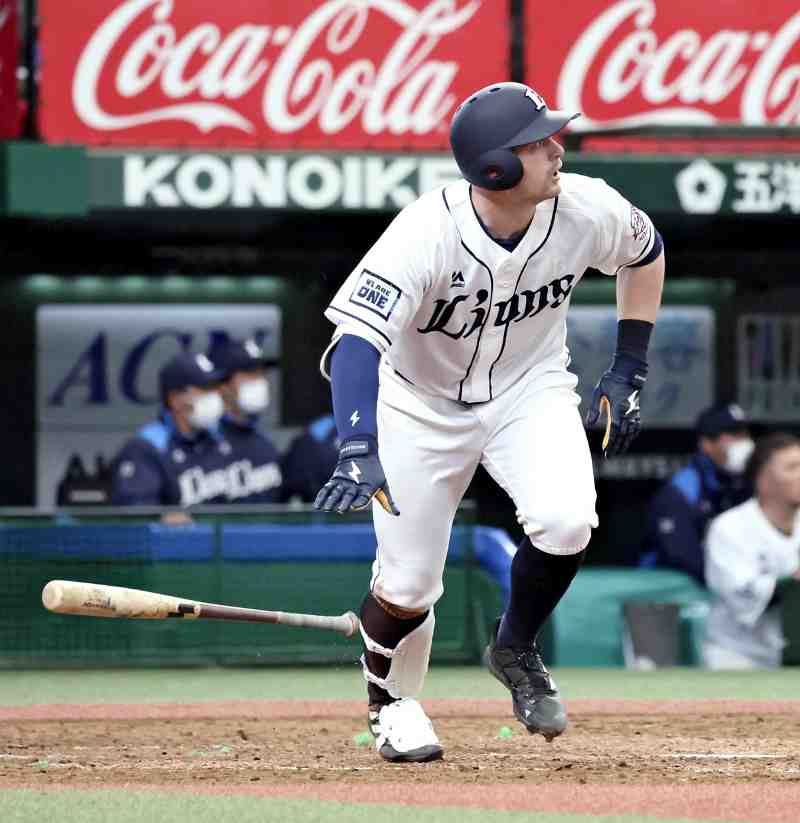 13:33 JST, April 15, 2022
A last-place finish in the Pacific League a season ago was part of the reason the Saitama Seibu Lions flipped their entire crew of import players in the offseason, looking to upgrade the roster and retool around a few younger players.
Part of that process for the Lions was adding outfielder Brian O'Grady as a power tool.
The 29-year-old socked a career-high 28 home runs and had 30 doubles for the Cincinnati Reds' Triple-A affiliate in 2019, and at 188 centimeters and 98 kilograms, he fits the role.
The timing was also right for O'Grady to make the move.
"I thought it'd be a great opportunity and a great experience to come here and play. And I have nothing left to prove in Triple-A," O'Grady told The Japan News on April 8. "I haven't gotten a straight opportunity to really get some serious playing time in the major leagues. So, it's harder to put numbers up when you're going through that — which is not an excuse because you've got to perform.
"But if I went back to Triple-A and hit .300 with 30 homers again, it wouldn't have done anything for me in the eyes of Major League Baseball," said the first-year import, who has just 62 big league games with three organizations under his belt since 2014.
O'Grady, who turns 30 next month, said a strong season in Nippon Professional Baseball could help him earn a better opportunity in the majors or the chance to continue playing in Japan.
He spent last season with the San Diego Padres, a club that features former Hokkaido Nippon Ham Fighters ace Yu Darvish, and the Philadelphia-born O'Grady took full advantage of Darvish's knowledge to learn about Japan when the notion of a jump here was a possibility.
"I talked Yu's ear off," O'Grady admits. "I asked him a whole lot of stuff. I just knew he was such a big star coming out of here, too, so I was just interested in kind of how it all worked."
Seibu's focus right now is for O'Grady and the rest of the roster to work through the losses of injured key players Hotaka Yamakawa, the 2018 MVP and two-time homer king of the PL, and Tomoya Mori, the league's MVP and top hitter in 2019. O'Grady contributed to a victory to close out a three-game set against Fukuoka SoftBank, slugging his first homer on Sunday in a 6-0 home victory over the Hawks.
As O'Grady adjusts to NPB, he said he's trying to get a tighter grip on the way the umpires behind the plate see balls and strikes.
"I think first and foremost, the zone — the strike zone has definitely been an adjustment," he said. "I'm still working on that and I still get very frustrated. But that's just an adjustment."
The sooner he can get a handle on it, the sooner the Lions will be flipping more bats than players on the roster.