Marines phenom Sasaki throws perfect game with Japan baseball record 19 strikeouts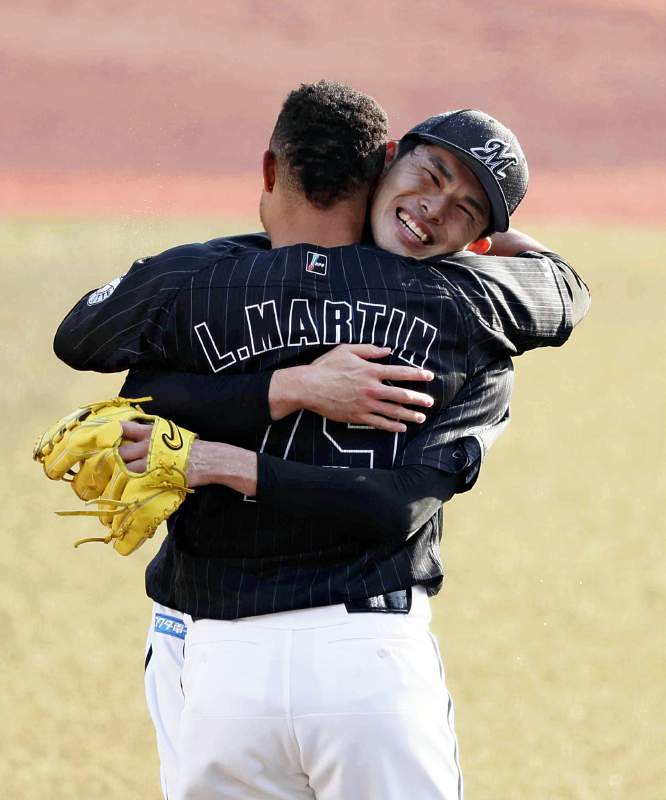 17:31 JST, April 11, 2022
The most dominant performance by a pitcher in Japanese pro baseball history had to be seen to be believed.
Not only did Roki Sasaki throw just the 16th perfect game in the Japan leagues on Sunday afternoon, he did it at a record-setting age of 20 years 5 months with a record-tying 19 strikeouts — including a record 13 in a row.
"It hasn't really hit me yet," the Chiba Lotte Marines right-hander said after the gem, a 6-0 win over the visiting Orix Buffaloes at Zozo Marine Stadium in Chiba in just the 14th start of his career. "But I'm happy so many players congratulated me."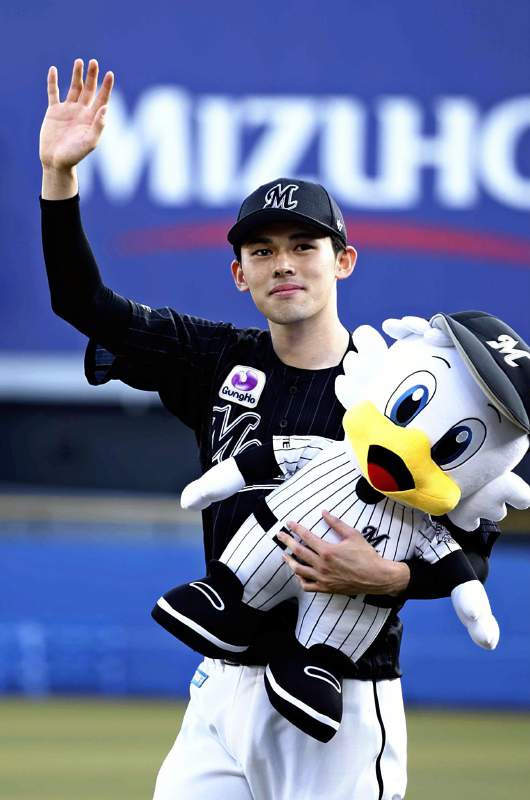 It was the first perfect game in Japan pro baseball in 28 years, the last coming when Hiromi Makihara of the Yomiuri Giants shut down the Hiroshima Carp on May 18, 1994.
Sasaki used a fastball that reached 164 kph to complement a sharply breaking forkball to fan 19 batters, tying the single-game record set by Koji Noda of Orix on April 21, 1995. Sasaki matched the record by striking out the final batter swinging.
"While pitching, I felt the fans' expectations, but I didn't get carried away," said Sasaki, who only needed 105 pitches to finish his performance for the ages. "I didn't especially aim to get strikeouts, as I pitched believing in the defense behind me."
In the first inning against the defending Pacific League champion Buffaloes, Sasaki retired the first two batters on groundouts. He then ended the inning by getting the third batter to strike out swinging.
This started a string of eight consecutive batters striking out swinging on Sasaki's way to 13 strikeouts in a row. That far exceeded the previous record of nine done by two pitchers more than 60 years ago.
Sasaki is now 2-0 this season with a 1.57 ERA as the Marines improved to 7-6, while the Buffaloes are now 6-9.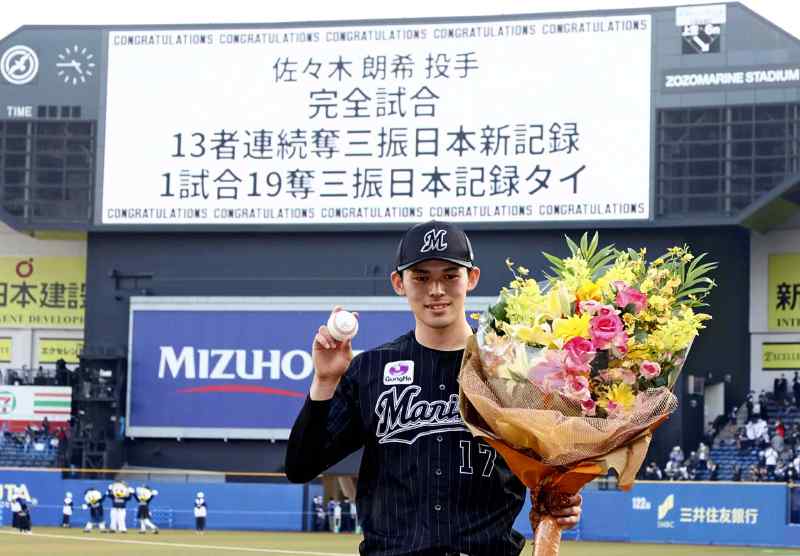 Sasaki drew notice while at Ofunato High School in Iwate Prefecture, where he hit 163 kph on the speed gun. As a senior, he didn't pitch in the final of the summer Iwate tournament to avoid injury and became the Marines' first-round pick in the 2019 NPB draft.
After joining the Pacific League team, the lanky Sasaki focused on building strength. At first, he was unable to throw at maximum effort, as his body was still growing so there was a risk of injury. But he was able to develop to the point where he made his pro debut in 2021, going 3-2 with a 2.27 ERA in 11 appearances for the Marines.
During this past offseason, when his body finally began to have the build of a professional baseball player, Sasaki sought to devise further training methods. He learned from an expert how to strengthen his core and lower body even in everyday life.
Where once his training regimen consisted mainly of stretches, he has increased the exercises to strengthen his body. "I'm getting tougher while maintaining flexibility and range of motion," Sasaki said.
Add TheJapanNews to your Google News feed.