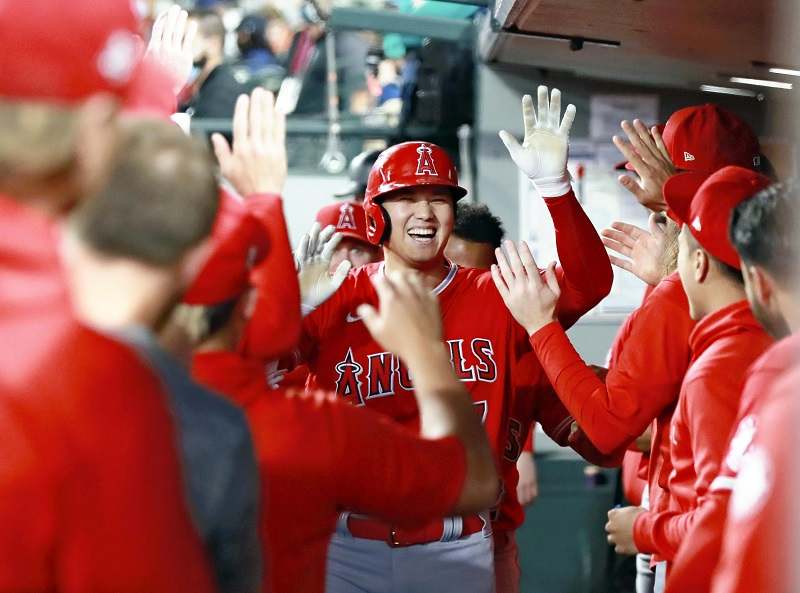 15:53 JST, October 5, 2021
SEATTLE/NEW YORK — Two-way star Shohei Ohtani of Major League Baseball's Los Angeles Angels completed a record-setting season on Sunday.
He wrapped up a tremendous run by belting his 46th home run in the final game. As a pitcher, Ohtani contributed to the team by recording nine victories.
He approached numerous records belonging to the legendary Babe Ruth, considered one of all-time greats, and surpassed some of them.
Ohtani put on a two-way performance on the field that was similar to the way Ruth did so many generations ago. In fact, his play compelled some of Ruth's grandchildren to pay homage to the player.
The Angels star wasn't able to make much noise after his first-inning homer in the season finale, but the team came away with the victory. When the game ended, he wore a smile from ear to ear as he slapped high-fives with teammates.
He had gone through the entire season as a two-way player, the first time doing so since making his move to the United States.
"I enjoyed being able to play in more games, and because I played so much, I was able to contribute to the team at a higher frequency. And as a player, that was rewarding," Ohtani said with a look of satisfaction.
Ohtani lead the league in longballs during an early stretch of the season. He took the mound for one of his starts as the home run leader, becoming the first player to do that since Ruth about 100 years ago.
He also broke Ruth's mark for a player who made 10 or more mound appearances in a season to have the most home runs (29).
However, Ohtani was not able to break Ruth's record of reaching double digits in both pitching victories and home runs, an achievement not matched for 103 years.
But with every appearance Ohtani made in stadiums as a pitcher and hitter, Ruth's great accomplishments gained a lot of attention.
Ruth's granddaughter, Linda Ruth Tosetti, 66, who resides in Connecticut, said Ohtani mirrors Ruth in his all-out approach to playing the game and with the adoration he receives from fans. She also said it would be wonderful for baseball if Ohtani goes on to break some more of Ruth's records.
She was impressed by the way Ohtani succeeded at both hitting and pitching, in a similar style to her grandfather.
In mid-September, when Ohtani was on the verge of reaching double digits in pitching victories and homers, Linda extended the player a message of support.
She forwarded a letter containing a photograph of Ruth on which she handwrote the following message: "I look forward to meeting you! You are an exciting player and good for baseball! … Keep swinging."
She included one of Ruth's famous quotes in the message: "Baseball is the greatest game in the world and deserves the best you can give it."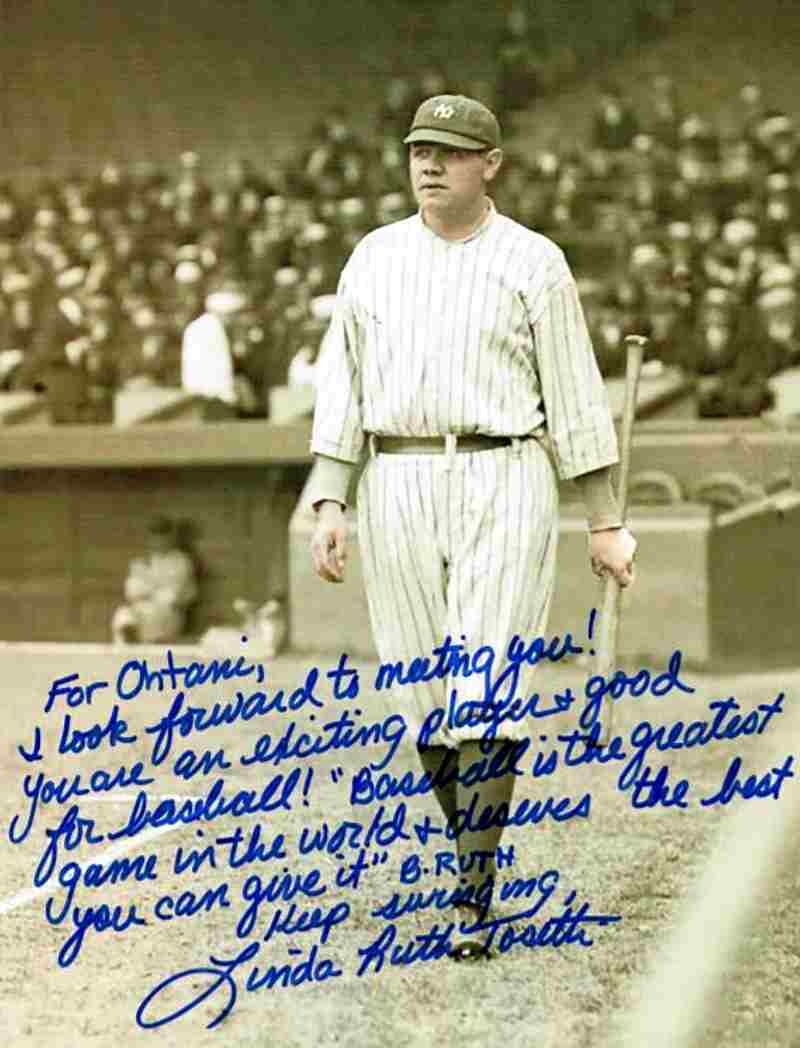 Ohtani read the letter in a locker room, and carefully listened to an explanation of the words, according to sources.
One of Ruth's other grandchildren, Tom Stevens, 69, of New Hampshire, was also impressed by Ohtani's play in this season and was compelled to dig up some records and memories of Ruth that stretch back to the previous century.
Stevens hailed Ohtani on Sunday, saying he wanted to represent members of Ruth's family and celebrate his wonderful performance this season.
Stevens also looked in on the Sept. 26 game when Ohtani pitched for the last time in this season. Ohtani threw well, firing seven innings and allowing just one run, but the team wasn't able to get him win No. 10.
Stevens said Ohtani was excellent on the mound and could have equaled the mark had the team been able to produce enough run support for him. Stevens also said he is excited to see what Ohtani can achieve going forward, and closed by saying if Ruth were alive, he would definitely be saying, "Go Showtime!" about Ohtani.
In September, Sports Illustrated, a long-established U.S. magazine, ran an edition with two different covers depicting Ohtani as a pitcher and hitter.
Ohtani created a sensation beyond parameters of baseball.
When he attended a December 2017 press conference announcing he had joined the Angels, held in the team's home stadium, Ohtani said, "I want to get as close as I can to what [Ruth] did because he is like a god to me."
Ohtani has finally become a player regarded on the same level as an admired baseball legend.
Add TheJapanNews to your Google News feed.