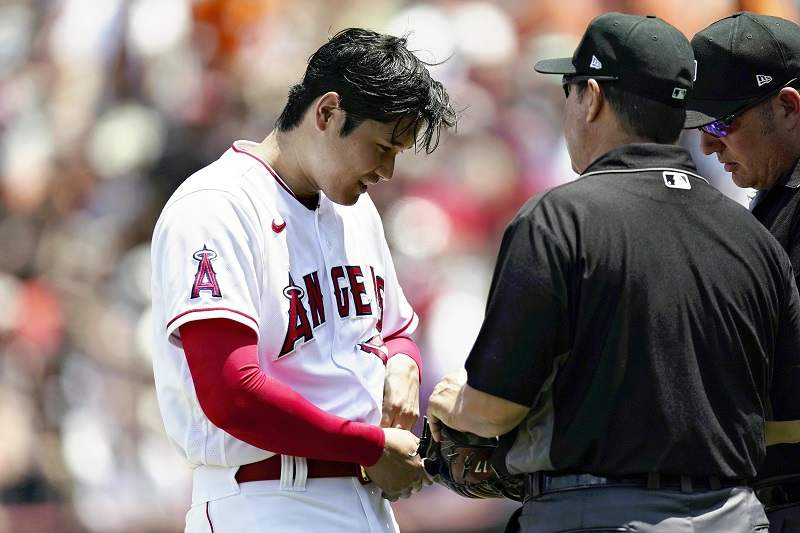 16:29 JST, July 9, 2021
ANAHEIM, Calif. — As Los Angeles Angels two-way star Shohei Ohtani blasts his way into the baseball history books, his affable nature is wowing fans just as much as his feats at the plate and on the mound.
On Wednesday, Ohtani broke the single-season record for home runs by a Japanese player in the major leagues when his solo shot against the Boston Red Sox gave him 32 this season, eclipsing the previous mark of 31 set in 2004 by Hideki Matsui with the New York Yankees.
Ohtani has taken his home run production to another level this season, thrusting him into the spotlight more than ever. The fans took note by voting in Ohtani as a starter for his first appearance in the All-Star Game, which will be played in Denver, Colo., on Tuesday.
Ohtani's record-breaking shot gave the Angels the lead in the home game against the Red Sox. With the score tied 2-2 in the fifth inning, Ohtani faced a left-hander intent on throwing inside, and two straight pitches fouled off his own leg prompted a grimace. But Ohtani never backed down, and when an inside breaking pitch — which would have been a ball had he let it go — came, he drilled it into the right-field stands.
Ohtani's 32 home runs currently leads the majors, four more than his closest rival. Matsui set his 2004 record over 162 games; Ohtani surpassed it in his team's 86th game, and before the All-Star break.
After the game, Ohtani received a congratulatory message from Matsui, who played for the Angels in 2010. "I was happy to receive that," Ohtani said. "I'll do my best to keep hitting and living up to the expectations."
Ohtani belted 13 home runs in June alone, even though with superstar Mike Trout and other players out injured, pitchers increasingly started pitching away from the in-form Japanese star.
It was a period that put Ohtani to the test, but he stayed patient. He was content to wait for his pitch and get on base with walks; the few errant pitches that came his way were quickly deposited into the stands.
Angels skipper Joe Maddon, a three-time Manager of the Year, has been impressed by the 27-year-old Japanese slugger. "When you watch Barry Bonds, it was a lot like this," Maddon gushed. "When you watch Ken Griffey Jr., it was kind of a lot like this on offense."
Bonds holds the all-time major league record with 762 home runs, and Griffey sits seventh on the list with 630. By putting Ohtani in the same class as these left-handed legends, it was Maddon's way of praising his ability not only to have the power to hit a home run on any pitch, but also his patience to wait for the right pitch.
Through Wednesday, Ohtani's on-base plus slugging (OPS) — a statistic that combines on-base and slugging percentages and is considered a barometer for long-ball hitters — was second in the majors behind only Vladimir Guerrero Jr. of the Toronto Blue Jays.
Ohtani watched Matsui play while he was growing up. After passing his record, Ohtani said with a steely expression that it was a "huge honor." At this pace, Ohtani is on track to hit 60 home runs this year — and puts him in view of becoming the first Japanese major league home run king.
Always Mr. Nice Guy
Ohtani's standout performance on the field might be grabbing the headlines, but his humble demeanor and mannerisms also are winning the hearts of baseball fans.
On Tuesday, Ohtani took the mound and picked up his fourth win of the season, giving up two earned runs in seven innings, while also delivering a run-scoring double at the plate. But a video clip posted on the official Major League Baseball Twitter account showed none of those highlights; rather it honed in on an unusual moment while Ohtani was pitching in the second inning.
A batter broke his bat while flying out to right field. Half of the bat rolled out toward the mound, where Ohtani trotted over to pick it up, and then went over to the batter and handed it over with a smile. "Shohei really does do it all," was the message posted with the video showcasing Ohtani's easy-going personality.
After pitching two innings on June 23, Ohtani was subjected to his first check as part of a major league crackdown on pitchers using foreign substances on balls.
Ohtani made news by the way he smiled as he talked to the umpires and proffered his cap and glove, and even gestured that he was ready to unbuckle his belt. While some pitchers look annoyed by these on-field checks, Ohtani's heartwarming approach appears to have gone down well.
Add TheJapanNews to your Google News feed.