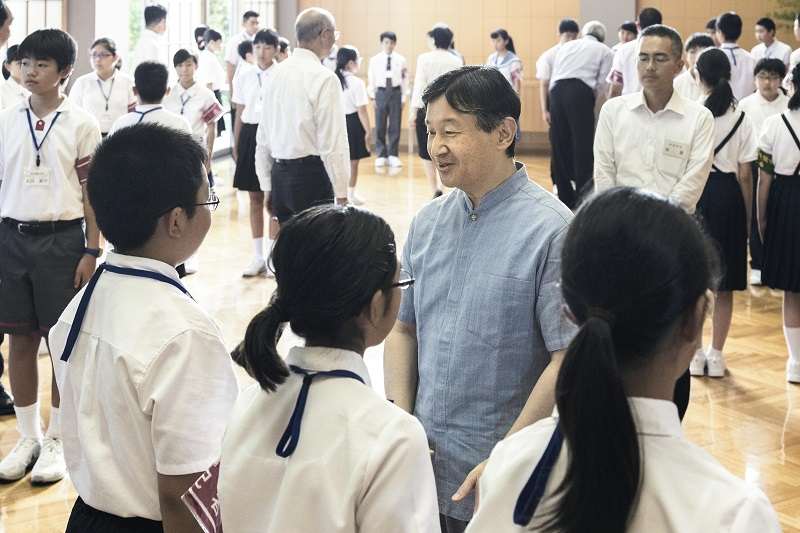 21:00 JST, May 15, 2022
The Emperor, ever since he was a child, has had strong feelings toward Okinawa.
On the occasion of his birthday this February, the Emperor said, "From when I was a child, I heard much about Okinawa from the Emperor Emeritus and Empress Emerita, who care deeply about Okinawa."
The Imperial family has observed a moment of silence every June 23 on Okinawa Memorial Day, when the people who lost their lives in the Battle of Okinawa during World War II are remembered.
When the Emperor Emeritus and Empress Emerita visited Okinawa, they started their first day there by consoling the souls of the war dead at memorials such as that in Peace Memorial Park in Itoman, in the south of the main island of Okinawa.
The Emperor, who has visited Okinawa five times, takes after his parents. In April 2005, he listened carefully to about 20 bereaved family members at the national cemetery for the war dead in Okinawa in Peace Memorial Park. He then spoke to each of them separately.
"He conveyed to me his deep feelings for the war dead," recalled Tokumasa Miyagi, now 80, one of the family members there that day, who lost his father in the war.
Gatherings with children
A program to "dispatch junior correspondents" from elementary and junior high schools in Okinawa to the main islands of Japan was started by the Emperor Emeritus and Empress Emerita in 1963.
At the time, Okinawa was still under U.S. rule. The Emperor Emeritus used this method to meet and talk with the children. Since then, these social gatherings have also involved other Imperial family members, with the Emperor making his debut when he was 5.
The Emperor has enjoyed watching the children from Okinawa performing traditional Ryukyu dance and karate techniques. Together with the children, he has sung Okinawa folk songs such as "Tinsagu nu Hana" and "Bashohu."
"They were good opportunities to learn about Okinawa," the Emperor said during this year's birthday news conference.
In 2016, the Emperor, the Empress and their daughter, Princess Aiko, then a junior high school student, attended a social gathering with children from Okinawa at the Akasaka Estate in Tokyo. The Emperor told the children there was a surprise, according to Shigeo Kawamitsu, now 75, who has been involved with coordinating the correspondents program. They were all invited to play volleyball, which was not on the schedule.
Kawamitsu recalled the children outside on the grounds of the Akasaka Estate laughing, rolling in the grass and just having fun with the Imperial family.
"The Emperor and his family could communicate with the younger generations in Okinawa," he said. "These children could also learn and grow from that experience."
Add TheJapanNews to your Google News feed.