12-Year-Old Girl Scales Mt. Kilimanjaro; Sets Goal to Climb Highest Peak in Antarctica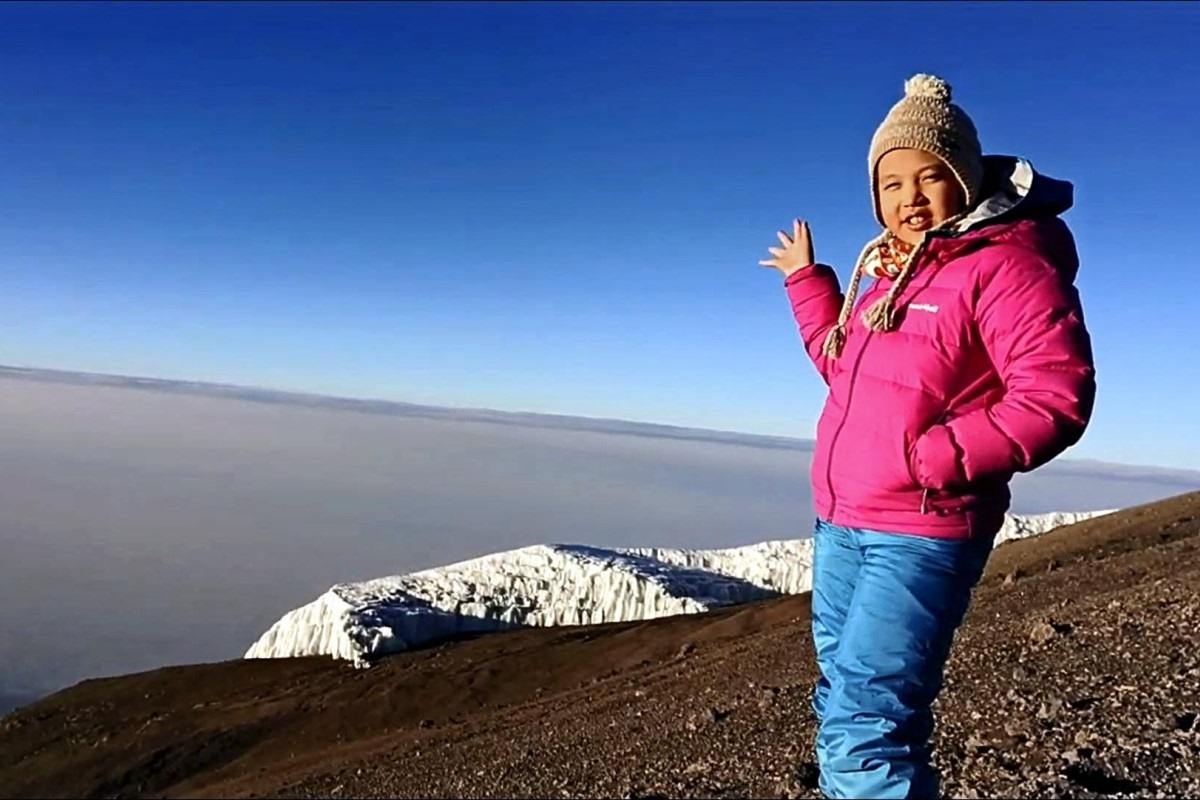 7:00 JST, November 8, 2023
KOFU — A sixth-grade elementary school student from Kofu, Yamanashi Prefecture, successfully scaled Mt. Kilimanjaro (5,895 meters) — the highest peak in the African continent — in September.
Rei Banno, 12, began mountain climbing when she was four years old and has since scaled more than 300 mountain peaks. Reaching the summit of Mt. Kilimanjaro had been her dream since she was a second-grade elementary school student. As she made her dream come true, she said with a smile, "I've gained confidence."
When she was four years old, she climbed Mt. Konara. At that time, she felt so accomplished and she has been into mountain climbing ever since. Supported by her mother, Naomi, 49, Rei scaled the 100 famous mountains in Yamanashi Prefecture by the age of 6.
Rei learned about Mt. Kilimanjaro from mountaineering magazines and books by alpinists and became interested in the mountain, thinking: "The mountain looks like a big pudding. It's beautiful." As global warming progresses, glaciers are melting more and more. Rei decided to take on the challenge of climbing Mt. Kilimanjaro, thinking, "I want to see the current state of the mountain with my own eyes."
In July, she tried to raise money through crowdfunding. She was able to raise ¥831,210, exceeding the initial target amount by more than ¥300,000.
She left Japan on Sept. 1 and began climbing Mt. Kilimanjaro on Sept. 3. While she had thought a lot of glaciers would remain on the surface of the mountain, she instead found areas burned down due to wildfires. She witnessed the destruction of the environment firsthand.
Rei said she had not had any trouble climbing the mountain, possibly because she had become excited as she drew near to the summit. Recalling reaching the summit on Sept. 7, Rei said, "I was too happy for words."
On Oct. 23, she reported her achievement to Kofu Mayor Yuichi Higuchi. "The experience must be an unforgettable asset for you. I hope you will keep trying to achieve your dreams and goals," Higuchi said.
Now, Rei aims to climb the 300 Famous Mountains of Japan, while keeping her sights on another international challenge. "I want to climb Vinson Massif, the highest peak in Antarctica, by the end of my high school days. So, I need to borrow books about Antarctica from a library," she said. Her towering dreams continue.
---
Add TheJapanNews to your Google News feed.