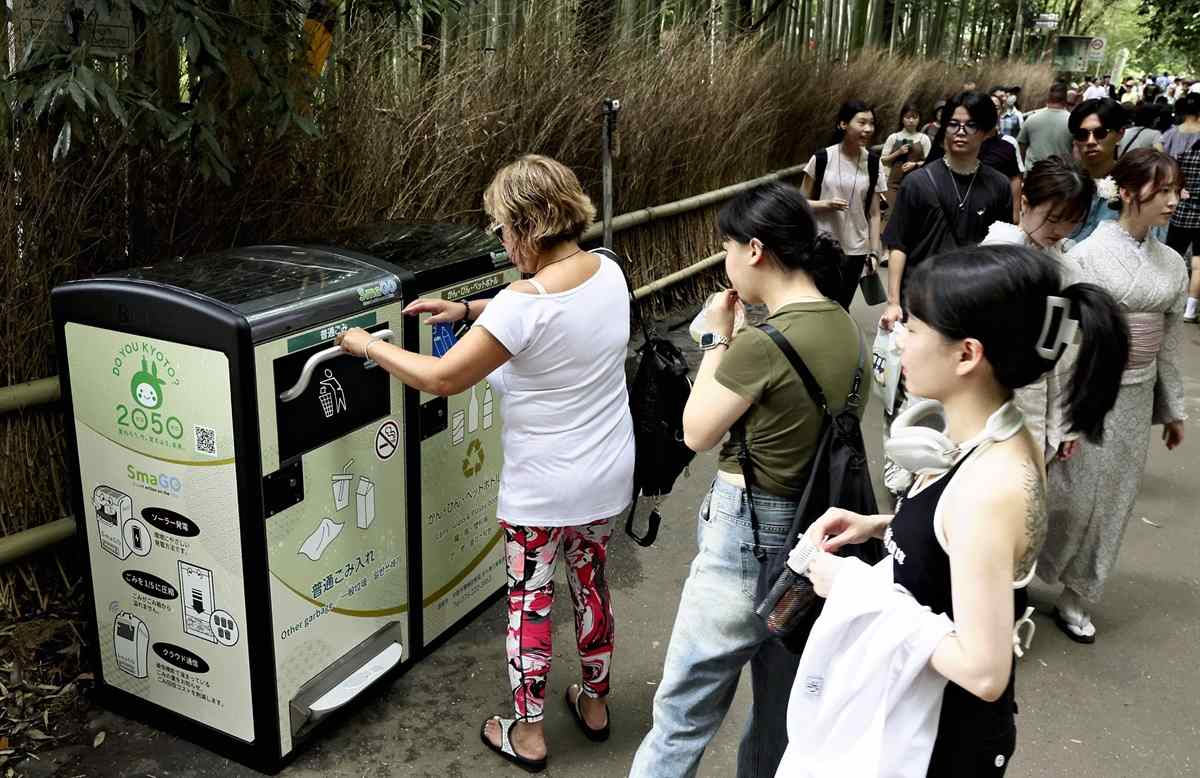 2:00 JST, November 4, 2023
KYOTO — "Smart" trash cans installed in the Arashiyama district of western Kyoto —once again bustling with visitors following the worst of the COVID-19 pandemic — are having a positive effect on the urban environment.
The novel disposal devices can compress and store five times more waste than traditional public trash receptacles. The municipally installed devices continually monitor the amount of rubbish deposited inside them, which facilitates more efficient trash-truck pickups.
However, the system is not without its challenges. For example, if the surrounding area becomes too crowded with people, it is difficult for trash trucks to approach.
Return of tourists
Tourists numbers have risen in the popular Arashiyama district following the government's May downgrading of COVID-19 to Category V under the Infectious Diseases Law.
According to the Kyoto City Tourism Association, the August occupancy rate at 109 major hotels in the city was 69.3%, representing a rise of about 20 percentage points year-on-year. The rate has recovered to about 80% level of the 2019 level — prior to the COVID-19 pandemic and at a time when overtourism was a serious issue in Kyoto.
On Sept. 13, the local government installed two smart trash cans at the Bamboo Grove path in the Arashiyama district in the city's Ukyo Ward.
Sensors within the trash cans monitor waste levels, and when a certain threshold is reached, the garbage is compressed under more than 500 kg of pressure, enabling the receptacles to house more than five times as much waste as a standard 120-liter capacity trash can.
The trash cans alert the city government via email when they get close to capacity. Garbage is usually collected around 9 a.m. when fewer tourists are around. Restaurant operators and others in the district have welcomed the new rubbish bins, with one saying, "Nowadays, there are fewer instances of the area being covered in trash."
Safety concerns
However, it can be difficult to collect waste when the area becomes overly crowded, and fears have been voiced over the possibility of people being injured by garbage trucks.
In one incident, trash cans on the Bamboo Grove path could not be collected even though the devices had dispatched emails saying they were full. This was because the missives were sent during the daytime when the path was crowded with holidaymakers. As a result, the local government additionally installed two standard trash cans a few meters from their high-tech cousins on Sept. 15.
Sometimes, food wrappings and plastic bottles overflow from the smart trash cans, littering the streets and an area along a nearby river.
Under a 1997 city ordinance aimed at a cleaner and more beautiful city, littering in designated areas — including the Arashiyama district — is subject to fines of up to ¥30,000, but the ordinance has had little deterrent effect.
A 23-year-old company employee from Shizuoka visiting Kyoto with a friend, said: "I came to Arashiyama as I wanted to enjoy a walk-and-eat tour. Some stores have trash cans, but if I want to ride a trolley train or visit temples, I sometimes have to go back to the store where I bought the goods [to dispose of my garbage]. I'd really like to see more roadside trash cans."
Price considerations
Each smart garbage device costs more than ¥500,000 to install, presenting a considerable hurdle to their full-scale rollout. Though the city has already installed eight smart trash cans, these were funded entirely by donations from private companies.
To help visitors locate the innovative trash devices, the municipal government's community-beautification promotion section has posted signs in seven languages, including English and Chinese, among other measures.
"It's disconcerting that we have to rely on tourists' manners to some extent," an official in charge said." We'd like to find a way to solve this problem while listening to the opinions of local people."
Add TheJapanNews to your Google News feed.