Universities Offer Students with Overseas Roots Special Entrance Exams
6:00 JST, October 31, 2023
OSAKA — Some universities are beginning to provide special entrance examinations for applicants with overseas roots, who may not be able to demonstrate their full potential through regular entrance exams that may require a higher level of Japanese proficiency than they have.
These applicants are selected mainly based on application documents and interviews, and they are given careful teaching support after admission. Private universities in particular are taking this approach to attract potential students because they are facing a serious shortage of students amid the low birth rate.
Showing true ability
From this academic year, which started in April, Momoyama Gakuin University in Izumi, Osaka Prefecture, began to accept applicants who passed an entrance exam exclusively for students from overseas who had studied at Japanese schools and Japanese students who had returned home after living abroad.
The university started the exam in response to a request from Osaka prefectural high schools that actively accept such students. The exam consists of a basic ability test to examine basic knowledge of Japanese, English and mathematics, and an interview.
For the initial year, the university conducted the exam on the condition that it accept a few students in five faculties, and three entered.
One of them, Yoon Jeongmin, 19, a first-year student in the Faculty of International Studies and Liberal Arts, came to Japan from South Korea when he enrolled in a Japanese high school on a soccer scholarship.
His Japanese improved to the point where he has no problem making conversation, but he felt it would be hard to pass a regular entrance exam for university, which requires understanding the intent of the questions.
Yoon said that taking the special entrance exam was less burdensome for him and he thought that it will "give other foreign students more opportunities to go to university."
Since entering, Yoon has been receiving support from the university to improve his Japanese language skills. He said that he wants to work as an interpreter or translator in the future.
The university's admissions and public relations office says that the university plans to accept more students if there is more demand.
Not considered international
The special entrance examination system is mainly for students for whom one or both parents are from a foreign country and who are called "children with overseas roots."
They include students with foreign nationalities who have transferred to Japanese schools from overseas and students with Japanese nationality whose parents are in an international marriage. They sometimes need support such as Japanese lessons.
When these students want to enter universities in Japan, it is often difficult for them to show their true academic abilities in regular entrance exams given in Japanese. In addition, when they are enrolled at Japanese schools, they are not qualified to take entrance exams for international students.
According to a survey conducted in fiscal 2021 by the Education, Culture, Sports, Science and Technology Ministry, about 48,000 students with foreign nationalities need extra Japanese lessons at public-run elementary, junior high and high schools across the nation, 80% higher than in fiscal 2012.
The increase stems partly from Japan's increased acceptance of foreign workers.
Of the students at public high schools who need extra Japanese lessons, including Japanese nationals, the percentage of those who go to university or other places of higher education is 52%, much lower than the 73% overall.
In 2021, the ministry's expert panel on university entrance examinations recommended that improvements be made to facilitate university entrance by students who need extra Japanese lessons, also to increase diversity and international competitiveness.
According to the ministry, other universities including Toyo University in Tokyo and Utsunomiya University in Tochigi Prefecture have also offered special entrance exams.
"We will continue publicizing good practices by universities and backing measures taken by universities," an official of the ministry's office in charge of entrance exams said.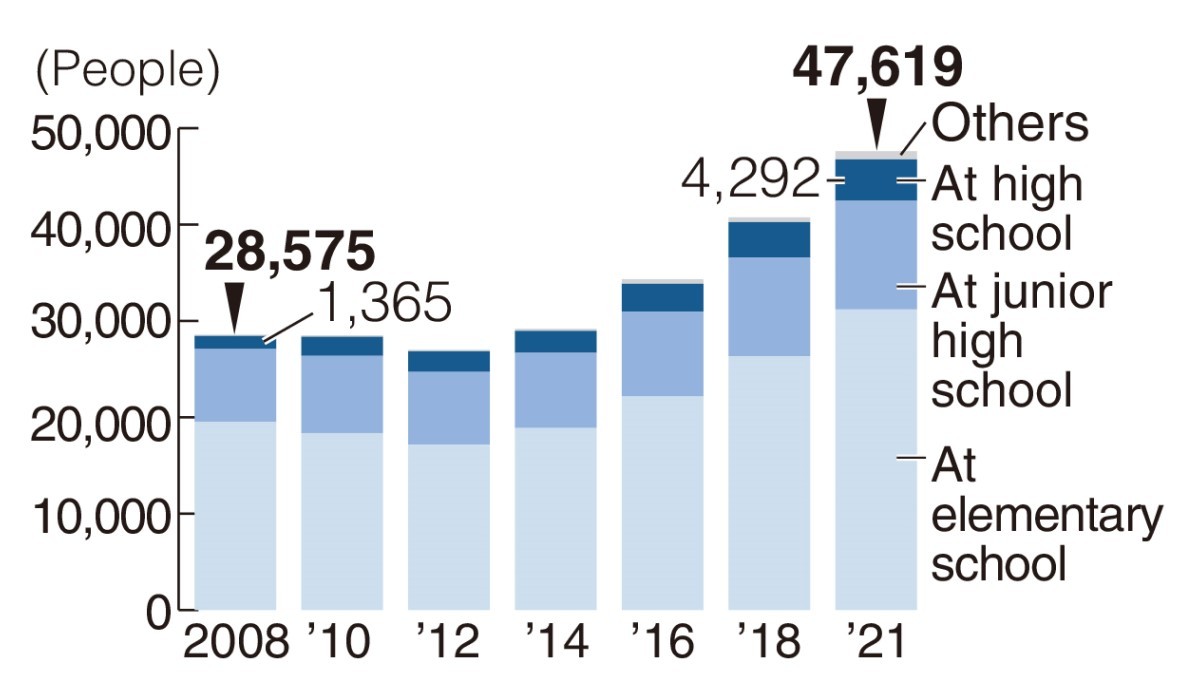 Diverse backgrounds positive
Kansai University of International Studies in Miki, Hyogo Prefecture, has introduced a special admission system for students with foreign roots starting from the next academic year.
Five of its six faculties have designated quotas and will accept three to five students each. These faculties are Global Communication, Sociology, Psychology, Education and Business Administration.
Applicants are screened based on documents such as statements of the reasons why they want to enter the university, reports from their high school, and interviews. There is no written exam.
The university will also establish a new scholarship and, after admission, will offer study support such as having teachers provide extra Japanese lessons and give advice on assignments.
Vice President Shingo Ashizawa is responsible for the new system and stressed the positive effects that will be brought by these students.
"Students who speak multiple languages and have diverse backgrounds have the potential to become global human resources," he said. "Japanese students will be stimulated by studying with these students from diverse backgrounds."
Tatsuo Kawashima, a specially appointed professor at Osaka University, is a member of the education ministry's expert panel.
"With the low birth rate, it is a logical strategy for universities to take special measures to open their doors to students who cannot go to university otherwise," he said.
"As the number of foreign workers in Japan is expected to continue increasing, how to educate their children is a national issue," he added. "Universities need to carefully discuss application requirements and the support that will be provided to students after admittance."
Add TheJapanNews to your Google News feed.