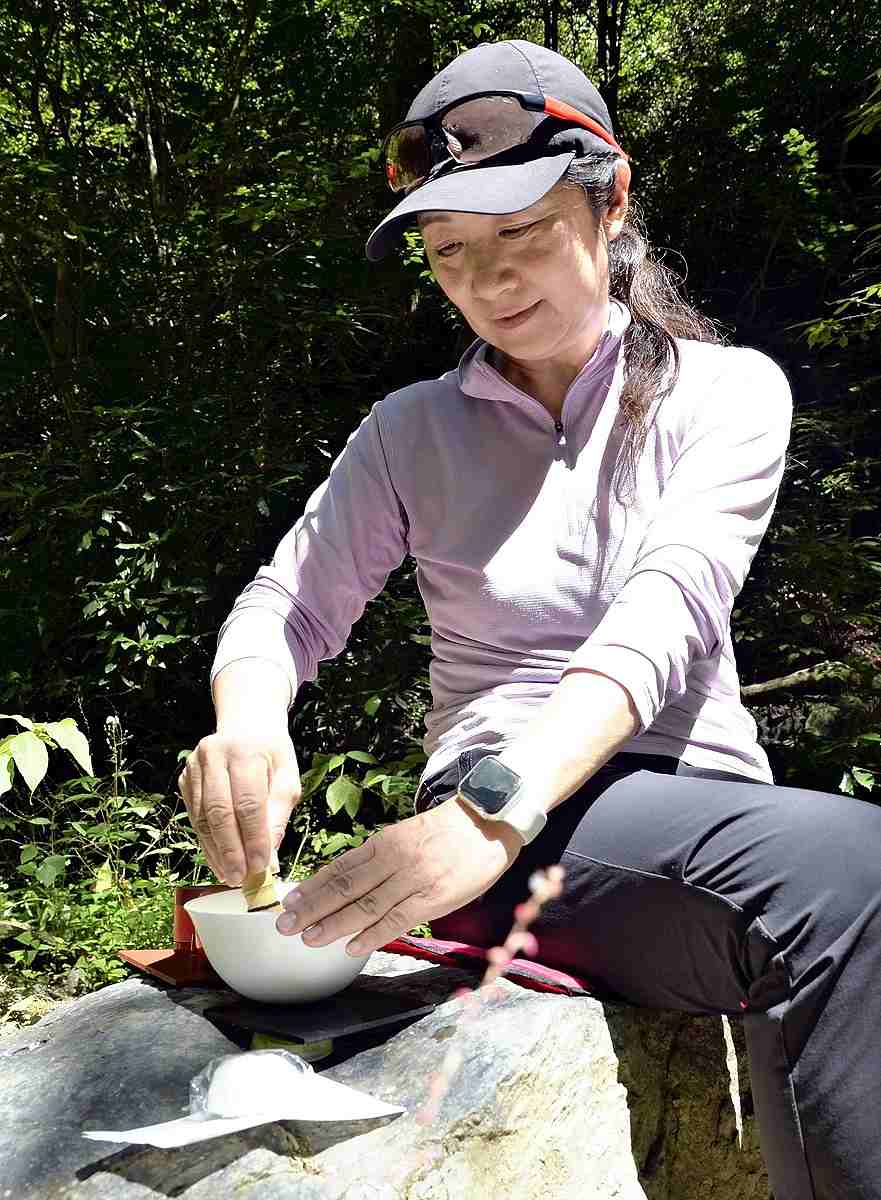 12:06 JST, October 22, 2023
It might be nice to enjoy tea while gazing at the colors of autumn foliage. Nobuko Kubota, 59, a mountain guide in Kawasaki, has been offering tours combining hiking and a nodate open-air tea ceremony for three years by taking advantage of her experience as a member of a tea ceremony club when she was in high school.
In September, I joined her tour on the 599-meter-high Mt. Takao in Hachioji, western Tokyo.
We met at the Keio Line's Takaosanguchi Station at 9 a.m. and bought white and brown manju sweet buns at a Japanese confectionery store at the foot of the mountain. "It's nice being able to buy Japanese sweets, which are an essential part of the tea ceremony, at a local shop," Kubota said. We walked a hiking trail along a stream in the rich natural environment for about an hour. When we started sweating, we sat on a rock near the stream and began the tea ceremony.
Kubota used a paper bowl instead of tea bowl. With a foldable tea scoop, she scooped matcha from a tea caddy into the paper bowl and poured hot water into it from an insulated bottle. She quickly stirred the tea with a chasen tea whisk.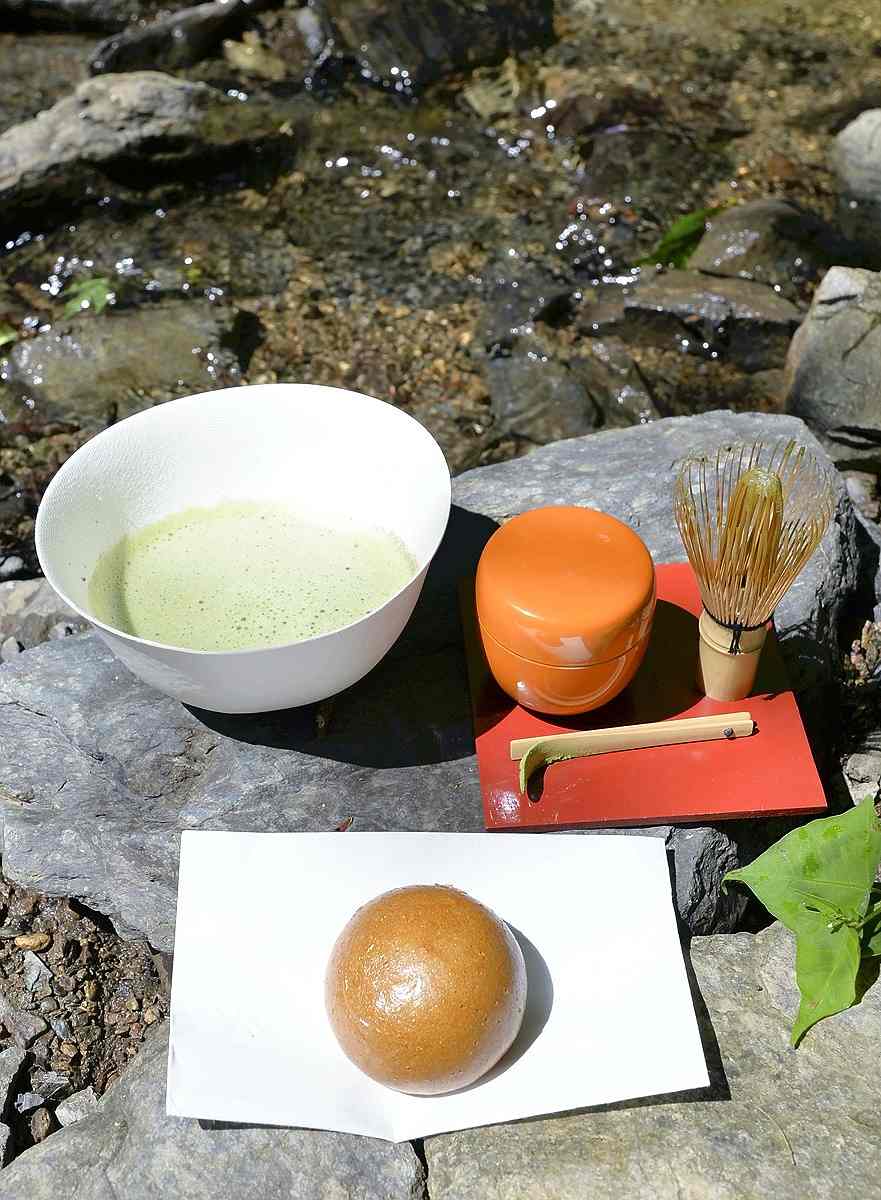 I am into hiking but this was my first time having matcha on a mountain. The sweetness of the manju buns and the bitterness of the matcha healed my tired body. The cool sound of the stream helped me feel refreshed. The pink flowers of mizuhiki, also known as jumpseed, growing everywhere were also a pleasure to look at.
Kubota does nodate not only on low mountains but also on high ones such as these in the Southern Japanese Alps. Many of her clients who experience the tea ceremony enjoy it, saying such things as, "That was new and refreshing for me."
"I hope my customers enjoy nodate the way they like while experiencing the smell of the forest, the wind blowing and the birdsong," Kubota said.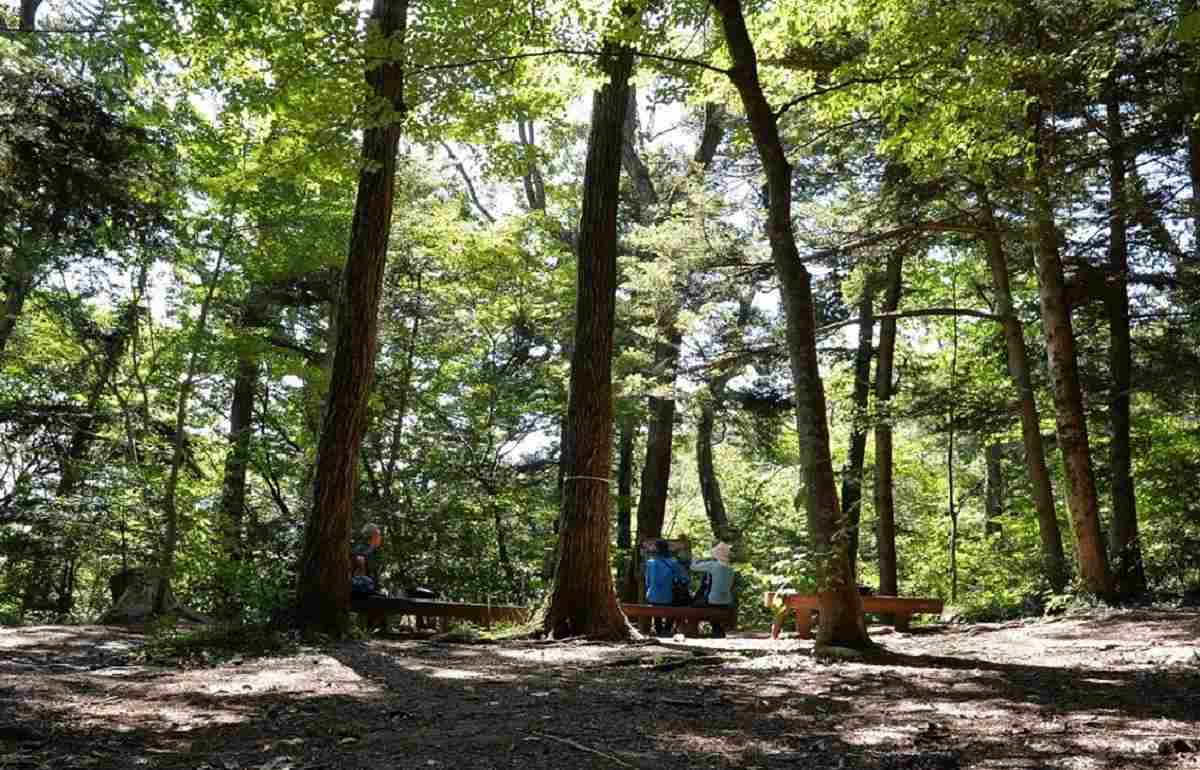 The practice of going out to the mountains on a beautiful day in spring or autumn has existed for a long time and was first called "nogake." The national treasure painting "Viewing Maple Leaves," by Kano Hideyori in the 16th century, depicts people enjoying the autumn colors while drinking tea they bought from a vendor in the Takao district of Kyoto, a place famous for autumn colors.
The idea of the tea ceremony was incorporated into nogake, which is said to have become "nodate." However, there are only a few established rules of etiquette for nodate and people enjoyed improvising. The 16th-century tea master Sen no Rikyu is said to have recommended that a host brings his best tea ware so that his guests would be able to concentrate on the tea without being too distracted by the scenery.
The word nodate reminds me of a red umbrella standing among greenery. There is an old record of such an umbrella used in a large tea ceremony held by Toyotomi Hideyoshi, who ruled Japan prior to the Tokugawa shogunate years, in 1587 in Kyoto. "It might have the role of distinguishing between the ordinary and the extraordinary," said the 15th generation tea ceremony master Sen So-oku.
There are goods and events that allow people to enjoy nodate easily. Mont-bell Co., the Osaka-based outdoor goods maker, has been selling a nodate set for more than two decades.
Isamu Tatsuno, 76, the chairman of the company and an alpinist, is into the tea ceremony and planned the product on his own. The set includes a crack-resistant melamine tea bowl, a tea whisk, a tea scoop, a tea caddy, a sheet and two trays. Since it is small in size and weighs just 305 grams in total, it is easily carried.
"The fun of nodate enriches our hiking experience," Tatsuno said.
The Tokyo Grand Tea Ceremony, an annual autumn event, also includes nodate. Organized by the Tokyo metropolitan government and others, the event attracted more than 7,000 visitors over four days in 2019. The event is scheduled for Oct. 21-22 at Edo-Tokyo Open Air Architectural Museum in Koganei, Tokyo. Reservations are not required for participating in nodate.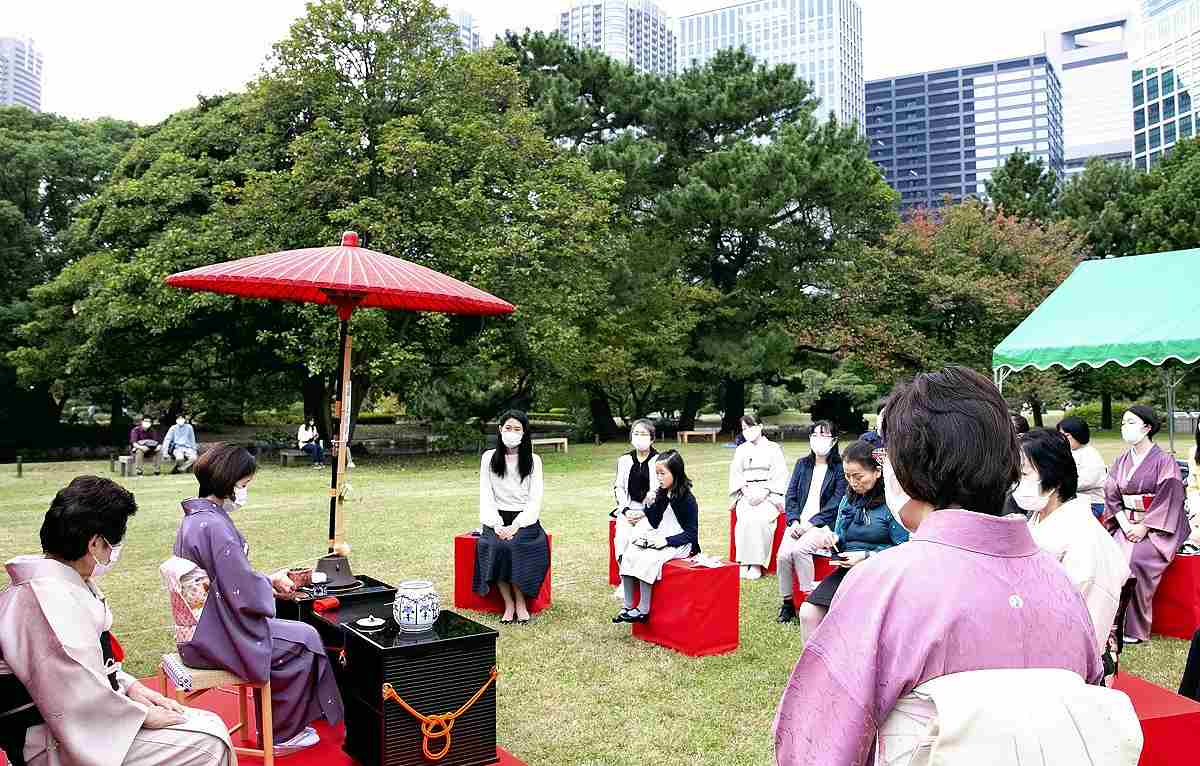 Add TheJapanNews to your Google News feed.