Hot Spring Facilities Test Prosthetic Breasts; Operators Want Cancer Survivors to Enjoy Hot Springs without Worry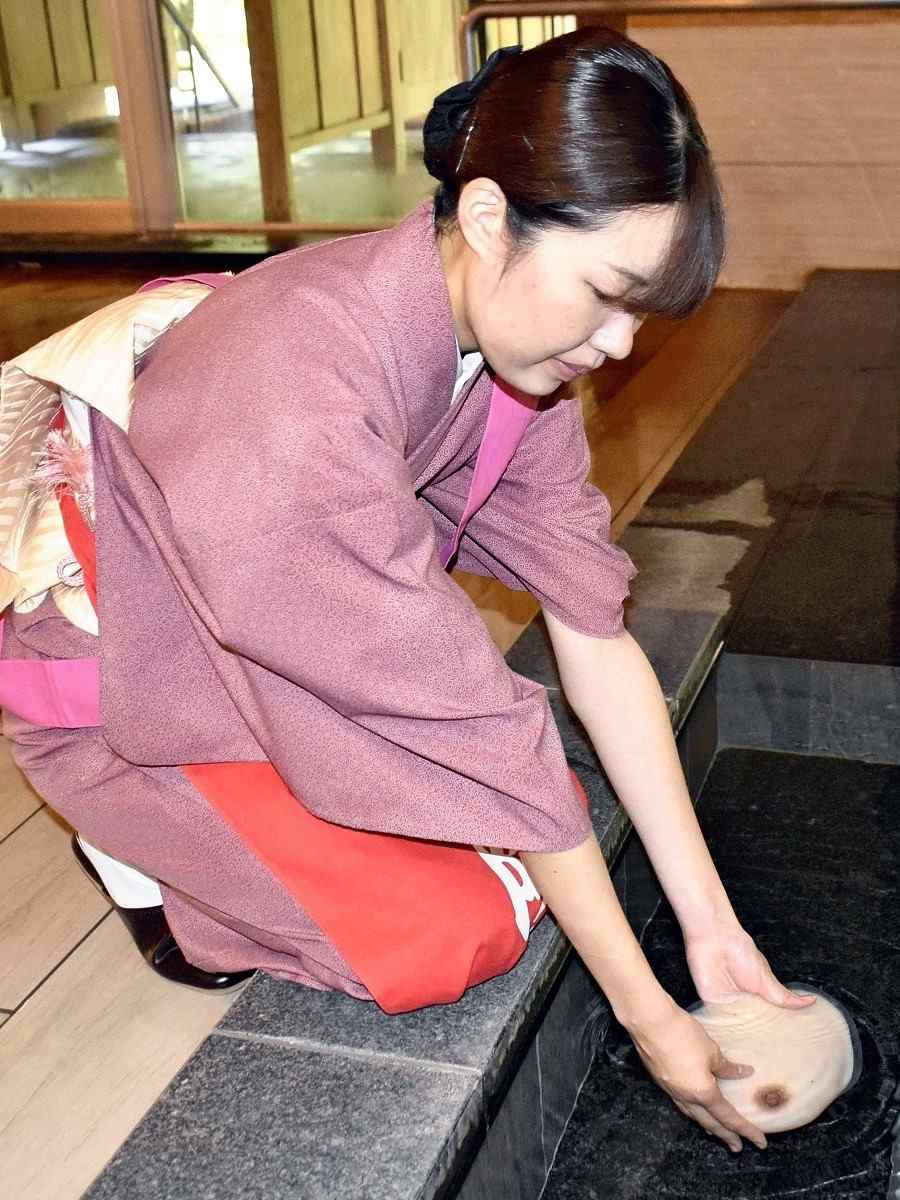 17:00 JST, October 8, 2023
MORIOKA — Hot spring inns in Hanamaki, Iwate Prefecture, are participating in a test this month that checks if a prosthetic breast keeps its color and shape when immersed in hot spring water. People who have had breast cancer often use prostheses after undergoing a mastectomy.
The test, called "Oppai (breast) Relay," is being carried out at five hot spring inns that will take turns in a so-called relay to check the prosthetic breast in various types of hot spring water, and aims to make sure that people who use such items can enjoy bathing free of worry.
The test was originally started in 2011 by various companies, including URO Medical Japan Co., a Nagoya-based manufacturer of artificial breasts. The test had been conducted at facilities nationwide in conjunction with Breast Cancer Awareness Month in October.
However, the tests were canceled due to the COVID-19 pandemic. This year, Airinkan, a Hanamaki-based hot spring inn, took the initiative and called on neighboring hot spring inns to carry out their own test, which had not been carried out in the city in four years.
Five facilities are taking part in the test: Airinkan, Osawa Onsen, Hotel Shidotaira, Hotel Koyokan and Kashoen. They are members of Pink Ribbon no Oyado Network, a volunteer group comprised of hot spring inns offer an environment considerate of breast cancer patients. To conduct the series of tests, the participating facilities will share one prosthetic breast in a relay format.
On Oct. 1, an employee at Airinkan, "the starting runner" in the relay, soaked the breast in the inn's hot spring bath called "Yama no Yu" for five minutes to see whether there were any abnormalities.
It was confirmed that there was no change in the color, shape, or smell of the prosthetic breast even when it was soaked in colorless, transparent sulfate spring water, nor any change in the color of the hot spring water itself.
"I touched an artificial breast for the first time and was surprised that it felt like the real thing," said Runa Nekozuka, a 23-year-old in the customer relations department. "I hope this [test] will help breast cancer patients enjoy hot springs without worrying about standing out to others."
"Even men may get breast cancer," said Yuya Mishima, a staff member of the president's office at Airinkan. "I hope that support will spread throughout our prefecture for those who use prostheses."
Once the test is completed at Airinkan, the breast will be relayed to four other facilities.
Add TheJapanNews to your Google News feed.