Turkish Airlines Flight Accidentally Passed over Central Tokyo after Problem Switching to Autopilot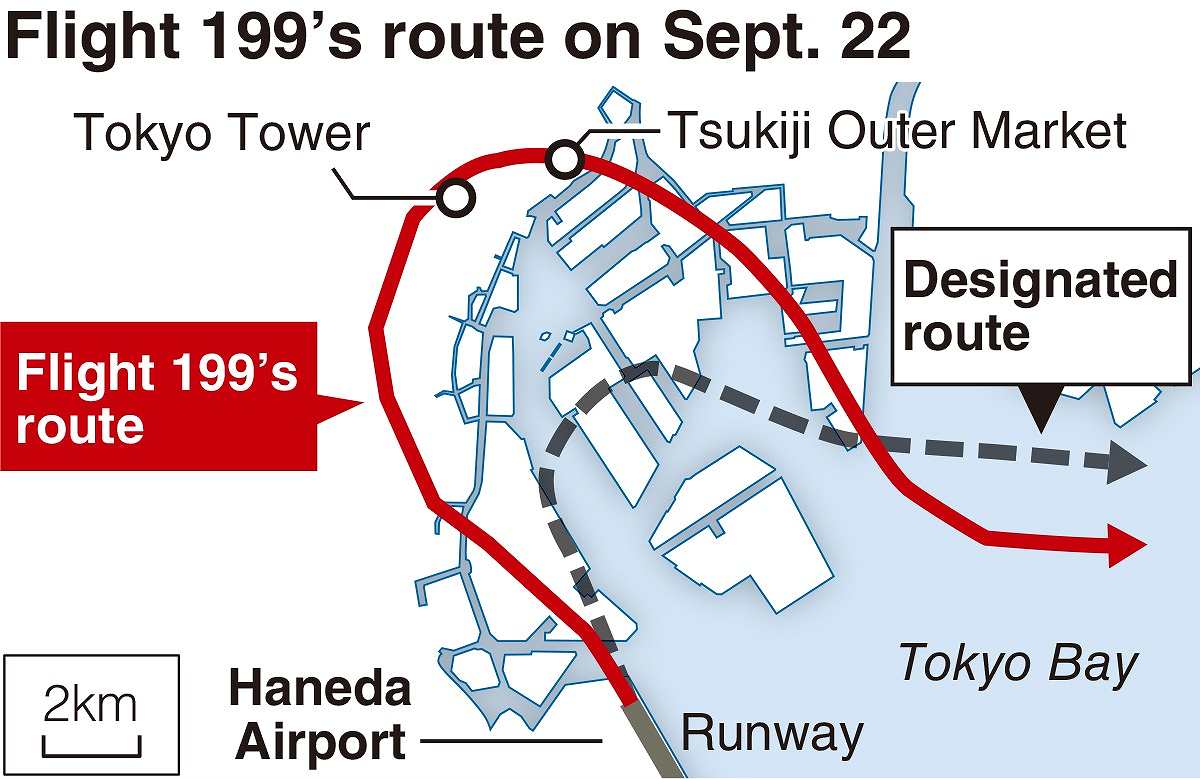 14:58 JST, October 6, 2023
A Turkish Airlines plane that had departed from Haneda Airport accidentally flew over central Tokyo, including near Tokyo Tower, on Sept. 22 after deviating from its proper course, the Yomiuri Shimbun has learned.
Though the aircraft maintained a safe altitude, the Land, Infrastructure, Transport and Tourism Ministry requested the airline company take measures to prevent any similar incidents, saying the aircraft did not follow the designated route to prevent noise in residential areas.
According to the transport ministry, Turkish Airlines Flight 199 from Haneda to Istanbul departed from Haneda Airport around 10:35 p.m. on Sept. 22, headed northwest. The regular route designated by the government requires planes turn right, to the east, as soon as possible after takeoff to fly over the Odaiba district and along the coast of Tokyo Bay.
However, Flight 199 continued to fly northwest after takeoff, prompting air traffic controllers to instruct the plane to turn right. The flight ended up passing over the area around Tokyo Tower and the Tsukiji Outer Market before making it to Tokyo Bay.
Noise meters installed by the transport ministry measured up to 83 decibels when the flight passed above the Nishi-Shinagawa area in Shinagawa Ward, Tokyo.
The company later explained to the ministry that the flight had been unable to switch from manual to autopilot after takeoff. The ministry requested that Turkish Airlines and the Turkish aviation authorities investigate the cause of the incident in detail and take measures to prevent similar cases.
The transport ministry also urged all airline companies flying to and from Haneda Airport to take precautions.
The Yomiuri Shimbun contacted Turkish Airlines for comment, but no reply was received by Thursday.
Add TheJapanNews to your Google News feed.