Japan Looks into Digital Graves as New Way to Pay Respects to Deceased, Pass on Family Histories, Relieve Burden of Owning Tombs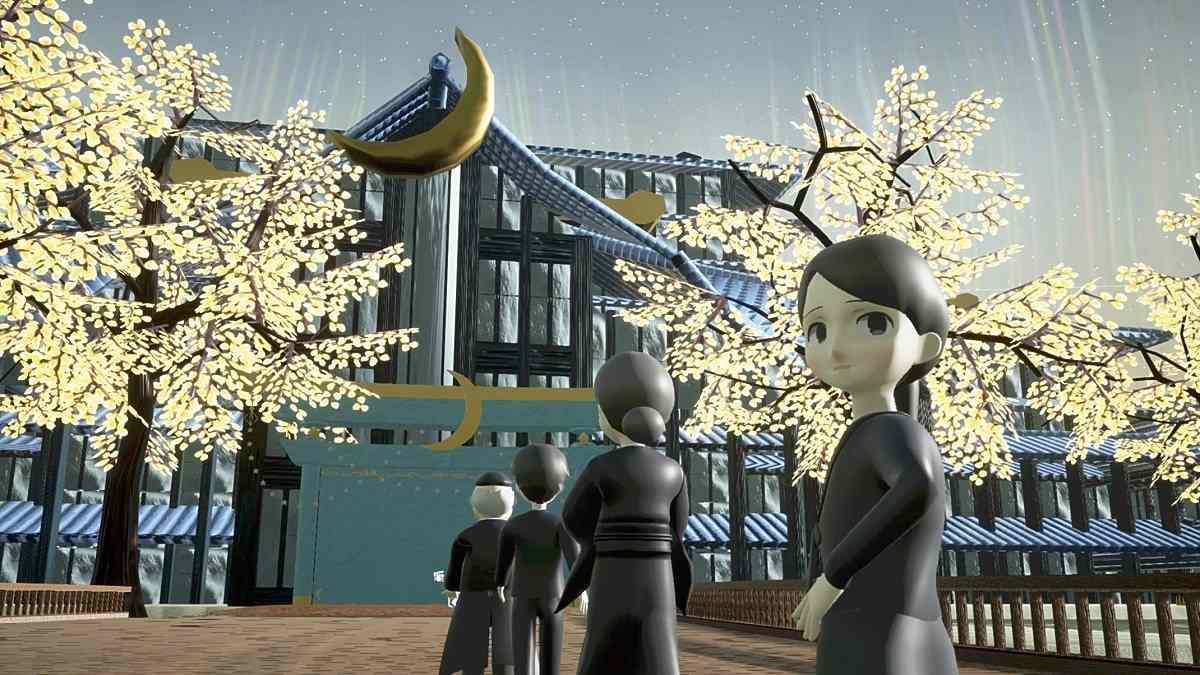 6:00 JST, October 5, 2023
A growing number of people are paying tribute to the deceased not at cemeteries but in front of a screen.
Digital graves on smartphones or computers make use of state-of-the-art technologies such as the metaverse and non-fungible tokens (NFTs).
The biggest advantages of such graves are that it does not require a physical monument and that respects can be paid anytime, anywhere.
Related services are cropping up as well, such as using video and audio to feel closer to the deceased.
Such digital graves might change the way memorial services are held for ancestors.
Alpha Club Musashino, a Saitama-based company offering ceremonial occasion services, is planning to launch a metaverse cemetery service by the end of this year.
Users can access the cemetery through a computer or a smartphone and pay a virtual visit to a grave as an avatar. They can offer digital flowers or talk about memories of the deceased with others via an online chat function.
The company is also considering ways to provide customers with a service using artificial intelligence to digitally generate a deceased person's appearance, voice and personality.
"You'll need to keep and pray for the remains of the deceased at another facility, but it will be unnecessary to buy a gravestone or maintain and manage it," said an executive of Alpha Club Musashino. "You can remember the dead anytime without fuss."
Smart Senior, a telecommunications company in Kawasaki, has a service where a digital grave is accessed by scanning a QR code on a physical tomb. The information displayed on the digital grave and its design are decided to suit the deceased person's taste and views on life and death.
The company's digital graves also have a function that gives only a limited number of family members access to videos and the family tree. Concerns about registered data being forged or copied are alleviated because the service uses NFTs, the unique digital data of which is verified through a blockchain. Such data is preserved semi-permanently even in the event that Smart Senior ceases to exist.
"It was really convenient," said Mayumi Arikabe, a homemaker in Sapporo in her 60s, who purchased a digital grave from Smart Senior.
Her late great-grandfather was from Fukuoka Prefecture and sent to Hokkaido as a tondenhei military settler-farmer. There were so many source materials related to her great-grandfather kept at the family house that she was at a loss how to pass them down to her children and grandchildren.
Arikabe learned about digital graves from a stone materials company she was acquainted with. Now she is planning to preserve photos and documents she would like to pass down to posterity as digital data and add the QR code to the gravestone she owns at a cemetery.
"When I visit the grave, I can scan the QR code and look at the photos and our family tree while praying for ancestors," she said. "Then I will be able to easily talk about my family history to my grandchildren, who don't know the faces of their ancestors."
QR codes can also be printed such as on cards that users can carry with them or give out to others.
"Some people choose not to own graves, and some people want to keep their gravestones," said Tetsuo Fujisawa, the president of Smart Senior. "They will all be spared the burden of making visits to graves by using digital graves and perhaps they will be able to offer the deceased even more heartfelt prayers."
"Overseas in places such as Western nations and Taiwan, online cemetery visits are becoming normal, and people who don't own graves are increasing," said Midori Kotani, the head of Senior Seikatsu Bunka Kenkyujo institute who is well-versed in the latest on graves. "It's possible that online prayer offerings and digital graves may spread quickly if more people start to view that paying respects to the dead does not mean having to be in front of the remains."
Living far away
A major background factor for digital graves gaining attention is that a growing number of people are finding it burdensome to maintain and manage family graves.
In fiscal 2021, there were 118,975 cases of changing location of graves, including returning the plot of land, up by 55% from 10 years earlier, according to a public health administration report by the Health, Labor and Welfare Ministry.
Apparently, it happens because there are many cases in which people find it difficult to regularly maintain their ancestors' graves in their hometowns or pay visits to them, as there are fewer descendants and greater concentration of the population in urban areas.
A grave visit survey of 4,000 people by Tokyo-based information and communication company Planet, Inc. in May and June found that 36% of respondents said they have no custom of visiting family graves. Of these people, 27.3% said they have no time to do so because they live far from the cemeteries.
Add TheJapanNews to your Google News feed.