Japan Planning Improvements to 40 Airports, Seaports to Boost Defense, Eyeing China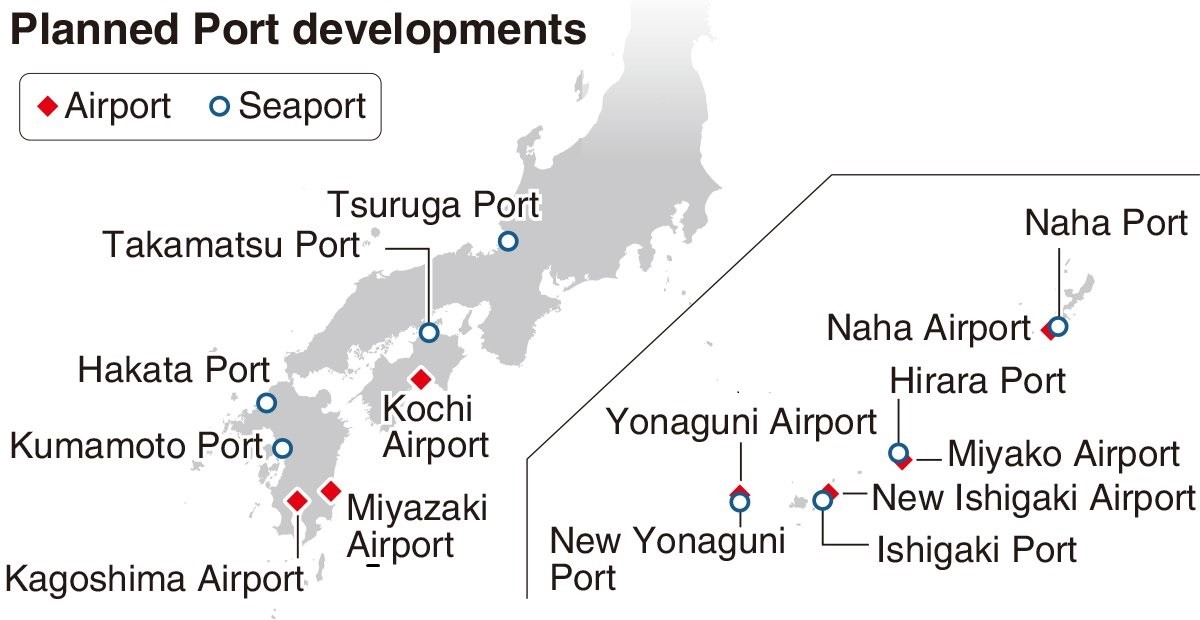 20:00 JST, August 24, 2023
Improvements to about 40 airports and seaports are being considered under a government plan to bolster the nation's defense capabilities, The Yomiuri Shimbun has learned.
The government has compiled a draft plan that includes projects to build a new port on Yonaguni Island in Okinawa Prefecture and extend a runway at an airport on Miyako Island, also in the prefecture.
According to multiple government and ruling party sources, the infrastructure improvements are aimed at utilizing the facilities for defense purposes, as part of preparations for an emergency involving Taiwan. Expenditures relating to these projects will likely be included in next fiscal year's budget.
According to the sources, the draft states that while these airports and ports will be transport and logistics hubs for civilian use in peacetime, Self-Defense Forces vessels and fighter jets will be able to use the facilities in the event of an emergency for defense operations and evacuations of residents.
Most of the airports and ports are on islands in the Nansei chain, which are close to Taiwan, and in the Kyushu and Shikoku regions, which would become SDF and supply transportation bases.
The areas have been chosen with China in mind, as Beijing has been stepping up provocations in the Taiwan Strait.
A new port accessible by SDF escort vessels and Japan Coast Guard patrol boats will be constructed on Yonaguni, according to the draft.
The island is about 110 kilometers from Taiwan and therefore at risk of being affected by a nearby emergency. However, it does not have a port accessible by large ships. "Building a port is an urgent matter from the viewpoint of protecting people there," a senior government official said.
In addition, a quay at Ishigaki Port in Okinawa Prefecture, the base for the Ishigaki Coast Guard Office, will be extended to bolster the security of the Senkaku Islands in the prefecture.
China Coast Guard vessels frequently intrude into Japanese territorial waters around these islands. Quays and other facilities also will be built at Naha Port in the prefecture; Hakata Port in Fukuoka Prefecture; Takamatsu Port in Kagawa Prefecture; and Tsuruga Port in Fukui Prefecture, among other locations.
Upgrades are planned at airports including New Ishigaki and Naha. As well as extending runways for large aircraft, the government will consider building new aircraft parking aprons, taxiways and other facilities.
Kagoshima Airport and Miyazaki Airport in Kyushu and Kochi Airport in Shikoku are among the facilities expected to get runway extensions and other improvements.
On Wednesday, Miyakojima Mayor Kazuyuki Zakimi submitted a request to Chief Cabinet Secretary Hirokazu Matsuno for enhanced airport facilities when the government's top spokesman visited Miyako Island.
"The government will listen to the wishes of locals and appropriately deal with these issues," Matsuno said to reporters.
The National Security Strategy approved in December included plans to develop and enhance public infrastructure and to reinforce Japan's comprehensive defense architecture as part of efforts to implement a "fundamental reinforcement" of Japan's defense capabilities.
Add TheJapanNews to your Google News feed.