Over 90% of Foreign Tourists Satisfied with Tokyo: Language Barrier Still an Issue, But Cuisine Highly Praised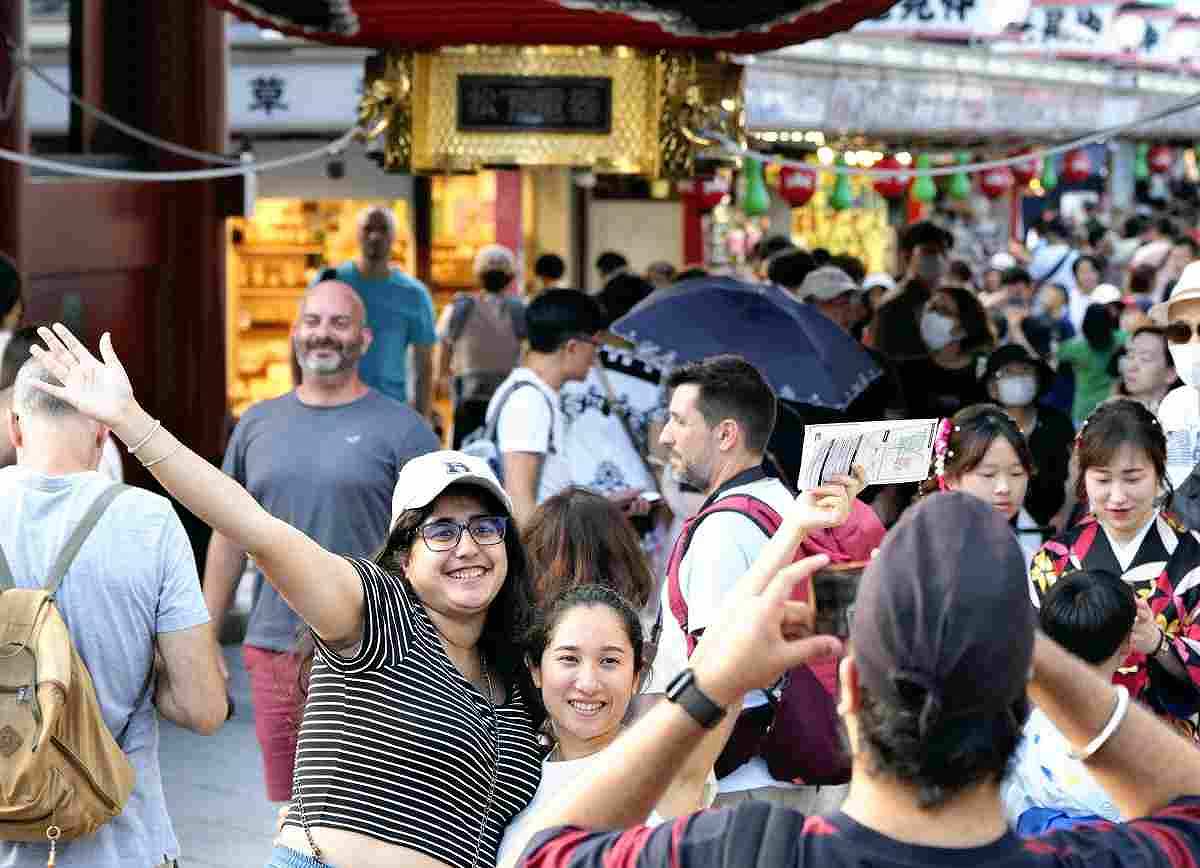 6:00 JST, August 24, 2023
More than 90% of foreign tourists who visited Tokyo said they felt satisfied during their stays and wanted to visit again, according to a survey by the Tokyo metropolitan government.
But foreign tourists' evaluations of multi-language services were low, and therefore the metropolitan government said it aims for improvement in that regard.
The metropolitan government conducted the survey on a total of 2,434 foreign tourists at Haneda and Narita airports from April to December last year.
When asked how often they had visited Tokyo, 34% of respondents said it was their first time, while 63.4% said they were repeat visitors.
About whether they felt satisfied, 91.4% replied that they were satisfied or very satisfied. Asked whether they wanted to visit Tokyo again, a total of 93.8% said that they wanted to do so or were eager to do so.
Regarding points of satisfaction, eating facilities were praised by the highest percentage of respondents, as 87% replied that they were satisfied. With multiple responses allowed, the next most highly praised aspect was tourism facilities, cited by 84.2%, followed by public transportation, praised by 82.6%.
In contrast, the lowest rate of satisfaction was reported for communications in foreign languages, with only 43.1% saying they were satisfied on that point.
Other points about which fewer than 70% expressed satisfaction were descriptions in foreign languages, praised by 51.2%; informational signage, praised by 64.1%; and availability of WiFi access for mobile phones, praised by 66.6%.
In a multiple-answer question about their activities in Tokyo, 89.2%, the highest percentage, replied that they enjoyed Japanese cuisine. Other popular choices were shopping for daily goods, cosmetics, foods and sweets, cited by 51.3%; shopping for clothing and fashion items, cited by 50.3%; and exploring skyscrapers and other places, cited by 47.8%.
In a multiple-answer question about places they visited, 58.4% of respondents, the highest percentage, said they had been to the Shibuya area.
It was followed by the Shinjuku-Okubo area, at 50.3%; the Ginza area, at 48.8%; the area around Tokyo Station, including Marunouchi and Nihonbashi, at 45.2%; and the Asakusa area, at 42.5%.
In a single-answer question about the area in which they felt most satisfied, the Shibuya area again finished first, as the choice of 10.3%. It was followed by the Asakusa area, favored by 9.8%, and the Ginza area, favored by 9.1%.
An official of the metropolitan government said: "Townscapes such as the Shibuya scramble crossing are widely known as new attractive destinations in Tokyo. We want to continue assisting multi-language informational displays in accommodation and eating facilities."
Add TheJapanNews to your Google News feed.