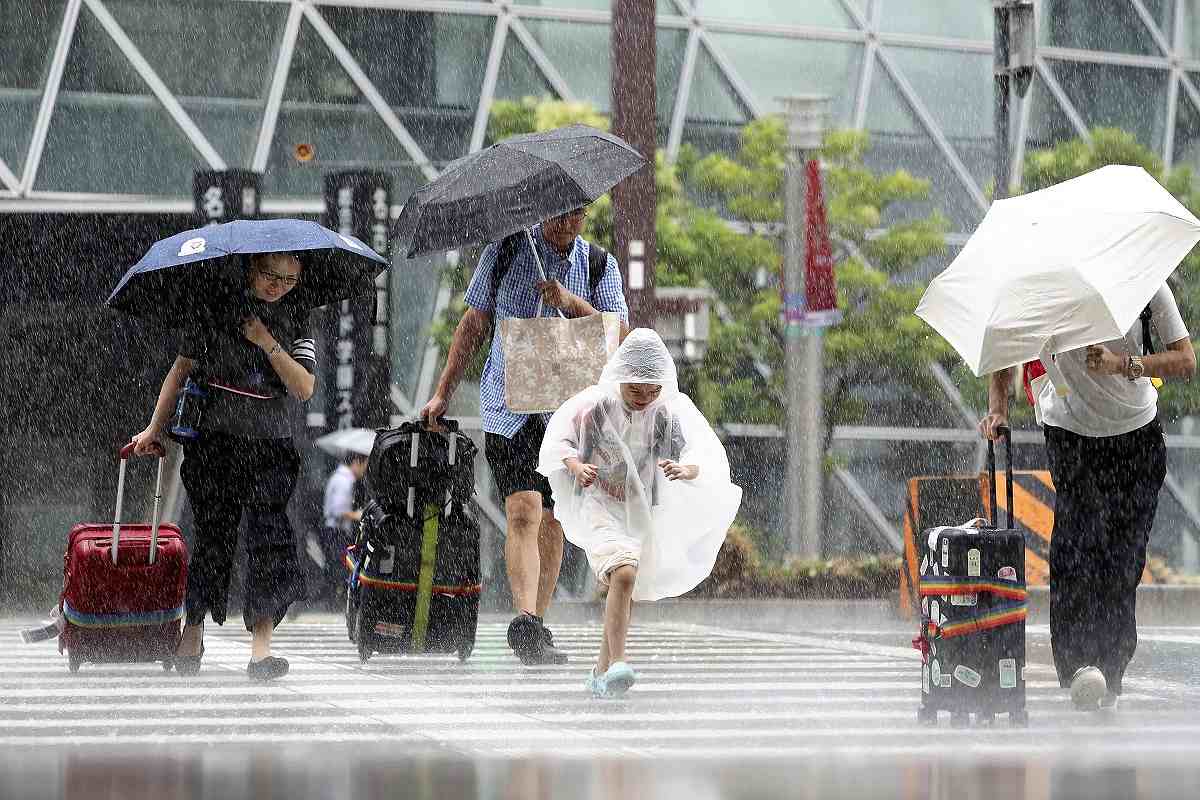 16:15 JST, August 15, 2023
A typhoon made landfall off Cape Shionomisaki in Wakayama Prefecture just before 5 a.m. Tuesday before moving northwestward across the Kii Peninsula, bringing heavy rain to western Japan.
Typhoon No. 7, also known as Lan, was moving northwestward near the city of Wakayama at a speed of 15 kph at 9 a.m. on Tuesday and reached Akashi at 1 p.m. on the day, the Japan Meteorological Agency announced.
According to a Yomiuri Shimbun tally, 24 injuries related to the typhoon were reported in Osaka, Wakayama and Tsu, among other places.
The typhoon caused linear precipitation bands that triggered heavy rainfall in a short period of time in Okayama and Tottori prefectures.
Linear precipitation bands were also expected over the Shikoku, Chugoku, Kinki and Tokai regions, according to the agency.
The agency has also predicted heavy rain over eastern Japan on Wednesday when the typhoon is expected to be over the Sea of Japan.
Five locations in three prefectures recorded more than 300 millimeters of rain in the 12-hour period to 9 a.m., with 464 millimeters logged in Odai, Mie Prefecture, 374 millimeters in Kamikitayama, Nara Prefecture, and 336 millimeters in Nachikatsuura, Wakayama Prefecture.
Tottori City logged record rainfall over a one-hour period at 97.5 millimeters, with Kagamino, Okayama Prefecture, recording 71.5 millimeters.
In the 24 hours through 6 a.m. Wednesday, rainfall was expected to reach 350 millimeters in the Tokai region; 300 millimeters in the Kinki region; 250 millimeters in the Chugoku region and 200 millimeters in the Shikoku, Hokuriku and Kanto-Koshin regions.
Japan Airlines Co. and All Nippon Airways Co. canceled at least 560 flights due to the typhoon and Shinkansen bullet train operations were disrupted between Nagoya and Okayama stations.
Add TheJapanNews to your Google News feed.