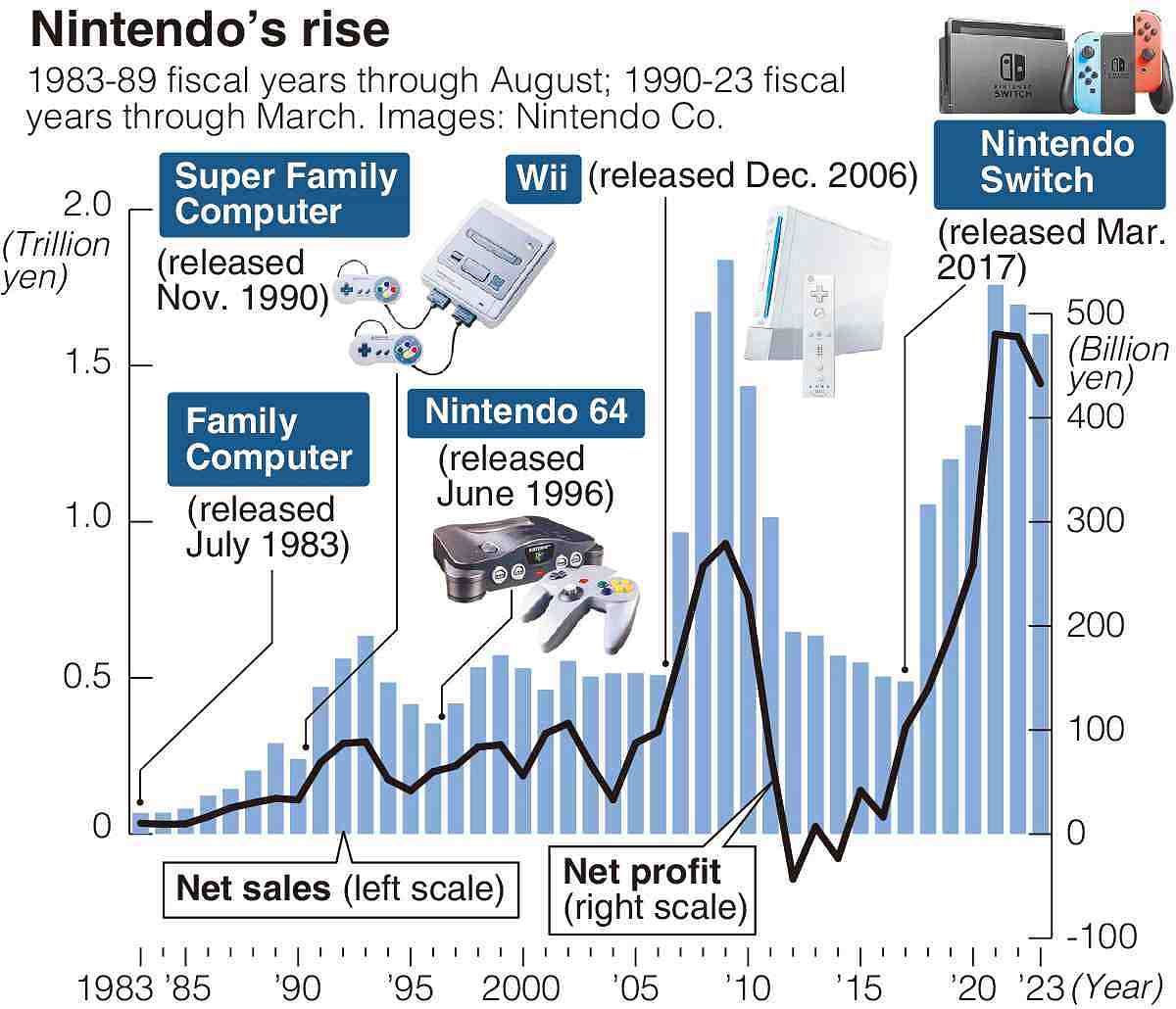 14:41 JST, July 14, 2023
Saturday marks 40 years since Nintendo Co. released the Family Computer video game console, which spawned a slew of hugely popular titles and showcased Japan's burgeoning game industry to the world.
The Family Computer — Famicom for short — hit shelves in Japan in July 1983, heralding the emergence of Nintendo as a video game giant.
To commemorate the milestone anniversary, a special website featuring information about popular Famicom games and the console's history is scheduled to go live on Saturday.
Marketed as the Nintendo Entertainment System in the West, the Famicom ushered in the era of home video game devices with interchangeable cartridges, which allowed players to quickly and easily switch games.
Nintendo has sold 61.91 million Famicom consoles and 500 million game cartridges worldwide, with the arrival of iconic titles such as Super Mario Bros. and Dragon Quest fueling the success of the device.
Headquartered in Kyoto, Nintendo started out as a manufacturer of hanafuda playing cards before branching out into video games. The Famicom was followed by the Super Famicom, Wii, and most recently Switch, Nintendo's current flagship product.
Nintendo's net sales in the business year through to the end of March 2023 exceeded ¥1.6 trillion, almost 24 times higher than the company's sales 40 years ago.
"People who played our games for the first time back then are now playing our games with their children and grandchildren," Nintendo President Shuntaro Furukawa said.
Old games fetching staggering prices
The Famicom remains hugely popular in Japan even today, with fans hunting down used consoles to relive the enjoyment of playing old games. Some used games have reportedly been sold for several hundred thousand yen.
The impact of video games has been seen in far-reaching fields since they became more than just things children play.
Esports, in which gamers pit their skills against each other, is one such example. Competitions offering huge cash prizes are now held around the world, and esports will feature as an official medal event for the first time at the Asian Games in China this autumn.
Recent years also have seen the emergence of "gamification," the application of game-like elements to enhance products, services or educational activities.
"Video games are already ingrained in people's lives," said Ichiro Kojima, chief analyst at Bunseki Koho Laboratory. "I think they'll continue to take root in society and transcend the boundaries of entertainment."
Add TheJapanNews to your Google News feed.