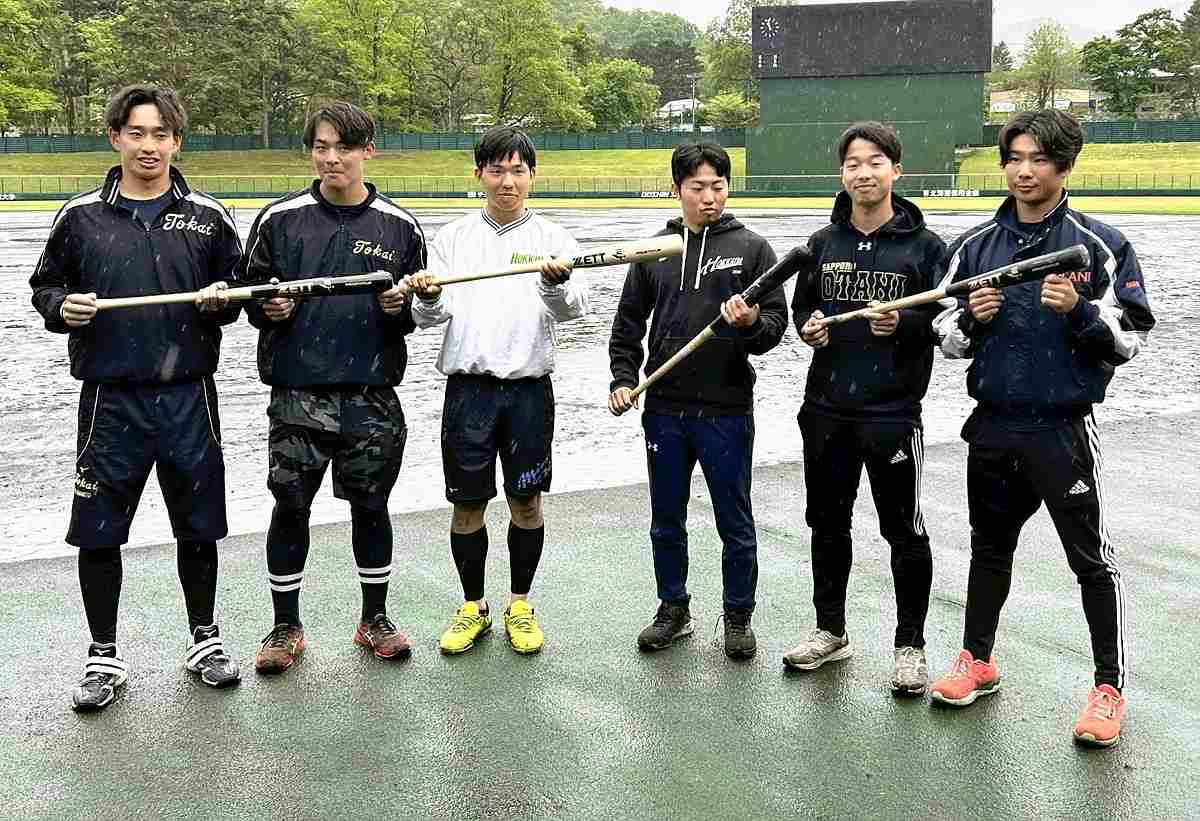 1:00 JST, July 13, 2023
Wild trees in Hokkaido may hold the key to a revival of home-grown Japanese baseball bats amid skyrocketing prices for imported timber. An effort to develop bats made from Erman's birch wood has been attracting attention.
In Japan, home-grown bats made from Japanese ash trees were once widely used in baseball. However, the trees became depleted about 20 years ago and have been largely replaced by imported timber such as North American maple today. From this spring, the home-grown bats started to be used in official games of university baseball leagues and have received good feedback from players.
Erman's birches are broad-leaved trees and a variety of Japanese white birch. On the main island of Honshu, the trees are found mainly in high mountains, while in Hokkaido they naturally grow in wider areas including lowlands. However, the trees are not popular as timber for making furniture so most of them are turned into cheap wood chips for pulp production.
Under such circumstances, the Hokkaido prefectural government and the Hokkaido Research Organization (HRO) focused on the trees as material for bats, which have a higher market value than wood chips.
Erman's birches are softer and more flexible than maple trees, giving batters more options. In addition, since the trees grow in clusters, they are easy to cut and transport. Squared timber from Erman's birch trees reportedly costs only about half as much as squared timber from Canadian maple trees. Fast-growing Erman's birches take 50 to 60 years to grow enough to produce bats, which is shorter than the period required for Japanese ash.
With the support of the sporting goods maker Zett Corp., the prefectural government and the HRO have produced a total of 180 prototype bats since 2021 and offered them to university and adult baseball teams for free. This spring, the bats were officially used in some university baseball leagues including the so-called Sapporo six university baseball league.
Riku Kasahara, a third-year student of Sapporo Otani University who uses an Erman's birch bat, said: "I feel like I'm making the same kind of contact, but the energy is better transferred to the ball, which helps it carry."
In order for Erman's birch bats to be used in professional baseball, the trees need to be registered as a tree species under the bat rules of the Nippon Professional Baseball Organization. To be registered, factors such as safety, stable supply and past use in amateur baseball are considered.
The Hokkaido government's forestry and timber industry department plans to hold workshops to promote the trees as baseball bat material and increase the number of businesses dealing in the trees, aiming to establish a distribution channel for commercialization.
According to the Hokkaido baseball association and others, the prices of wooden bats increased by 10% to 20% over the past year.
An official of the technology development department of Zett Create Corp., a group company of Zett, said, "If we can use home-grown timber, we will be able to supply bats at reasonable cost for players."
"Once conditions for stable supply are satisfied, we would like to put the bats into the market as soon as possible," he added.
Add TheJapanNews to your Google News feed.