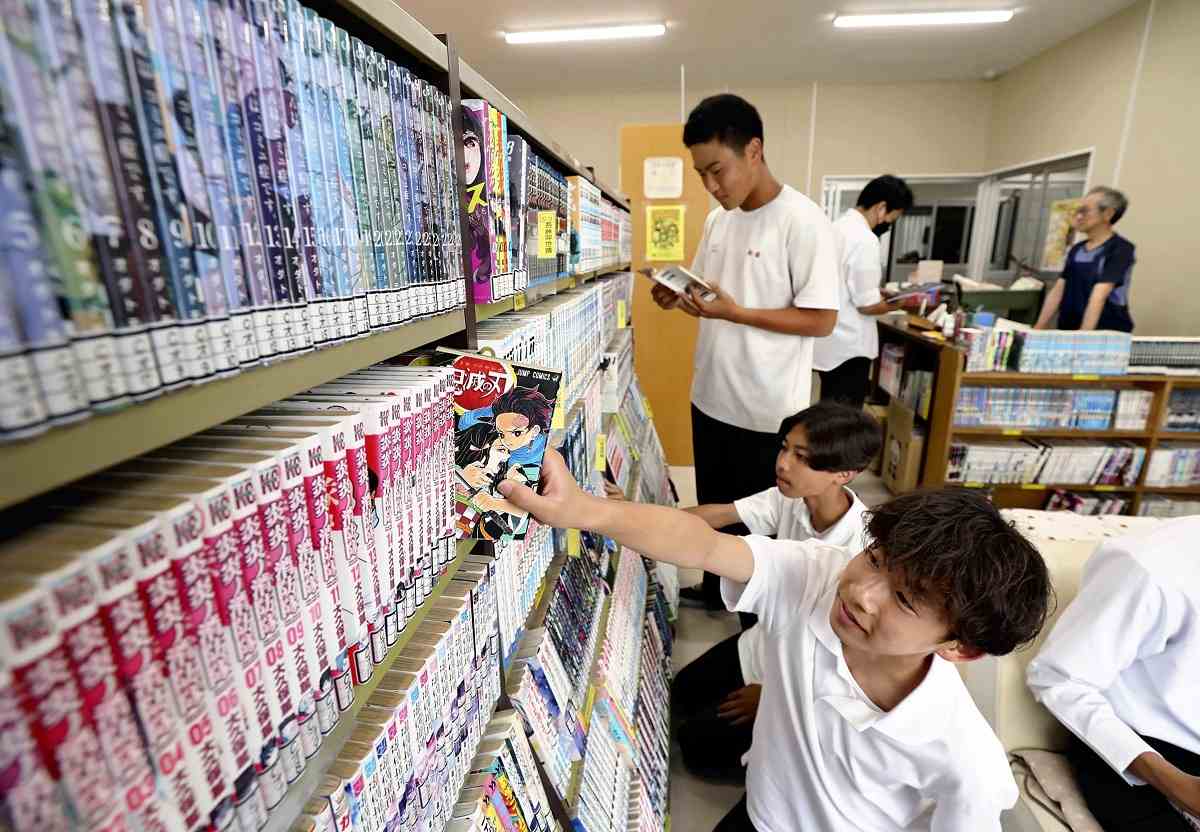 13:02 JST, June 25, 2023
A growing number of junior high and high school libraries are putting manga publications on their shelves as part of efforts to attract students.
"Barefoot Gen," which depicts the tragedy of the World War II atomic bombings, was once the standard manga in schools. Now, however, a variety of other popular works are vying for readers' attention. "It's important to clarify the criteria for selecting manga and to strike a balance," one expert opined.
4,700 titles
Kanagawa Prefectural Chigasaki Senior High School's library boasts around 4,700 manga titles — almost 20% of its total collection — including "Golden Kamuy" and "Chihayafuru."
During lunch breaks and after school, manga-reading students can be seen relaxing on couches in the library.
Satoshi Ishii, a first-year student enjoyed reading "Cells at Work," a popular manga that anthropomorphizes human cells. "It's an easy-to-read manga, even for people who aren't good at science," he said.
The school's manga collection swelled since the arrival of school librarian Shoji Kasagawa in the 2020 academic year. In addition to fielding requests from teachers and students, Kasagawa also heard from a school nurse about "Kounodori: Dr. Stork," which takes place in an obstetrics and gynecology clinic, and from an art teacher about "Blue Period," which depicts a high school student keen to attend art college. "There are many advanced manga that aid learning and provide opportunities to think about life," Kasagawa said.
The library at Okinawa Prefectural Hentona High School, which has about 100 students, was relatively quiet until about two years ago. However, when librarian Kunika Sunagawa added a number of manga titles, footfall began to increase.
Now, about 10 people visit the library every day to browse its around 600 manga publications, Sunagawa said. "Some students have gone on to read regular books after reading manga," she said.
It is possible that some students may be tempted to read borrowed manga titles during classes. An official at Uozu City Seibu Junior High School in Toyama Prefecture, which offers about 300 manga books for loan in its library, said, "We ask students not to read manga in the classroom, and they abide by this rule."
Manga-reading tailwind
"Barefoot Gen," which first appeared in Weekly Shonen Jump in 1973, was adopted by libraries across Japan and became a library staple along with other study-related manga and Osamu Tezuka's works, according to Emiko Takahashi, director of the Japan Library Association.
School libraries began introducing manga in earnest in the 2000s. It is thought that teachers and librarians who grew up reading "Dragon Ball" and "Slam Dunk" — serialized in Weekly Shonen Jump in the 1980s and 1990s — were a driving force behind the manga-in-school-libraries trend.
"Manga Edutainment," a project launched by the Nippon Foundation in 2015 to promote manga for learning purposes, also provided a fillip. Its writers and researchers have selected and published 250 works from 11 fields, including literature and history.
According to a survey conducted by project participants in 2019, about 80% of 64 librarians at public high schools and other institutions in Gifu Prefecture responded that "the number of students using the library increased after putting manga on the shelves." About 90% of the respondents said that they "incorporate regular manga as well as study-focused manga."
Reading benefits
The Education, Culture, Sports, Science and Technology Ministry excludes manga from its survey regarding the amount of time spent reading books, and many people do not consider manga-reading to be "real" reading, on a par with "regular" books. In many schools, manga is deemed to be "entertainment." Some teachers concern that manga could possibly deter students from studying.
A municipal junior high school in Kyushu has removed manga from its library, after concluding that such works could "stop students from reading regular, printed books."
In its guidelines for school libraries, the ministry states its aim to "strive for harmonious collections that are not overly biased toward manga," but saying decisions will be "left to the discretion of each school."
"These days, many works have specialized content that provide opportunities for children to come into contact with new worlds," said Miki Muraki, associate professor of library and information science at Doshisha Women's College of Liberal Arts. "However, it's important to clarify the criteria for manga selection and to strike a balance according to budget size and other factors."
Improving reading comprehension
Japanese manga is popular worldwide; some schools in the United States, South Korea and Australia have manga publications in their libraries.
According to the Programme for International Student Assessment, students who read manga several times a month or more in Japan and other countries tend to have higher reading comprehension scores than non-manga readers, based on data from a 2018 survey of 15-year-olds around the world carried out by the Organization for Economic Co-operation and Development.
In Japan, the average score for manga-reading students was 518 points — 29 points higher than students who did not read manga. Similar results were observed in South Korea, France, and Finland, all of which have a relatively large number of manga readers.
"Manga also helps foster the ability to express oneself and grasp story contexts by following illustrations and being visually exposed to stories and their respective worldviews," Kyoto Seika University Prof. Kazuma Yoshimura said. "Manga also feature a lot of printed text, which likely helps improve reading comprehension."
Add TheJapanNews to your Google News feed.