Japan Local Govts Eye Superyacht Owners to Help Revitalize Economies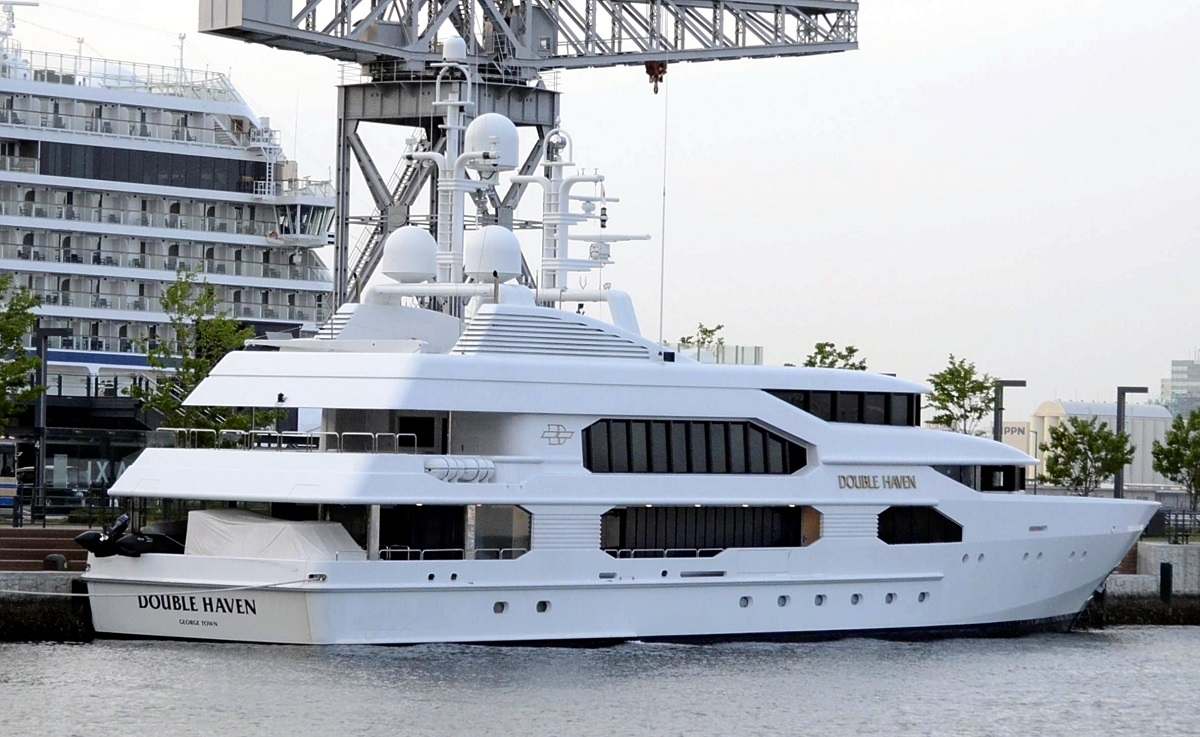 11:31 JST, May 27, 2023
With inbound tourism gradually recovering following the coronavirus pandemic, a number of coastal local governments are attempting to attract wealthy, superyacht-owning tourists. To support these economy-revitalizing efforts, the central government has been easing related regulations, making it easier for wealthy foreigners to dock their vessels in Japan.
According to the Land, Infrastructure, Transport and Tourism Ministry, superyachts, or mega-yachts, are defined as large, privately owned cruisers over 24 meters in length, with luxurious interiors and living spaces akin to high-scale hotels.
Popular destinations for owners of such craft include the Caribbean and Mediterranean seas. Many island nations have built their tourism industry around superyacht port calls.
"We want all the Ishigaki beef you can muster, regardless of the cost!" blurted a visiting French chef to Tamotsu Kuroshima, a wholesale food-business operator on Ishigaki Island, Okinawa Prefecture.
The chef, who worked on a luxury yacht, said the vessel's owner intended to treat his family and guests to high-end beef dishes. In addition to the top-grade, island-raised beef, the chef also bought large quantities of pork, fish and flowers, splashing out more than ¥5 million in total.
"There's almost no limit to [superyacht owners'] budgets," marveled Kuroshima, 47. "They attach importance to whether we can prepare the 'finest products' in time."
With the decrease in COVID-19 infections, the situation has begun to calm on Ishigaki Island, too. Tourists are beginning to return, as evidenced by the arrival of an international cruise ship in March for the first time in three years.
"If superyachts return to the island, local economies can be revitalized following the negative impact of the pandemic,"Kuroshima said.
Regulations eased
According to the Japan Superyacht Association, superyachts are becoming increasingly popular, driven by a desire for private space in the wake of the pandemic. As of March, some 12,330 superyachts were thought to be plowing seas around the world.
Once moored, each vessel spends around ¥1.3 million to ¥2 million per day on meals, sightseeing, food supplies for on-board cooking, repairs, maintenance and refueling, among other expenses. In one case, the people aboard a superyacht spent approximately ¥45 million during a one-month tour of Japan.
Wealthy overseas travelers can have a strong effect on local economies. Some 287,000 rich people — defined as those who spend ¥1 million or more at their travel destinations — visited Japan in 2019 from a total of six countries in Europe, North America and China, according to the Japan Tourism Agency and other organizations,
Although this number represents only 0.9% of all foreign visitors to Japan that year, they collectively spent ¥552.3 billion, accounting for 11.5% of total spending in the country. However, wealthy Americans were seen as favoring certain other destinations over Japan, with 3.8% visiting Italy, 3.2% stopping off in Thailand and only 1.8% plumping for Japan.
This prompted the government in December 2021 to target wealthy, superyacht-owning foreigners by relaxing some port-call customs inspections and allowing crew members to stay in Japan for longer periods, among other initiatives.
The Tourism Nation Promotion Basic Plan — approved by the Cabinet in March — includes a goal to raise per-foreigner spending from the previous figure of ¥159,000 to ¥200,000, while stating that the government will "promote efforts to improve the environment to host visiting superyachts."
Japan Superyacht Association Director Kenta Inaba said: "Wealthy people tend to spend a lot of money wherever they go, which helps create local jobs. The benefits of [port calls by] such vessels compare favorably with those made by international cruise ships."
Ogasawara Islands hopeful
Following the national government's policy changes, local governments in coastal areas around the country have begun to improve their respective wharves and piers in an attempt to woo superyacht owners.
For its part, the Tokyo metropolitan government plans to send officials to certain remote islands in the Mediterranean Sea to research the optimal way to attract superyachts to Ogasawara and Izu islands. "We'd like to create an environment that appeals to rich people," a senior Tokyo metropolitan government official said.
Meanwhile, Waterfront Vitalization and Environment Research Foundation President Norihiko Yamagata opined: "Attracting superyachts could prove a trump card for regional revitalization. The key to luring superyachts is whether [local governments] can develop and market as a package tourism programs that will attract rich people."
Add TheJapanNews to your Google News feed.