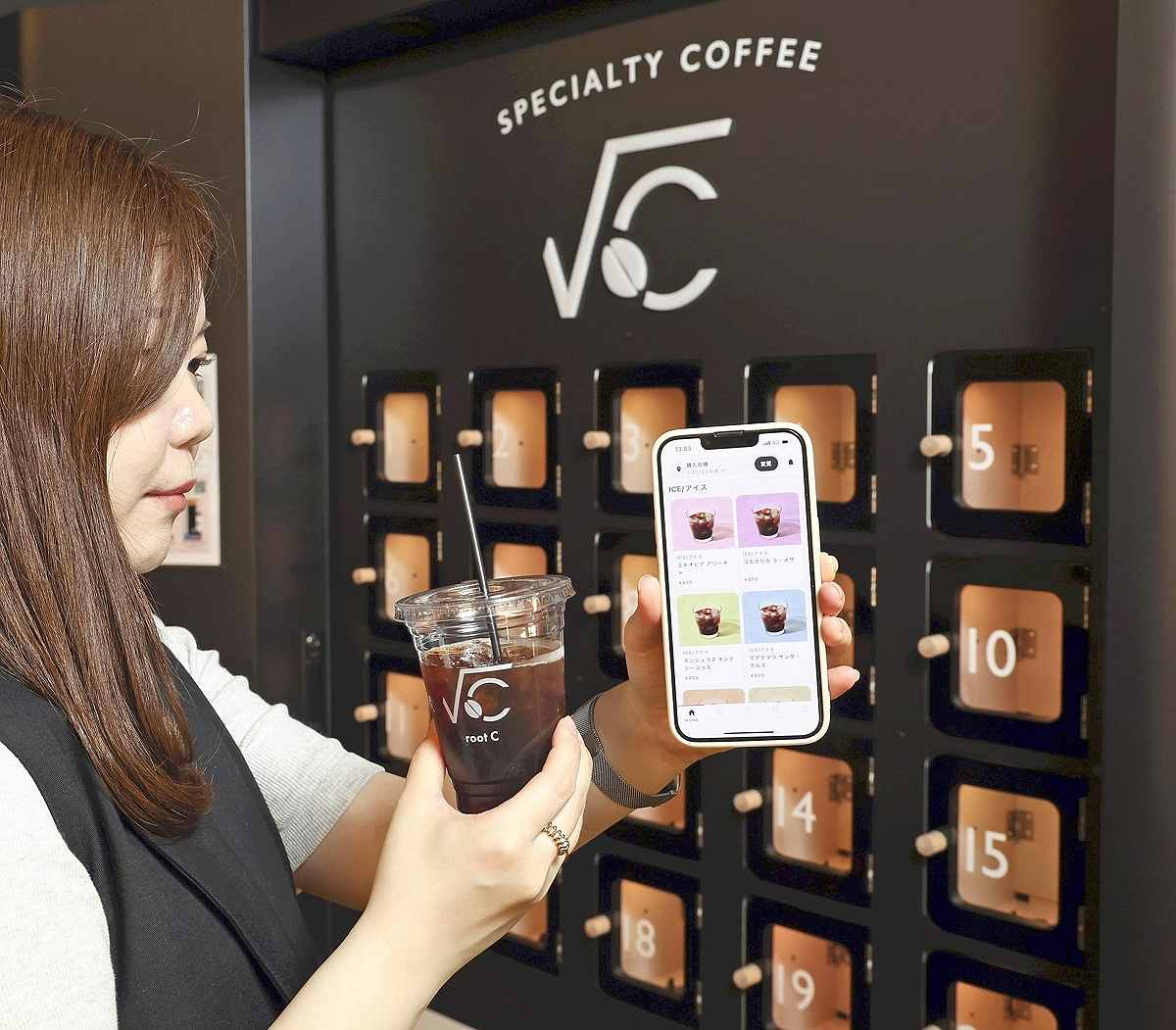 16:14 JST, May 24, 2023
Vending machines are evolving. Contact-less ones drew attention amid the spread of the coronavirus, and new types of vending machines using advanced technologies such as artificial intelligence and information communications are appearing one after another. Ideas that help achieve the United Nations' Sustainable Development Goals (SDGs) and solve social issues are being incorporated into these ubiquitous machines as well.
AI-recommended products
Earlier this month, young people one after another took cups of coffee out of a machine that looked like a small coin locker in an office building in Minato Ward, Tokyo. Called the "AI cafe robot," the machine is operated by Tokyo-based startup New Innovations Inc.
The company operates the machines in greater Tokyo and other areas. Filled with seven different kinds of coffee beans, the machine provides coffee that matches the buyer's tastes and preferences.
The machine is easy to use. Via an app, customers answer questions about their tastes and preferences such as aroma and degree of bitterness, and then set the time for the coffee to be made. Users tap the app to notify the machine when they are in front of it, and a case containing a freshly made cup of coffee is unlocked.
"It's convenient because you don't have to wait," said a 37-year-old company employee man and frequent customer. "I had a vague idea about my tastes before, but this machine has helped me learn more about them, which is interesting."
Kate iCon Box is a vending machine installed in a corner of a drugstore in Shibuya Ward, Tokyo, that uses an AI-based system to recommend eye shadows. It was developed by Kanebo Cosmetics Inc.
A camera installed in the upper part of the machine takes a photo of a user's face, and the machine analyzes characteristics such as the face shape, location of eyelids and skin color in one to two minutes and recommends four optimal colors from as many as 350,000 combinations. The user's face is displayed on a monitor reflecting the suggested colors.
"The machine recommends colors that I wouldn't have selected on my own, but the colors look easy to use," said a 35-year-old company employee woman who purchased four eye shadows including one called white pearl. "At ¥2,860, the price is reasonable, so I will give them a try."
Contributing to SDGs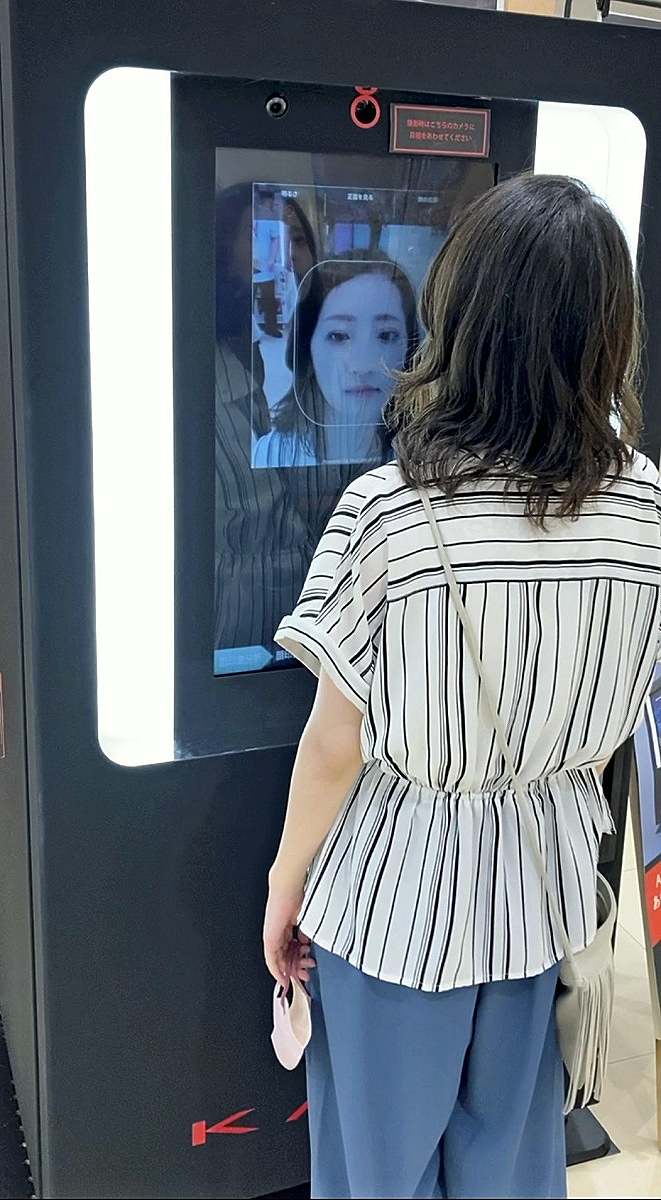 Asahi Soft Drinks Co. in June will start installing vending machines that the company claims "eat carbon dioxide." According to the company, the machines contain a CO2 absorbent and absorb CO2 from the intake air to keep drinks cool or warm. Each machine can absorb an annual amount of CO2 equivalent to about 20 cedar trees, the company said.
About 30 such vending machines will be deployed in the Kanto and Kansai regions, and the company will examine the amount of CO2 absorbed, the absorption speed and other items.
Salad Stand is a vending machine installed at places such as the Keio Inokashira Line at Shibuya Station that has become popular for selling fresh salads at reasonable prices. Tokyo-based startup Kompeito operates the machines and plans to add a new function to help reduce food waste and loss around this summer.
AI will automatically reduce prices based on demand projections, expiration dates and other information to prevent products from going unsold.
"This function will help avoid wasting perishable products, thus contributing to achieving SDGs," a company official said.
Solving issues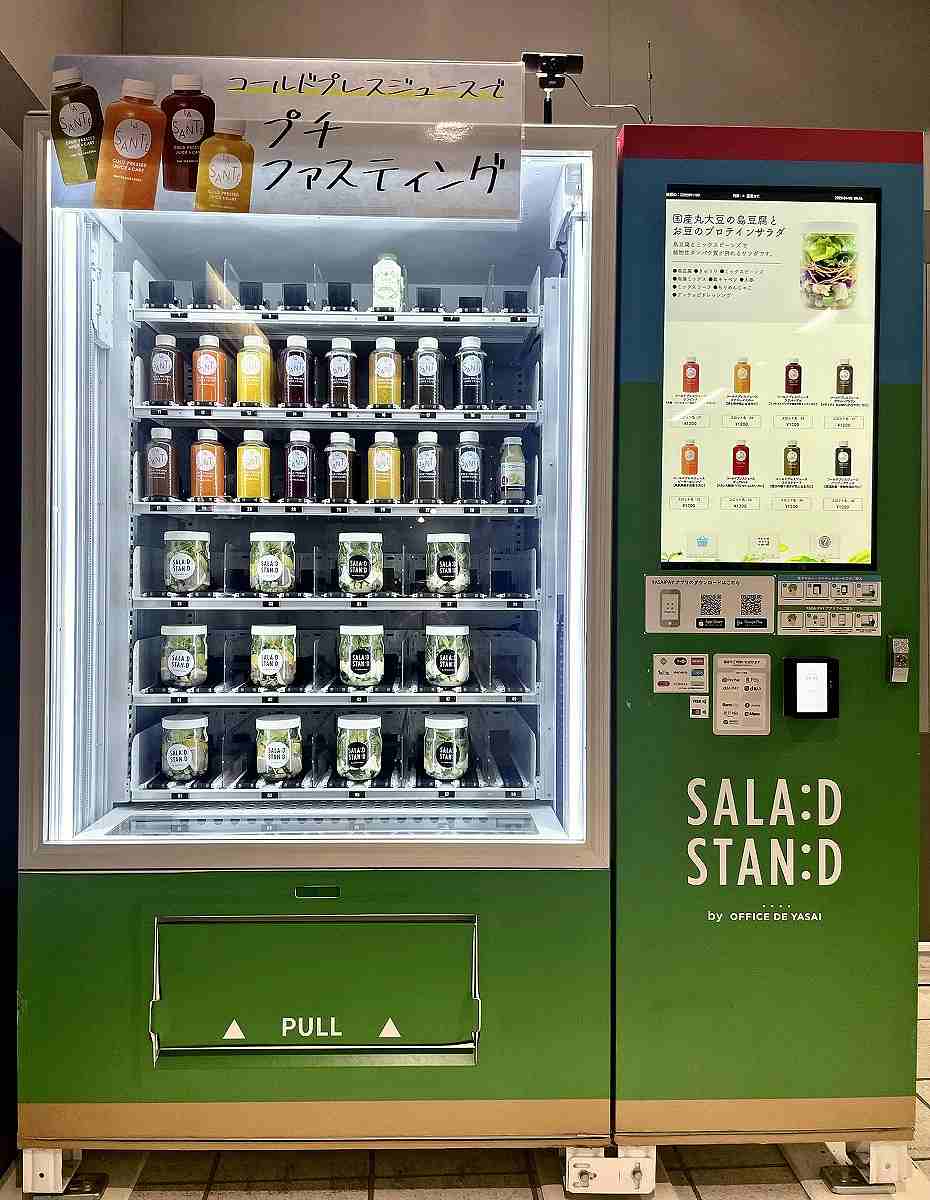 Kyocera Communication Systems Co. is using self-driving technology to develop a mobile vending machine that serves as an unmanned mobile shop selling foods and drinks. The company has been experimenting with operations on public roads in Chiba and other places since last summer. After legal restrictions on self-driving vehicles are eased, the company is considering deploying such vehicles to areas where the elderly live to give them greater opportunities to shop.
Taisho Pharmaceutical Co. aims to roll out vending machines that dispense medicine. For safety reasons, various regulations exist regarding the sale of medicine. The company's vending machine allows users to communicate remotely with pharmacists, re-creating conditions similar to face-to-face consultations.
The company has been running an experiment since last summer and will work with the Health, Labor and Welfare Ministry and other institutions to ease regulations based on data obtained from the trial. The firm aims to enable people in sparsely populated areas with no pharmacy to purchase medicine more easily.
"While the number of newly installed vending machines is on a downward trend, products sold in vending machines were diversified due to the coronavirus pandemic, and needs and room for development are expanding," said Yasuhiro Yamazaki of the Distribution Economics Institute of Japan who is familiar with issues related to vending machines. "If advanced tech such as AI is well-incorporated, it might be possible to realize ideas that will help solve social issues."
Add TheJapanNews to your Google News feed.