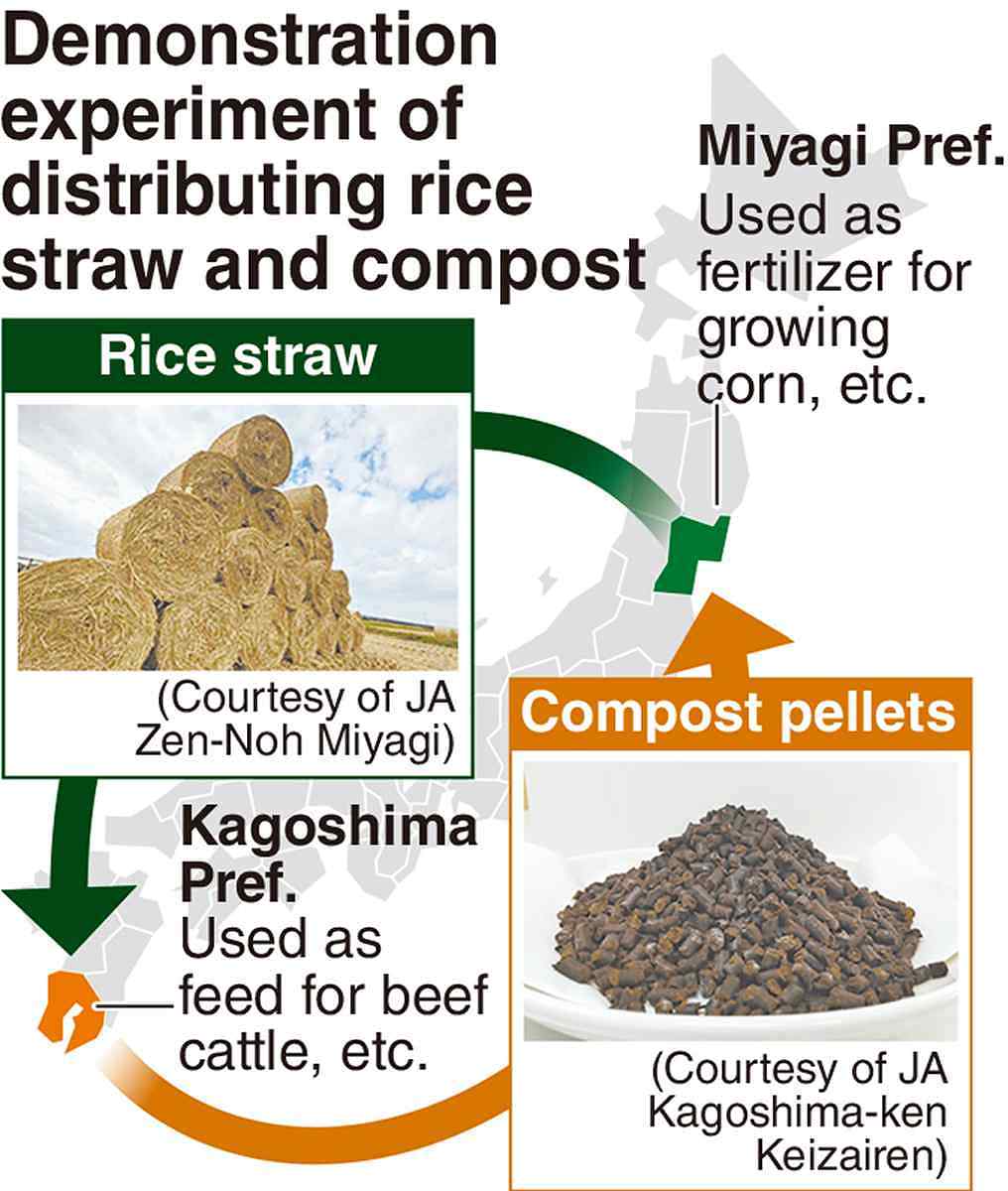 13:24 JST, May 17, 2023
SENDAI — Agricultural cooperatives in Miyagi and Kagoshima prefectures have started trading surplus rice straw and compost with each other to deal with the soaring prices of livestock feed and fertilizer and decrease their dependence on imports.
Miyagi Prefecture, one of the nation's top rice producers, is shipping rice straw while Kagoshima Prefecture, which has a thriving livestock industry, is shipping compost.
The project is a demonstration experiment that intends to make use of local resources that are unevenly distributed in Japan and reduce Japan's dependence on imports. Russia's invasion of Ukraine and the weak yen have pushed up prices of imported livestock feed and fertilizer. The project will continue to explore low-cost transportation methods and other measures until 2025.
In the past, surplus resources were sometimes supplied to other regions, but such a large-scale collaboration is rare, the Agriculture, Forestry and Fisheries Ministry said.
The organizations involved are JA Zen-Noh Miyagi agricultural co-op in Sendai and JA Kagoshima-ken Keizairen agricultural co-op in Kagoshima.
The Miyagi side supplies rolls of rice straw to the Kagoshima side, while the Kagoshima side produces and supplies granulated pellets of compost originating from cattle, pigs and chickens to the Miyagi side.
Miyagi farmers then use the pellets to grow rice and corn for livestock feed. In Kagoshima the rice straw is used to feed beef cattle and other livestock.
From February to March, the cooperatives shipped 140 tons of rice straw and 60 tons of pellets to each other by trailer, ferry and rail.
By looking for efficient shipment routes and examining the costs, including fuel, they will explore the feasibility of full-scale implementation until around 2025.
In Ishinomaki, Miyagi Prefecture, a related experiment has begun to verify the usefulness of the compost pellets. On April 19, pellets from Kagoshima Prefecture were spread by tractor on about 10 hectares of field growing rice for animal feed.
Motonori Iwakura, president of JK Farm, which is cooperating with the experiment, said: "Fertilizer prices are rising. If we can buy Kagoshima Prefecture's pellets for a reasonable price, we will consider actively introducing them."
Kagoshima Prefecture, which is one of the largest cattle and pig producers in Japan, uses a lot of rice straw produced in China. Its price has nearly doubled due to Russian invasion into Ukraine that began in February 2022 and the depreciation of the yen, among other factors, JA Kagoshima-ken Keizairen said.
In contrast, local farmers in Miyagi Prefecture use rice straw produced locally.
Having looked for destinations for their surplus resources, the two agricultural organizations began exploring the possibility of trading collaboratively beyond their regions three years ago.
The JA Zen-Noh Miyagi's administration department is enthusiastic about the project, saying, "We want to create a system that makes the most of unused resources in Japan." The agricultural strategy promotion office at JA Kagoshima-ken Keizairen said, "We will continue making efforts even though there are high hurdles, such as distribution costs."
"We want to promote similar systems in other regions as well and ultimately increase the self-sufficiency rate of livestock feed such as rice straw," the agriculture ministry's Feed Division said.
Add TheJapanNews to your Google News feed.