Ishikawa Earthquake: Traditional Crafts Still Recovering from Last Year's Quake Dealt Double Blow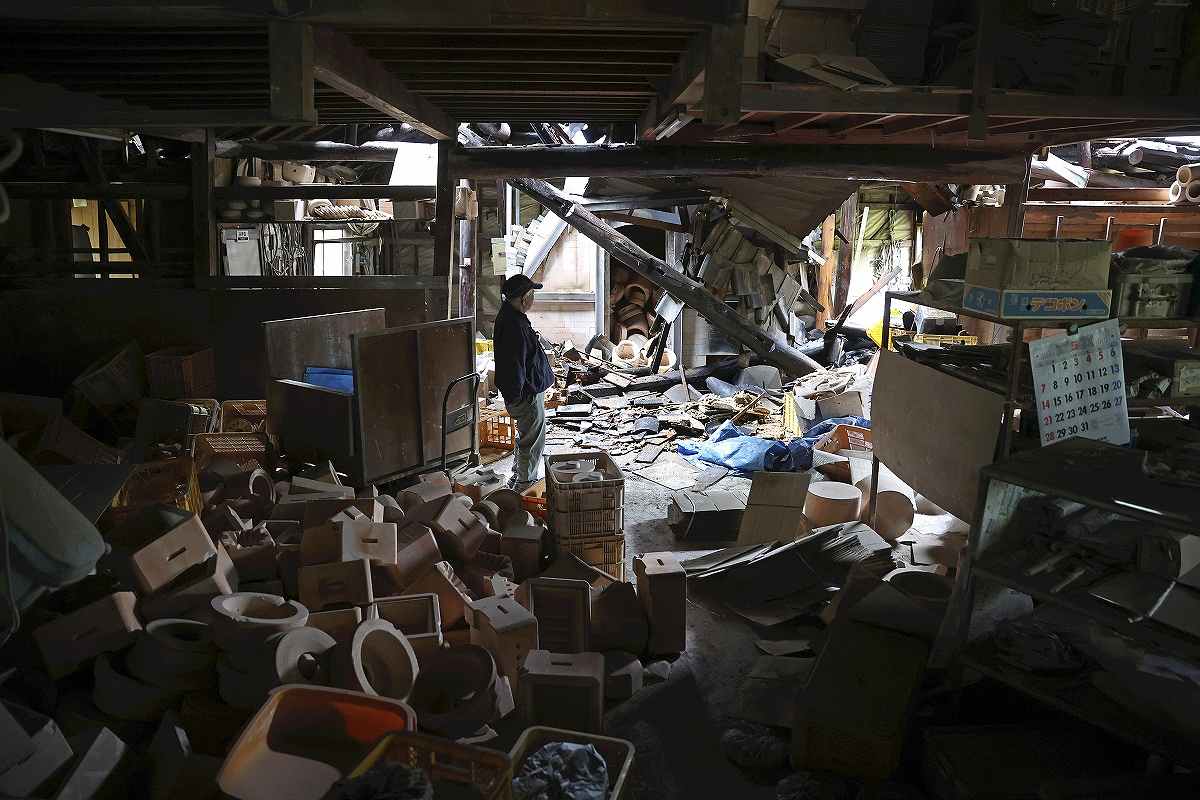 11:58 JST, May 10, 2023
SUZU, Ishikawa — The powerful earthquake that hit the Noto region in Ishikawa Prefecture on Friday and its aftershocks have dealt a severe blow to traditional craft industries in Suzu, much to the dismay of those only just recovering from a similarly strong earthquake in June last year.
A kiln in Suzu for making portable clay braziers had only resumed operation in March when it was damaged by an aftershock from Friday's quake, which had a maximum intensity of upper 6 on the Japanese seismic scale of 7.
Maruwa Manufacturing Co. produces and sells the pot-like braziers, known as "kiridashi shichirin," which are a specialty of the city. The braziers are made of diatomite that is fashioned and kilned by skilled craftspeople.
The company said its factory did not suffer major damage when the initial upper-6 tremor hit on Friday, but an aftershock of upper 5 later that evening caused supporting pillars to fall and the roof to collapse.
Maruwa's brick kiln, measuring about 2.5 meters high by about 3 meters wide, was destroyed in the June 2022 earthquake, which had a maximum intensity of lower 6. Raising funds through crowdfunding and other means, the company rebuilt the kiln in January and restarted operation in March.
Maruwa President Jinichi Tamaki said the damage to the kiln this time was minor, but the factory building itself suffered such extensive damage it must be torn down. It remains be seen if the company can restart the business in the same location.
"I had thought that now we'll be able to really get production going…" Tamaki, 71, said with chagrin.
A pottery workshop that produces a specialty earthenware called Suzuyaki also suffered devastation. About 30 to 40 pieces produced by Suzuyaki artisan Takashi Shinohara, 63, were smashed in his workshop, which is close to Maruwa Manufacturing. His kiln also suffered damage.
Suzuyaki is noted for its ashy blackness as glaze is not used to bring out the colors or sheen. The earthenware was produced in the Suzu environs from mid-12th century to the late 15th century, and was distributed widely on the Sea of Japan side of the country. After that, it disappeared from society, but was revived by the city in the 1970s as a traditional local craft.
To produce the characteristic blackness, the kiln must be completely sealed so that it lacks oxygen. The front and arch of Shinohara's brick kiln were damaged by the earthquake, and cannot be repaired. Rebuilding it entails laying about 4,000 bricks by hand.
In last year's earthquake, more than 200 of Shinohara's Suzuyaki pieces were destroyed, and this time he has lost his kiln. He has considered walking away from it all because of the physical and emotional toll the disasters have taken. But encouraging phone calls and emails from friends and customers has caused a change of heart.
"My outlook has become forward-thinking," said Shinohara, who intends to find a way to restore his livelihood.
Add TheJapanNews to your Google News feed.