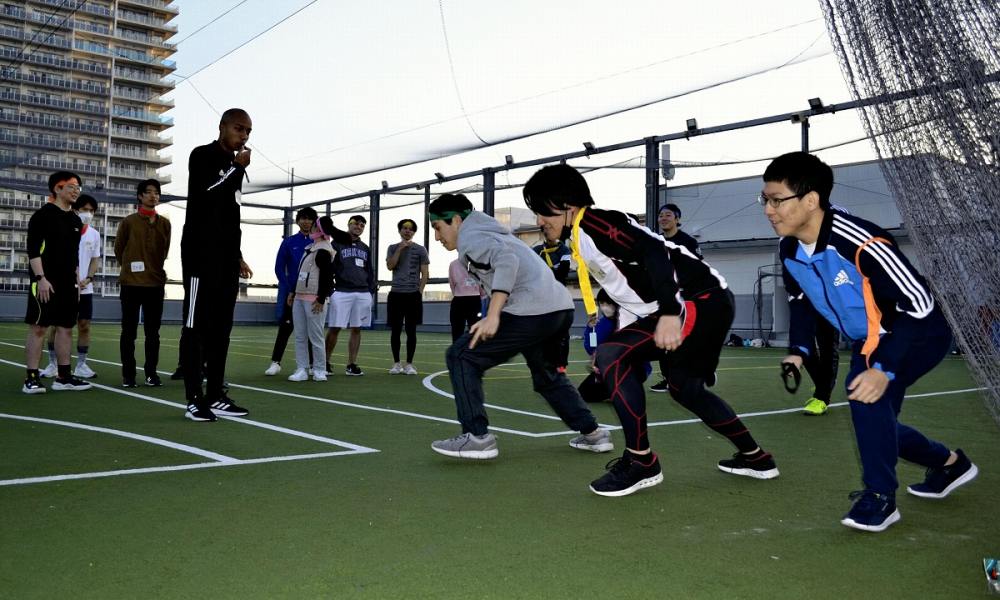 11:06 JST, April 30, 2023
Corporate Japan is embracing the return of company-based undokai sports meets, once considered "old fashioned" among younger employees. With the coronavirus pandemic and associated teleworking, many firms have reportedly been looking anew at recreational events, such as the team-oriented undokai, as a way to boost interpersonal contact among staffers.
Deepening ties
Wearing headbands, about 30 young company employees vied for supremacy in such events as the three-legged race at a sports facility in Koto Ward, Tokyo, on a weekend day in December. The Dai-Undoukai sports meet was organized by a social group mainly comprising client firms of SAP Japan Co., a major Tokyo-based software company.
Participants were mostly young employees from a variety of industries, including trading and manufacturing. Though most had never met before, they quickly started high-fiving each other whenever positive results for each team were announced.
"Many young workers, including myself, have been working from home since joining our respective firms, making it difficult to discuss work-related problems with colleagues," said Miku Kawanabe, an SAP Japan employee and one of the driving forces behind the event. "The sports meet has helped us get to know each other better."
CyberACE, Inc., a Tokyo-based subsidiary of a major Internet advertising firm CyberAgent, Inc., also held a corporate sports meet — its first ever — in Tokorozawa, Saitama Prefecture, in October last year. About 150 people competed in such events as a ball-rolling race and an obstacle race.
"Since the number of staff members is growing, we are having difficulty remembering coworkers' names and faces," said Kei Nagayoshi, who planned the event in his role in charge of vitalizing the firm's corporate atmosphere. "Competing in cross-departmental teams has helped confirm an underlying feeling of solidarity."
'Sense of ease'
Other companies, meanwhile, have carved out a niche organizing corporate sports meets. Tokyo-based Undokaiya Co. is one such firm. Founded in 2007, Undokaiya arranges venues and equipment and helps run athletic meets. Prior to the spread of COVID-19, the company organized more than 200 such events a year. However, this figure fell to 45 in 2020.
To address the drop in business, the firm launched a new service in June 2020 — online "sports" meets. These occasions allow people to take part in competitions via computer and smartphone. Thanks to its initiative, Undokaiya's event-arranging figures recovered to 195 in 2021 and 185 in 2022. The company now plans to also hold sports meets in the virtual environment of the metaverse.
Undokaiya Co. President Takaaki Yoneji — a veteran provider of corporate sports events — says many people have had a change of mindset amid the pandemic. "Participants have increasingly been telling me they feel a sense of ease after taking part in such events," he said.
Yoneji believes such comments are spurred by a general weakening of ties among coworkers and a wavering sense of belonging to a particular company.
Esports, online quizzes
Digitization, too, is having an impact on corporate athletic meets.
KDDI Corp. held an "online undokai" esports event in November last year. The aim was to deepen friendship among employees, while preventing infection.
The event comprised three elements: online games of such events like an obstacle race and throwing virtual balls into buckets; a quiz for families; and a fighting game involving professional contestants. About 2,400 people participated in the event. Looking ahead, the company said it is considering holding a hybrid event that blends traditional in-person and online events.
There also has been a shift in the way employees perceive company-run events in general. A survey conducted by Tokyo-based JTB Communication Design, Inc. in October showed that 55% of respondents thought corporate events were "a good opportunity to directly listen to management" — a 14 percentage point rise from 2016.
The percentage of respondents who said they "would like to participate in [such events] more than they had previously" rose 6 percentage points to 45%, indicating an increased willingness among employees to participate in such corporate happenings.
"Offering a wider variety of settings, including online and face-to-face events, leads to greater satisfaction among employees," said Miyuki Kikuiri, head of the company's Work Motivation Research Institute.
Based on such reports, it could be said that the old-fashioned image of corporate athletic meets is changing.
Exporting 'undokai'
Western countries had a strong influence on Japanese undokai sports meets. The first such event in Japan is thought to have been held at a naval academy in Tokyo under the guidance of a British schoolteacher in 1874 with participants competing in such events as a running race and the triple jump.
However, Chukyo University Sports Museum Director Kichiji Kimura claims records exist of a corporate sports meet held at the Yokosuka Iron Works in Kanagawa Prefecture in 1868, prior to that of the naval academy gathering. The event is thought to have been proposed by a French engineer who was keen to promote comradery among foreign and Japanese workers.
In the 1880s, elementary and junior high schools began holding undokai sports meets. Similar corporate events also took root with the aim of encouraging employees and promoting their health in line with advances in industrialization.
"Competing in groups rather than as individuals suited the Japanese, who place great value on assemblages and communities," Kimura said.
In the runup to the Tokyo Olympics and Paralympics, the government promoted undokai sports meets overseas as part of efforts to promote international exchanges.
According to the Japan Sport Council, an independent administrative agency, 275 sports events containing the Japanese term "undokai" were held in 80 countries and regions from fiscal 2014 to 2021, primarily in Asia and Africa. This "export" of the undokai concept may accelerate further in the years to come.
Add TheJapanNews to your Google News feed.