Lawyers Convey Feelings of Families Who Lost Relatives in Japan Tour Boat Accident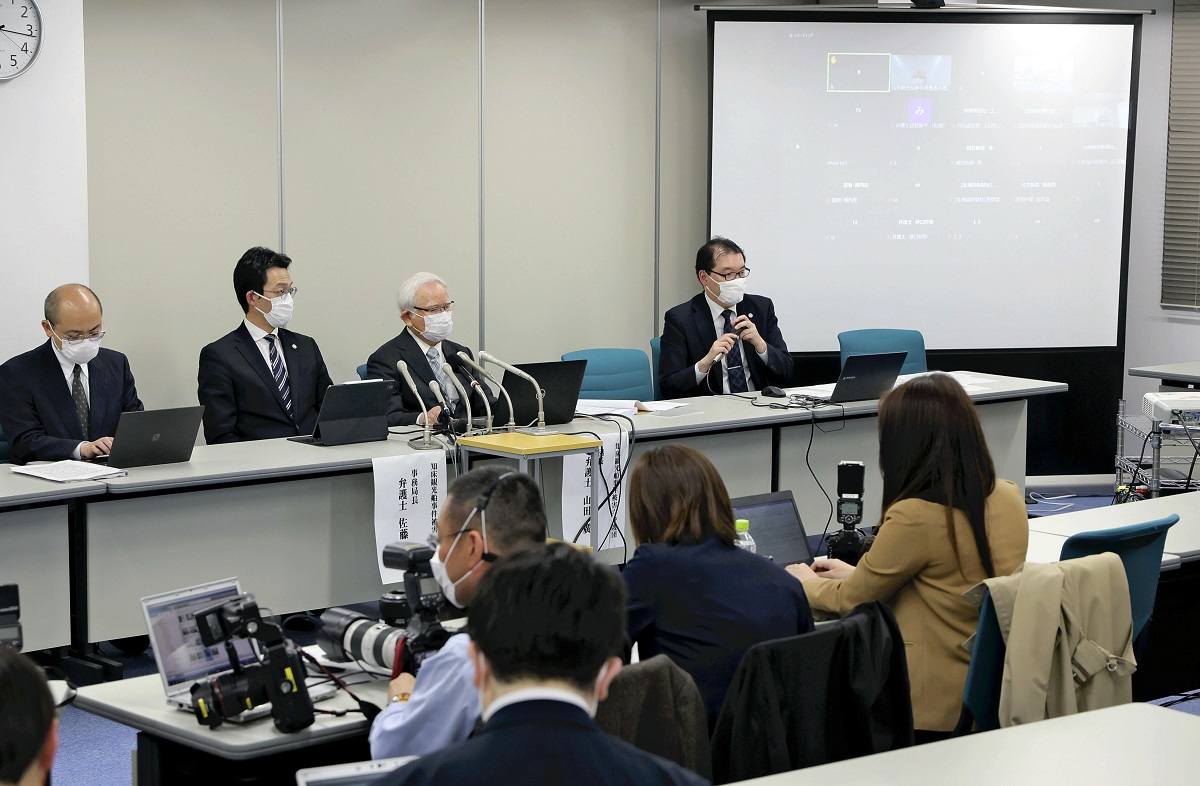 11:36 JST, April 22, 2023
SAPPORO — "Not a day goes by that I don't cry," said a lawyer quoting a family member who lost a relative when a sightseeing boat sank off the Shiretoko Peninsula in Hokkaido about a year ago.
Lawyers representing the affected families held a press conference in Sapporo on Thursday, ahead of the one-year anniversary of the sinking of the Kazu I, which left 20 people dead and six missing.
Another family member was quoted as saying that "time has stood still," and that the emotional trauma has not healed.
During the press conference, an association comprising the victims' families issued a joint statement via the lawyers in which they criticized the president of the operating company for not fulfilling his responsibility to talk about the accident in detail.
About 20 family members attended the press conference online. A man in his 60s in Fukuoka Prefecture, whose son remains missing, spoke of the hardship of having his life turned upside down. "I can't go to work anymore," he said. "It's all taken a huge emotional toll on me."
In response to questions from the press, a man who made a reservation for his father to board the ship expressed in writing that he spent his days regretting his decision. "Why did I make the reservation?" he wrote.
A memorial service is scheduled to be held Sunday in Shari, Hokkaido.
"[The memorial service] will be one of the few times I can be close to my family members still in Shiretoko," said a woman at the press conference. "I'd like to offer prayers by their side."
Seiichi Katsurada, 59, president of the operating company Shiretoko Pleasure Boat, held a press conference four days after the accident, but since then, there has been no public explanation about the accident.
Touching on this point, the families' association condemned Katsurada in the statement, saying, "His irresponsible attitude has hurt our hearts two or three times over."
The Land, Infrastructure, Transport and Tourism Ministry's Transport Safety Board stated in its interim report that problems also had been found within the Japan Craft Inspection Organization, which inspected the Kazu I, and within the ministry.
"The JCI, which did not check the operator's sloppy management system, and the central government, which did not correct the shoddy inspection system, also are at fault," the statement said.
The statement also noted that it took more than three hours for the Japan Coast Guard to arrive and said the Self-Defense Forces should have been asked to send a disaster relief team immediately after the incident occurred.
Add TheJapanNews to your Google News feed.