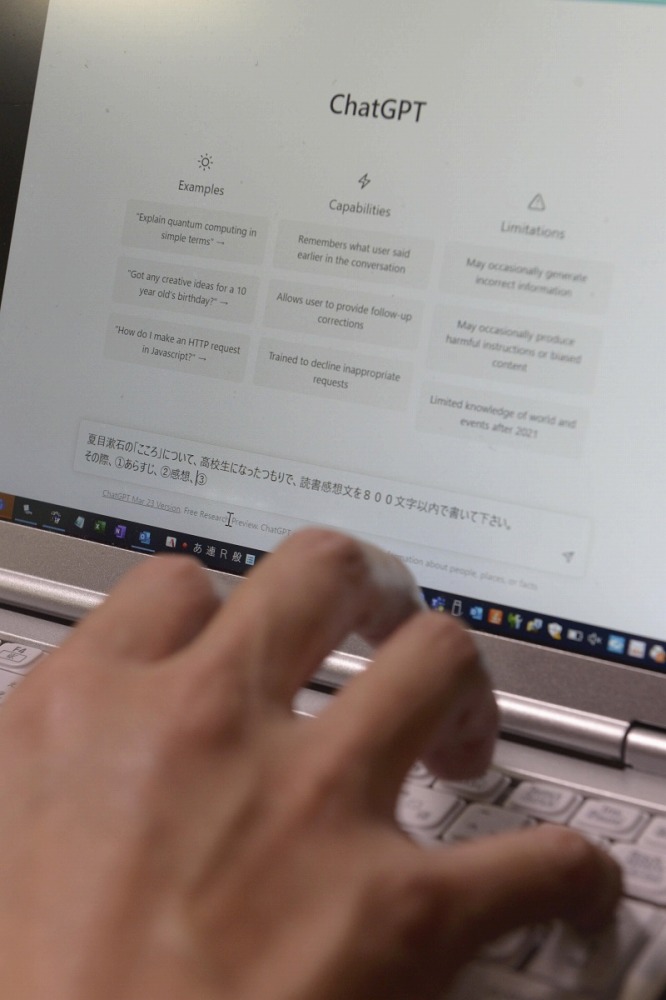 6:00 JST, April 14, 2023
ChatGPT is causing a stir in the world of education. As the new school year begins, universities and the education ministry are taking action against the use of this AI chatbot, which can complete assignments and book reports in a natural writing style at users' instruction.
"It's cheating to copy and paste answers from AI. Please check the rules of use set forth for each class," Kyushu University Vice President and Prof. Takeru Nose said Thursday at a guidance session for freshmen.
In February, the university formed a working group to consider how to respond to the spreading use of ChatGPT.
"Many classes require students to submit reports, and we worry that we won't be able to spot the use of ChatGPT for assignments," Nose said.
The organizers of a national book report contest for elementary, junior high and high school students have added the following statement to the application guidelines: "Plagiarism and inappropriate quotations may result in exclusion from the judging process."
The Education, Culture, Sports, Science and Technology Ministry is studying guidelines for handling ChatGPT in school education. "We will compile as quickly as possible materials that will serve as a reference for schools to make independent decisions," education minister Keiko Nagaoka said Friday.
Ichiro Sato, a professor at the National Institute of Informatics, said: "Children might believe false information presented by AI if they use it for homework. And if they're wrongly suspected of using AI to prepare a book report or an essay, there's no way to clear them of the accusation, which could lead to problems in the future."
Impact on job hunting
Juniors will begin applying for internships in June.
The government has revised the rules on recruitment, allowing companies to use internship evaluations in their later hiring process for students who are currently juniors. One of the application documents often submitted for an internship is an entry sheet (ES), on which applicants write such things as a self-introduction and their reason for applying.
Information can be found online about how to use ChatGPT to compose a self-introduction, as well as posts by people saying they did so.
A recruiter at a leading financial institution said: "We've already had some students submit an exact copy of the ES presented by a person to whom we offered a job in the past. Now we'll have to take new steps [against ChatGPT, too]."
Keiko Hirano, director of Bunkahoso Career Partners' Recruiting Information Lab, said: "The questions asked on an ES have become diverse, placing a heavy burden on students. The trend of students having AI write their ESs could spread quickly."
Measures taken overseas
ChatGPT has already begun to spread in educational settings overseas, and countermeasures have been taken.
According to a survey conducted in January by Stanford University's student newspaper, 17% of the students said they have used ChatGPT for exams and homework.
Students' electronic devices and bags are collected before exams during some classes at the university.
Public schools in New York City do not allow students to use ChatGPT in principle, on the grounds that it does not build their problem-solving skills or critical thinking.
Oxford University also does not allow its use for assignments or other purposes.
Add TheJapanNews to your Google News feed.