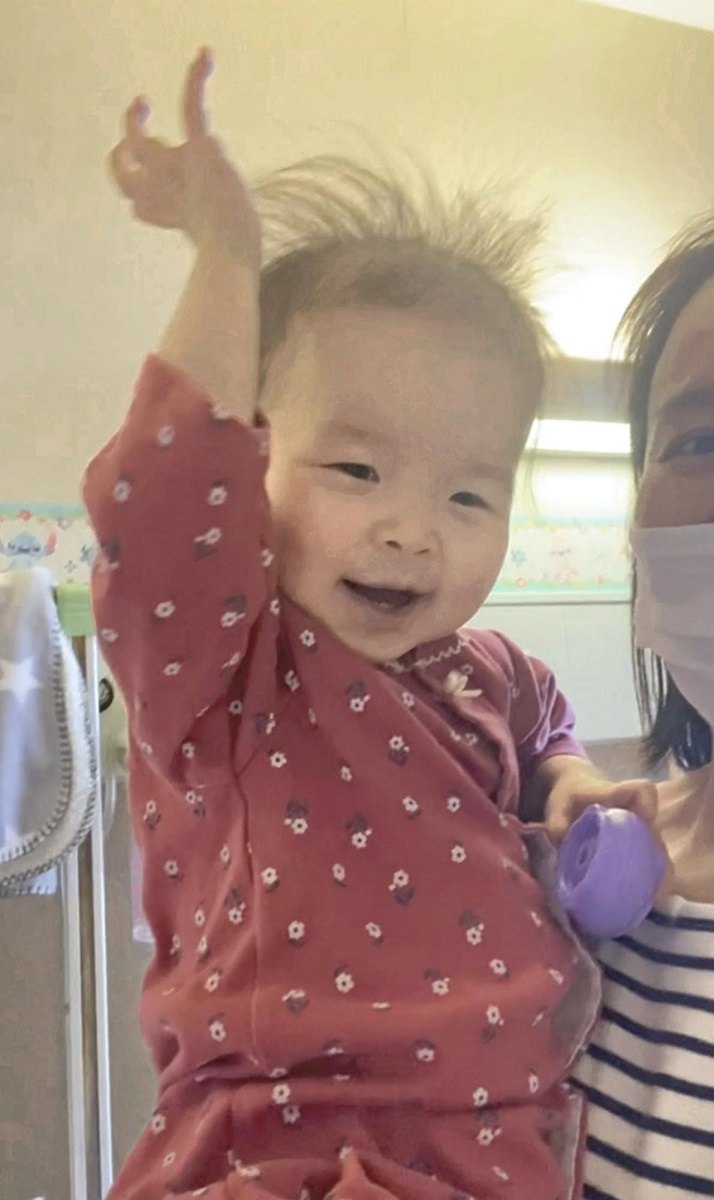 1:00 JST, April 7, 2023
A 1-year-old girl from Tokyo left for the United States with her parents on March.30 to undergo a heart transplant.
"We can finally go to the U.S.," Sayaka Sato, the mother of baby Aoi, told reporters at Haneda Airport. "I want her to receive a transplant safely, no matter what it takes."
The past 18 months have been a time of trial for Aoi and her family. The family's struggles highlight the importance of increasing the number of organ donations in Japan, to reduce the burden on patients and their families and save as many children as possible.
After Aoi was born in October 2021, holes were found in the wall between the right and left ventricles of her heart. She underwent surgery to close the holes in January 2022 but developed an irregular heartbeat. A pacemaker was inserted but her condition did not improve, and she developed severe heart failure, unable to pump enough blood.
Aoi was transferred to Saitama Medical University International Medical Center, where her family was asked to decide whether she should be fitted with a ventricular assist device in preparation for a heart transplant. Sayaka, 38, had heard that more than a few children were not fitted with an artificial heart and allowed to die.
"Maybe it would be better not to put her through any more pain," she thought.
However, Sayaka was swayed by Aoi's innocent smile and how she energetically moved her thin body. Even if things are hard for her now, she thought, Aoi will surely have many happy experiences and be glad once she gets well after the transplant. With this in mind, Sayaka decided to have Aoi undergo a transplant.
Aoi's family decided to have the procedure overseas, in order to have the surgery as soon as possible.
According to the Japan Organ Transplant Network, as of the end of February, there were 48 patients under the age of 10 who were seeking a heart transplant. However, only a few heart transplants are performed in Japan each year for children, and many die before undergoing an operation.
Aoi is prone to blood clots due to her treatment, and spends her days at risk of a brain infarction and infection. After consulting with the hospital, Sayaka and her husband Shoichiro, 41, decided to have the transplant done in the United States.
To that end, they had to surmount the high cost of the procedure and the heavy psychological burden.
Overseas transplants are not covered by public insurance. Due in part to the depreciation of the yen, it ultimately cost as much as ¥530 million, including payments to the hospital and the cost of chartering a medical jet. The amount was far from what an ordinary person can afford. The only way was to seek donations, but making their daughter's face and name public carried the risk of being slandered online or though other media.
Even so, the couple held a press conference last November to ask for donations from the public. Fortunately, the couple was not subject to much criticism, managed to reach the target figure and began coordinating with a university hospital that can perform Aoi's surgery.
In February, the Metropolitan Police Department moved against the nonprofit organization Intractable Disease Patient Support Association for illegally brokering transplants in developing countries. In the United States, however, transplants for foreigners are allowed as long as they do not deprive American citizens of opportunities to receive organs. The nature of such transplants is different from the opaque arrangements in some developing countries.
Aoi has survived four surgeries so far. Recently, she dances sitting up while watching toddler TV shows, and says, "Mamma," meaning food.
Sayaka stays with Aoi 24 hours a day and takes care of her. Shoichiro works while taking care of their oldest daughter, 4, at home.
Shoichiro said: "The financial and emotional burden on the family is huge, as we live in a state of uncertainty day after day, wondering when we can get a transplant. I hope Japan will become a country where transplants can be received smoothly."
Girl hopes to attend graduation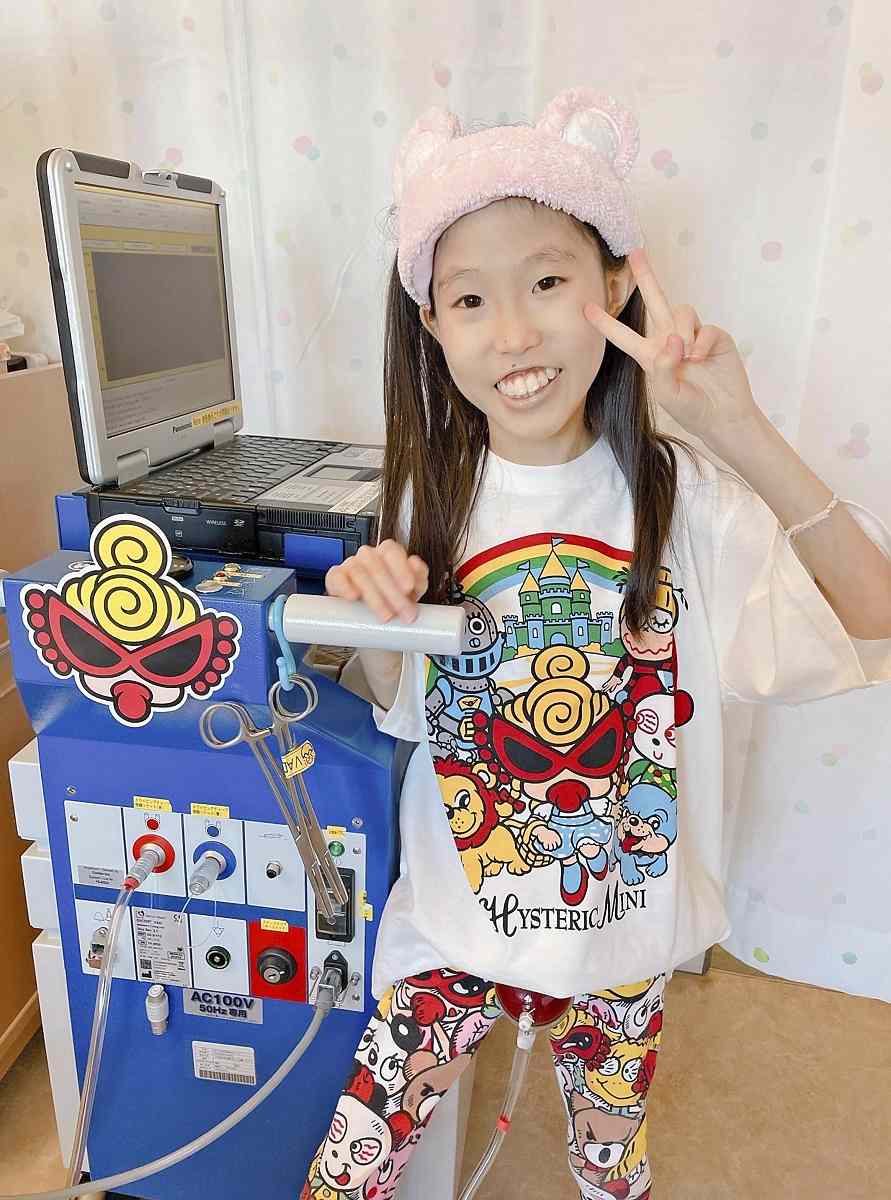 Kono Igarashi, 11, who hopes to have a heart transplant in the United States, became a sixth grader this spring. A resident of Kawasaki, she was diagnosed with an enlarged heart when she was in the fourth grade and has been hospitalized.
Her father, Yoshihide, 46, is a taxi driver. He initially considered a transplant in Japan, but applied for surgery overseas in consideration of Kono's progressive medical condition. The cost would be about ¥500 million, just like Aoi's case, but donations for Kono's transplant reached their target in March.
Kono used to take dance lessons three days a week when she was in good health. Now, she spends most days lying in her hospital room. When she's feeling better, she takes classes online and watches idol audition programs. She recently said she hoped to undergo surgery to get better and attend her graduation ceremony next year.
Kono will leave as soon as preparations are made between a hospital in Texas and the National Center for Child Health and Development where Kono is hospitalized.
---
Add TheJapanNews to your Google News feed.