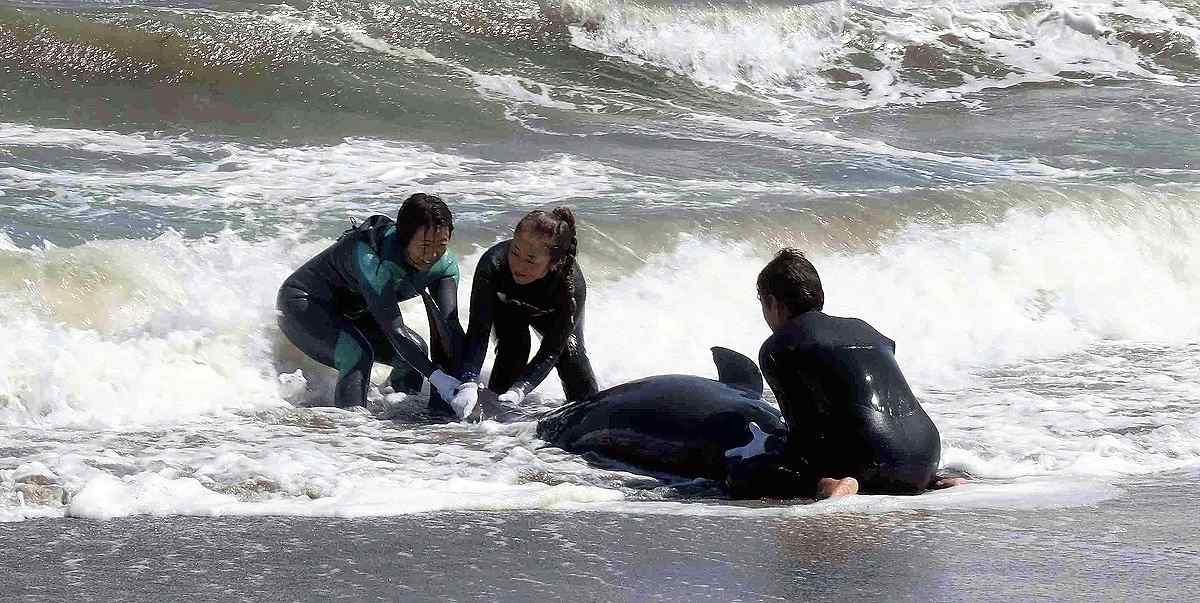 17:40 JST, April 4, 2023
ICHINOMIYA, Chiba — Thirty-two dolphins washed up along the coast in Chiba Prefecture on Monday morning. Despite hours of efforts by surfers and local residents to return them to the sea, three of the animals died.
A woman who was surfing in Ichinomiya, Chiba Prefecture, contacted police around 6:25 a.m. on Monday, telling them that "dolphins have washed up on the shore" at Tsurigasaki Beach in the town.
According to the town government and other authorities, 32 dolphins, each about 2 meters long, were stranded on the shore from Tsurigasaki Beach to Taito Beach, which is about 500 meters south of Tsurigasaki Beach. About 40 people, including surfers and local residents, worked to rescue the dolphins for about seven hours and returned most of them to the sea, but three died.
They are believed to have been a group of melon-headed whales, which live in warm offshore waters. The town will monitor the situation for several days because there is a possibility that the dolphins may return to the shallows again after losing strength.
"They may have entered the cold coastal waters in a group as they were chasing fish for food and wound up beached after becoming unable to move properly," said Yukio Miyauchi, head of the Choshi Ocean Institute in Choshi, Chiba Prefecture.
There have been other cases in the past where groups of melon-headed whales have been beached. Such incidents tend to occur from January to March when they migrate north in search of food. For example, about 150 melon-headed whales washed ashore in Hokota, Ibaraki Prefecture, in April 2015. In addition, 67 of this kind of dolphin washed up on the coast of Ichinomiya on Feb. 28, 2006, and about 20 washed up on Iioka Beach in Asahi, Chiba Prefecture, on Jan. 23 of the same year, according to the Choshi Ocean Institute.
Add TheJapanNews to your Google News feed.