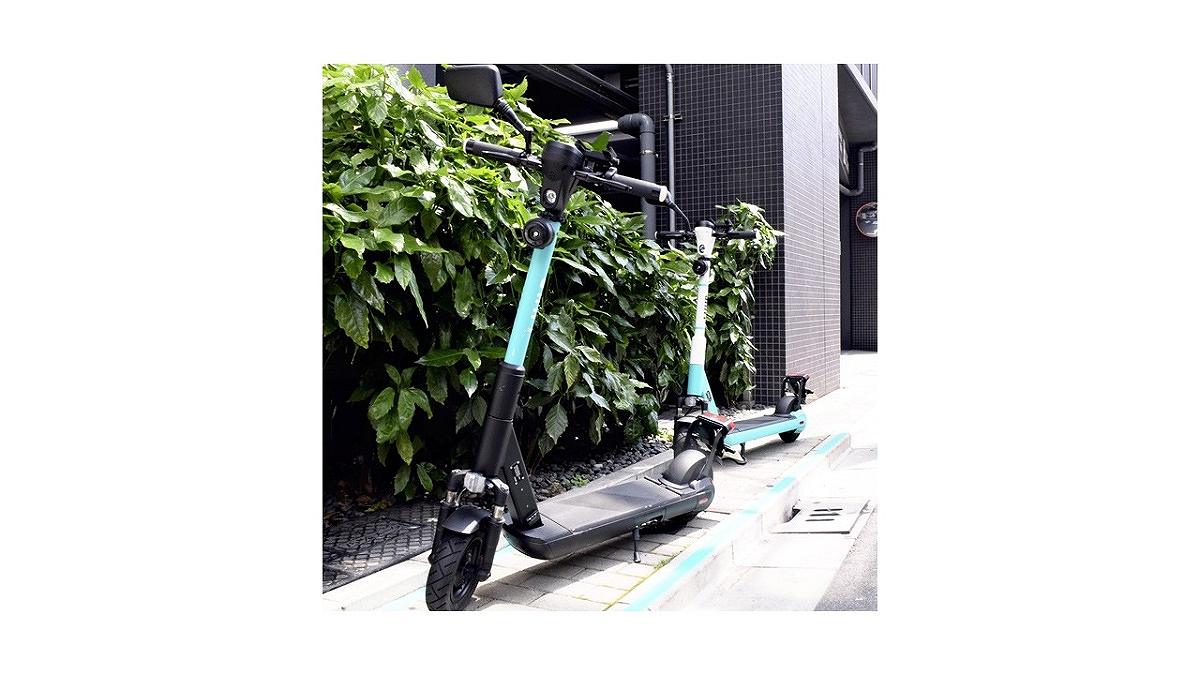 12:36 JST, April 1, 2023
With electric scooters soon to be rideable without a driver's license, businesses in Tokyo's Ginza district are racking their brains for how to ensure the safety of pedestrians.
Even now, the pedestrian-only zone that takes over the district's main street on weekends is often cut through by people riding bicycles. Local business owners fear the safety of pedestrians may be further threatened once a revised Road Traffic Law comes into effect in July and eliminates license requirements for e-scooters.
The municipal government for Chuo Ward, where the busy shopping district is located, is also considering an expansion of the pedestrian zone.
Bike after bike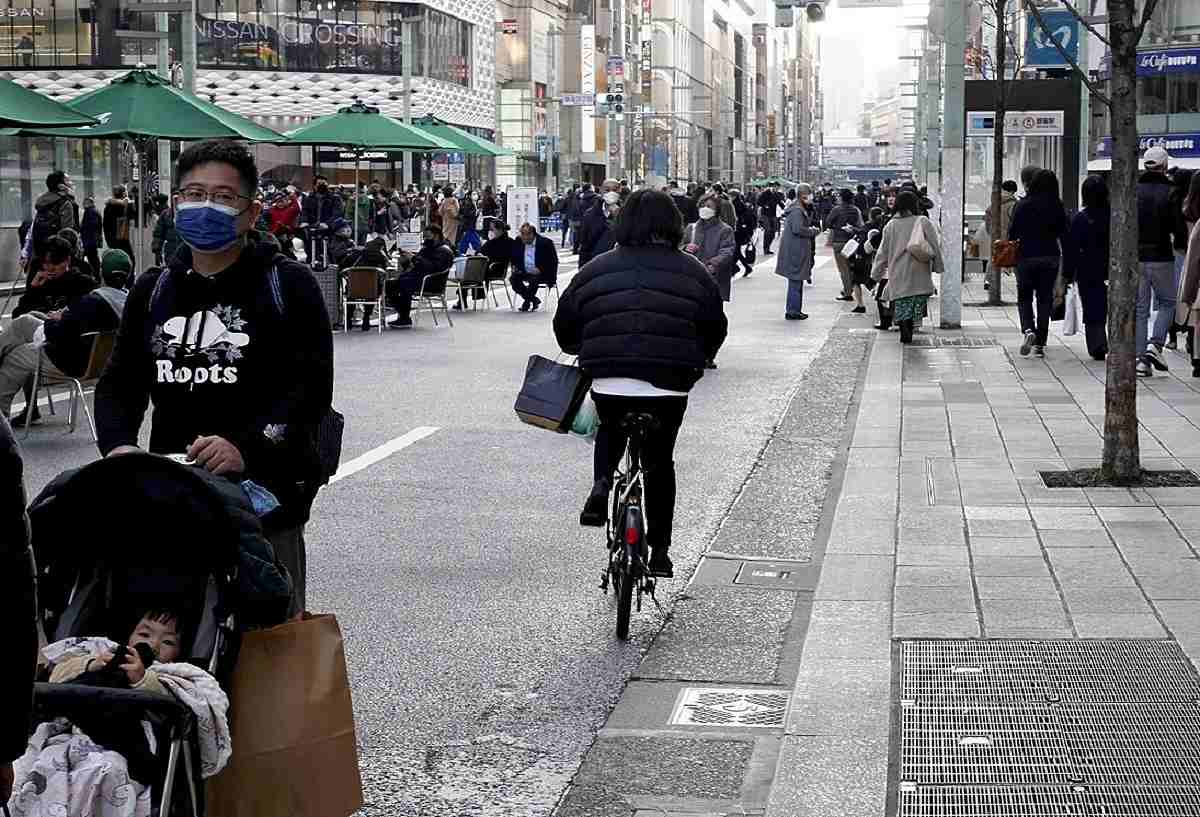 On a weekend in February, Ginza's pedestrian zone on Chuo-dori avenue was filled with shoppers as usual, but between them threaded one cyclist after the other.
Bicycles are banned on Chuo-dori avenue from noon to 5 p.m. (6 p.m. between April and September) on Saturdays, Sundays and national holidays. There are signs warning riders at the entrances to the pedestrian zone, but people have been violating the rule for years.
Collisions between bicycles and pedestrians have also occurred, creating safety concerns among the members of the Zen Ginza Kai group, which comprises local neighborhood associations, store owners and businesses.
"About 15 years ago, the number of people coming by bike to Ginza began to rise," said Eriko Takezawa, secretary general of the group. She pointed to condominium development along the neighboring Tokyo waterfront area as a particularly noticeable source of cycling traffic, with the lack of public transit options in the area having led residents to come to Ginza by bike.
"The reality is that there are cyclists who don't follow the rules," said Yoshikuni Matsuzawa, who runs a local real estate agency and is the chief of Zen Ginza Kai's environment and safety committee. He, too, is concerned about what will happen once the law changes for e-scooters.
Scooter fatality
Under current law, e-scooters are classified as motorized bicycles and thus require a license to operate. However, the revised law that will go into effect on July 1 will treat scooters as bicycles if they meet certain requirements, such as a maximum speed of 20 kph or less. The revision will allow them to be operated by people 16 or older without a license and allow riders to use bike paths. It will also be possible to use the scooters on sidewalks as long as a low speed is maintained and a blinker is kept on.
"As with bicycles, there could be people who don't follow the rules, and it would be terrible if shoppers enjoying themselves in Ginza's pedestrian zone were caught in an accident," said Matsuzawa.
In September last year, a man riding an e-scooter died when he was thrown to the ground after hitting a parking block.
In November of the same year, Zen Ginza Kai wrote to the Chuo Ward office to request that safety measures be taken, arguing that e-scooters are of unknown danger and "nothing more than a nuisance to the [Ginza] area, where people are trying to ensure safety and security."
For the Ginza district, the group requested that the ward government ban e-scooters on all sidewalks and roadways.
Even before the group's request, the Chuo Ward government, which oversees many busy downtown districts, had asked the National Police Agency to establish zones where e-scooters are not allowed on roads due to a high risk of traffic accidents. However, the municipal government has said it would be difficult to ban e-scooters from all of Ginza, including ward roads where passenger cars are allowed.
Instead, the ward is considering such measures as expanding the pedestrian zone in accordance with requests from Zen Ginza Kai, and stronger efforts to spread awareness that e-scooters are forbidden within the zone.
"We'd like to make new traffic rules for Ginza, taking discussions with Zen Ginza Kai into consideration," said a ward official.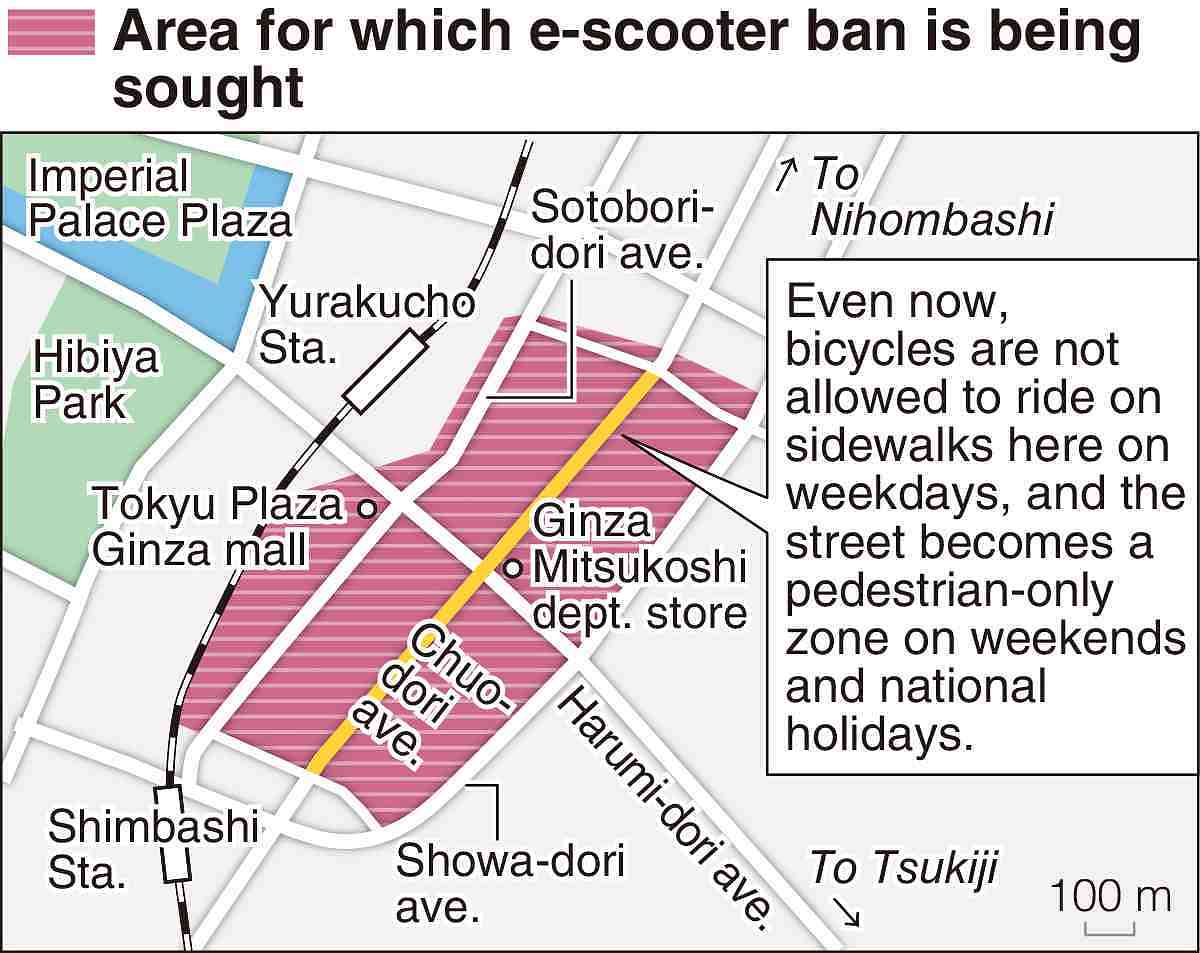 Add TheJapanNews to your Google News feed.