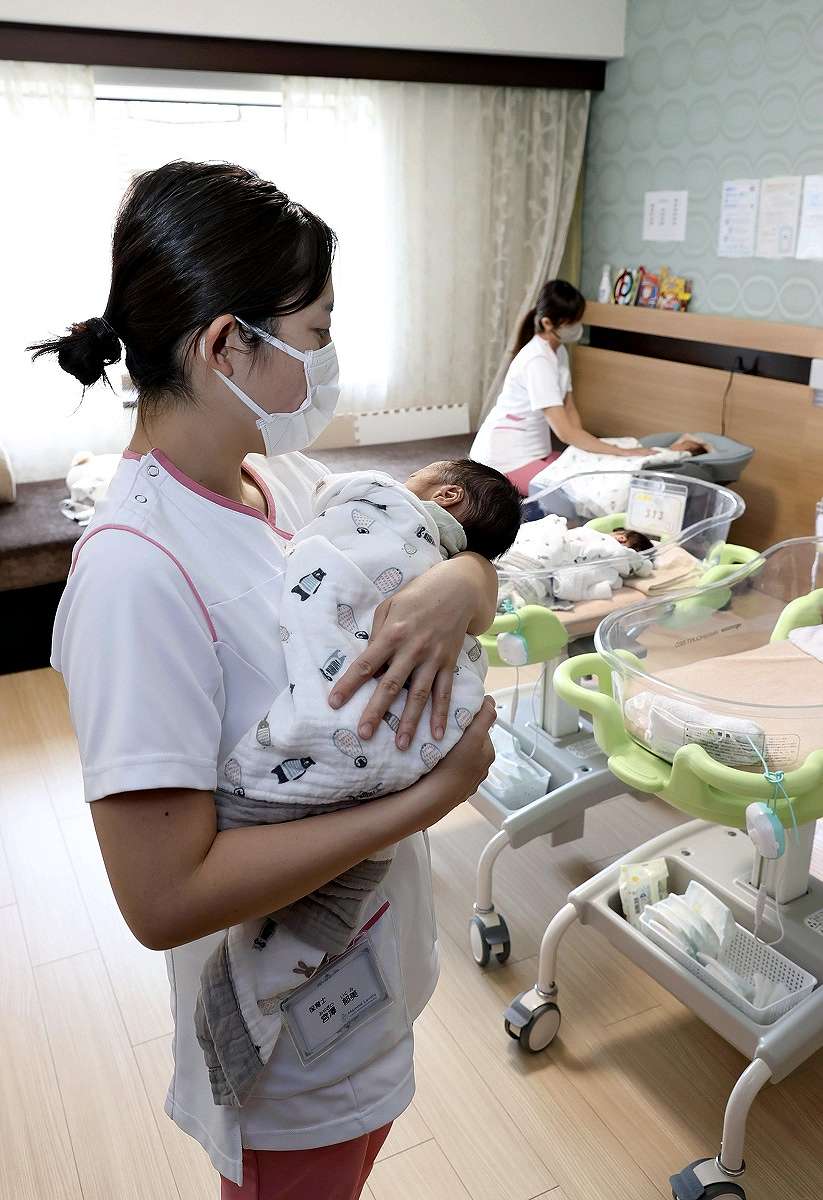 2:00 JST, March 29, 2023
Postpartum care services at a central Tokyo hotel aimed at supporting women after childbirth are gaining popularity.
Last year, Japan logged fewer than 800,000 annual births for the first time, and a survey showed that some women were deciding against having a second child due to the physical and mental strain associated with childbirth.
"Enhancing postpartum care is an effective measure to counteract the declining birthrate," one expert opined. "The national and local governments should expand such support."
Child-rearing confidence
In early March, several babies slept peacefully in cribs in a room at Hotel Metropolitan Edmont Tokyo in the capital's Chiyoda Ward. When one of the children began to cry, they were immediately soothed by nursery staffers.
"Mamma Levata" is a round-the-clock service staffed by a total of 30 nurses and caregivers who bathe the babies and change their diapers. Mothers are free to sleep in another room, go shopping or visit a beauty salon during this time. The moms can also be taught how to improve their breastfeeding technique.
Although expensive — prices start at ¥60,000 per night — a total of 200 groups have used the service since it began last November, and reservations for April and May are fully booked.
Yoko Yamada, 31, of Tokorozawa, Saitama Prefecture, who stayed at the hotel with her newborn son and 22-month-old daughter, said: "I had been so busy with childcare, but [at the hotel] I was able to totally relax. I asked the nursery stuff about the correct way to breastfeed and give baths, which gave me confidence and motivation for future childcare."
With the shift toward nuclear families, many women are unable to call upon the support of their parents after giving birth. In some cases, the COVID-19 pandemic has made it impossible for women to travel back and forth to their parental homes, and the hotel service has become an alternative way to receive support. Users of the service have reportedly commended it highly.
Postpartum depression
Childbirth places a heavy burden on a women's body, and some mothers suffer from mental strain due to sleep deprivation caused by night feedings, among other factors. According to a survey conducted in fiscal 2021 by the Health, Labor and Welfare Ministry, one in ten women who gave birth could potentially suffer from postpartum depression.
In a 2022 survey by the Japan Women Foundation, which works to support women's health, 90% of the approximately 6,500 people who responded to the survey suffered physical post-childbirth symptoms such as lower back pain. Nearly half said they felt lonely and anxious for no reason. Due to such physical and mental burdens, 4.9% said they "gave up" on trying to have a second or subsequent child.
To help prevent postpartum depression, the ministry launched a system in fiscal 2015 to subsidize 50% of the costs for postpartum care services outsourced by local governments to hospitals, midwifery centers and other facilities. According to the ministry, the percentage of municipalities using the program increased from 4% in fiscal 2015 to 80% in fiscal 2021.
Some municipalities, however, only have one facility. According to a survey by the ministry, less than 2% of mothers who gave birth in fiscal 2019 had used postpartum care.
Meanwhile, more and more hotels are offering postpartum care services, including in Funabashi, Chiba Prefecture, Kawasaki and other cities. In December 2021, a dedicated hotel opened in Yokosuka, Kanagawa Prefecture, overlooking the sea. Another such hotel opened in Kyoto City last June. But according to the ministry, only a few municipalities outsource their operations to hotels.
"If holistic support is available after childbirth, more women will want to have another baby," said Kaori Ichikawa, professor of maternal nursing at Tokyo University of Information Sciences. "The national government should secure midwives and nursery staff, and local governments should expand the number of outsourcing companies, including hotels. Another effective measure would be for companies to introduce [postpartum care] services as part of their welfare programs."
Add TheJapanNews to your Google News feed.