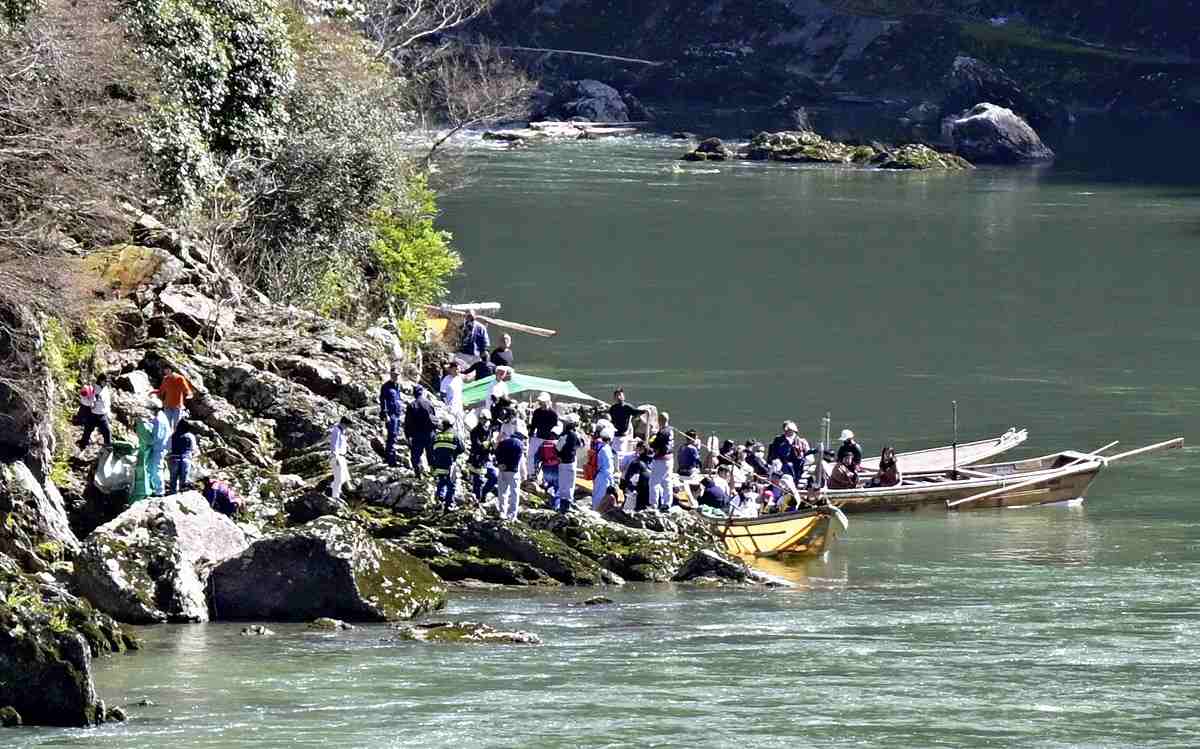 15:07 JST, March 29, 2023
KYOTO — An oar-powered sightseeing boat carrying 25 passengers and four boatmen on the Hozu River in Kameoka, Kyoto Prefecture, hit a rock and capsized on Tuesday, leaving one boatman dead and another missing.
Nine passengers were taken to the hospital with hypothermia and other minor injuries.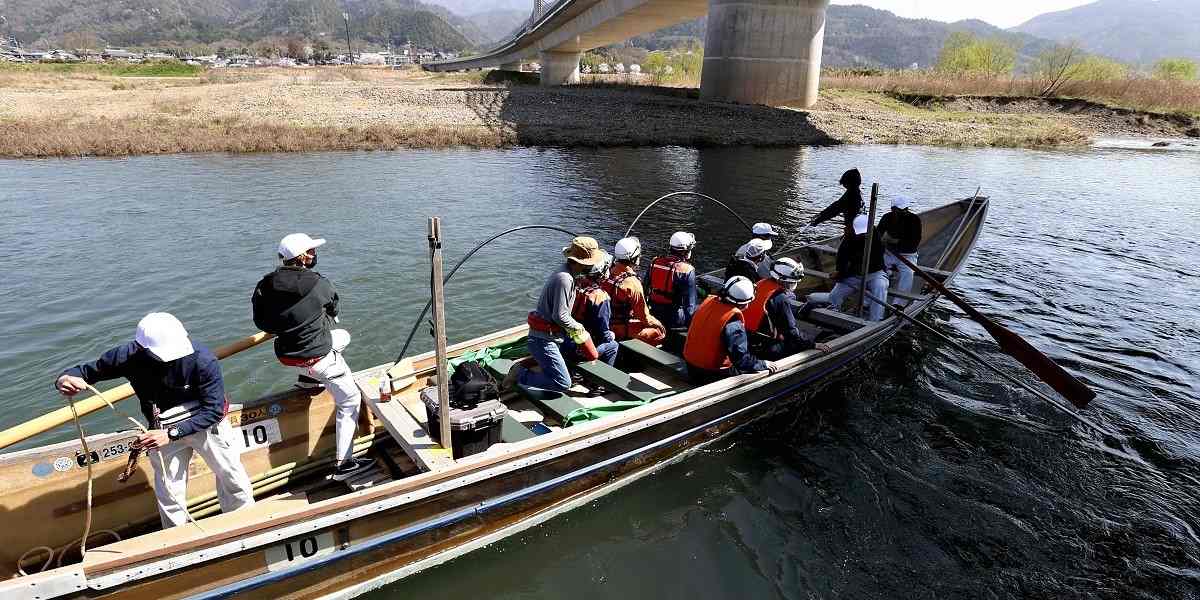 The Kyoto prefectural police are investigating the circumstances leading to the accident, which happened at about 11 a.m. Tuesday. Police believe a mistake by the boatmen might have been the cause.
The boat departed from Kameoka at around 10:40 a.m., according to the Hozu-gawa Yusen Sightseeing Boat Association, the operator of the boat.
About 15 minutes later, a boatman operating the rudder at the rear of the vessel lost his balance near Otakase, a difficult spot along the route with rapids about four kilometers from the departure point, causing the boat to veer off course.
The vessel drifted out of control for a few hundred meters before hitting a rock and capsizing, throwing everyone on board into the river.
All the passengers, including three children, managed to get to the riverbank, but two boat men, including Saburo Tanaka, 51, who was at the front of the vessel, were swept away in the rapids.
Rescuers found Tanaka, but he was pronounced dead at hospital.
According to the association, the river level was higher than usual, but at 69 centimeters, below the 85-centimeter safety level. Sightseeing trips would have been canceled if the river level had been above 85 centimeters.
Three boatmen usually operate the vessel, but four were on board at the time of the accident. Between them, they had 9-30 years of experience.
Everyone on the boat, including the boatmen, had been wearing life jackets.
Sightseeing along the Hozu River from Kameoka to Arashiyama in Kyoto Prefecture has a history stretching back more than 400 years.
Since the season kicked off, many foreign visitors have reserved tickets for the 16-kilometer sightseeing tour. Several foreigners were on the boat that capsized.
"After being swept along [the river] for about 100 meters, I eventually reached a point where my feet could touch the river bottom," said a 40-year-old man from Settsu, Osaka Prefecture, who was on the vessel with his son.
"I heard someone shout, 'Stop the boat by running it into [a rock].' Then the boat shook, capsized, and I was thrown into the river," the man's 10-year-old son said. "The water was so cold, I couldn't swim, but I was lucky because my dad was nearby."
In September 2001, a Hozu River sightseeing boat hit a rock and capsized, injuring five people, and in 2006, rocks fell onto a boat, seriously injuring people on board.
More recently, in August 2011, a boat carrying 23 people capsized on Tenryu River in Hamamatsu, Shizuoka Prefecture, killing four passengers and a boatman.
Add TheJapanNews to your Google News feed.