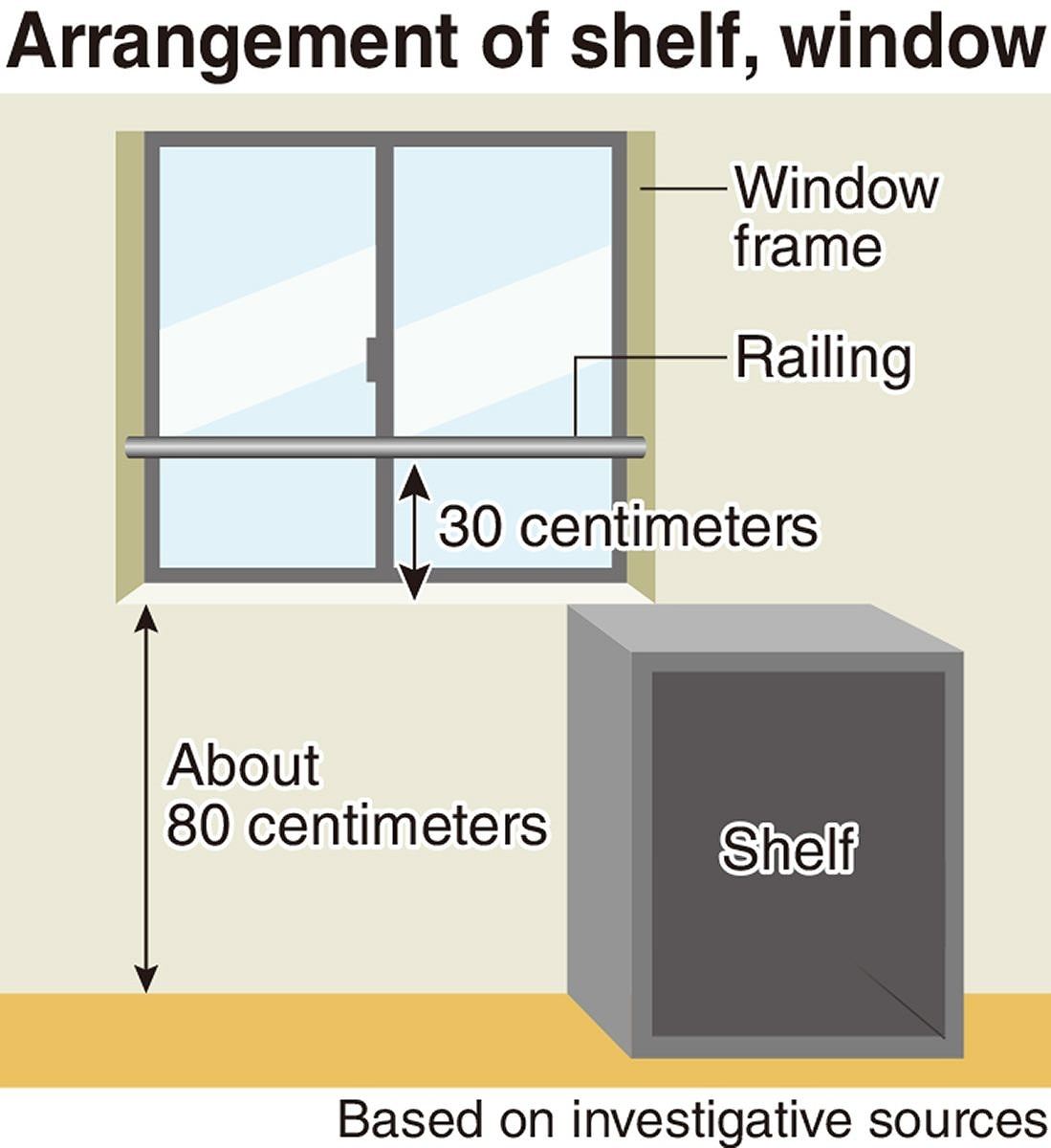 14:13 JST, March 28, 2023
NAGOYA — A pair of 2-year-old twin brothers have died after falling from a condominium window in Naka Ward, Nagoya.
According to local police, the toddlers are believed to have fallen almost simultaneously from the seventh-floor condominium to a parking lot on Friday afternoon.
Sources close to the investigation of the case said that the parents of the brothers told investigators that they locked the window of the room where the brothers were, and did housework in another room for a few minutes.
Police believe that the two most likely climbed over a shelf placed near the window, unlocked the window, and accidentally fell.
The sources said that the bottom of the window was about 80 centimeters above the floor, and a railing to prevent falls was attached horizontally about 30 centimeters above the bottom frame of the window. The right-hand windowpane was fitted with a device to keep it from opening, but the left-hand pane was not.
A shelf about 80 centimeters high was placed near the lower right corner of the window. The children's fingerprints were found on the lock of the window, the bottom frame and the railing.
Police suspect that the twins may have climbed onto the window using the shelf as a foothold, moved along the railing to the left-hand side of the window, where they opened the lock and the window and eventually fell.
According to the Consumer Affairs Agency and other sources, a total of 21 children under the age of 9 died in falls during the five years through 2020. But in November of last year alone, a total of three children aged from 2 to 4 in Chiba, Osaka and Aomori prefectures fell to their deaths from an apartment balcony or window.
According to statistics from the Tokyo Fire Department, the number of cases in which children are taken to hospitals after falls tends to be highest in the month of May.
An official of the fire department said: "Falls increase during the warm season when people open windows. It is important to take thorough measures to prevent falls, such as not placing furniture nearby that could become a foothold."
Add TheJapanNews to your Google News feed.