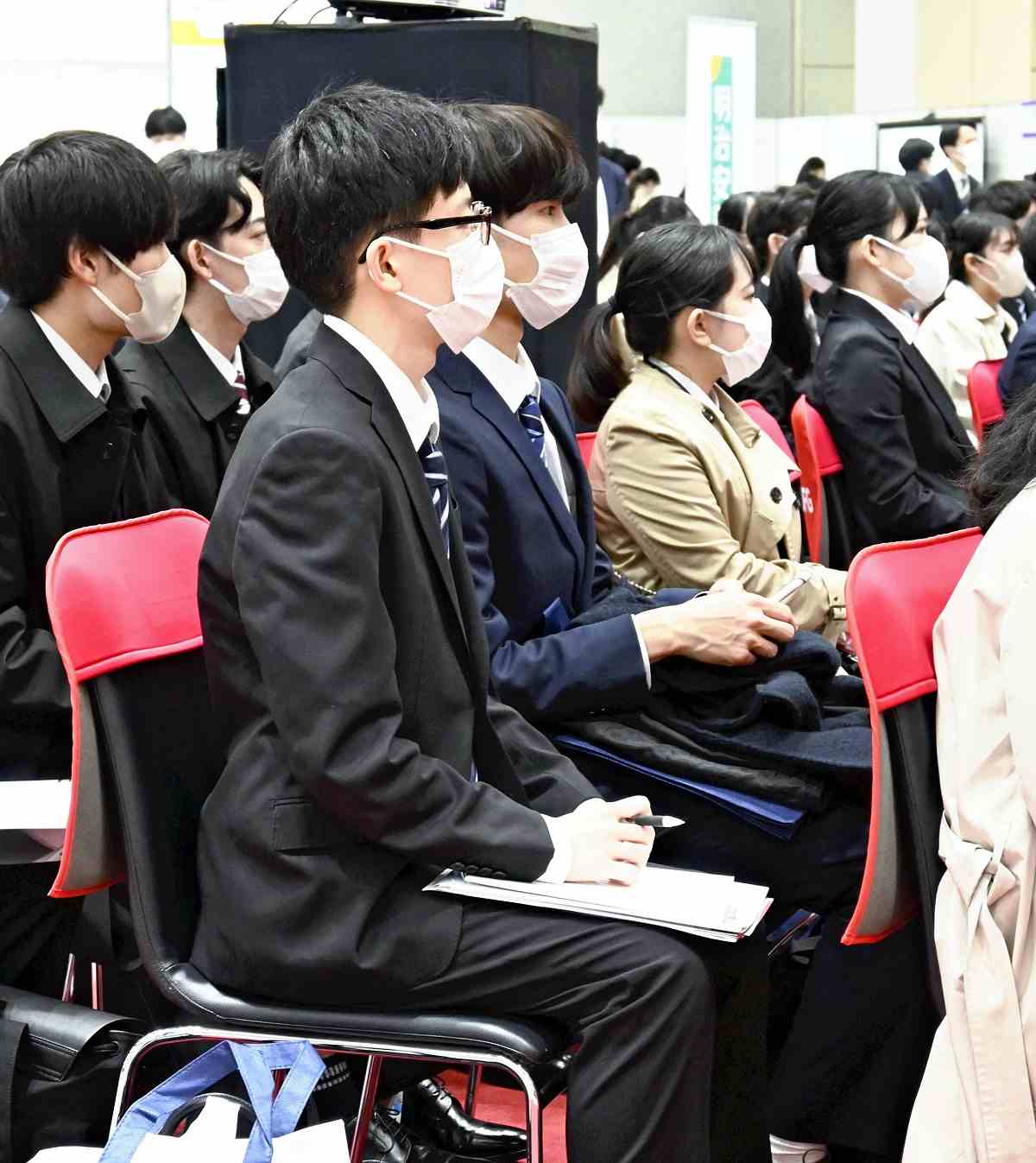 16:31 JST, March 27, 2023
With job-hunting season now underway for university students, many are wondering what to do about wearing a mask in interviews.
The students who will graduate next spring entered their universities during the pandemic and have spent much of their school life wearing a mask. The government eased its guidelines from March 13 to make it a matter of personal choice, but a survey among job-seeking students found that half would prefer to wear masks during in-person job interviews.
An expert consulted by The Yomiuri Shimbun encouraged students to remove their masks, saying: "Wearing a mask doesn't affect success in job-hunting. Unless there are special circumstances that require a mask, students should have the confidence to undergo interviews without one."
Embarrassed to show their face
"I feel embarrassed to expose my face, and I don't want to be judged by my looks," said a 21-year-old junior at Teikyo University who hopes to get a job in the welfare industry. All her university classes were online until the end of the first semester of her sophomore year. In-person classes are now back, but she continues wearing a mask when she goes out.
Recruitment briefing sessions by companies started in March, and job interviews will follow.
"I didn't have many opportunities to talk to people without a mask at my university. If I'm told to take my mask off at a job interview, I'll get nervous. I'm not sure I'll be able to express myself well," the student said.
A 21-year-old student at Rikkyo University also expressed his hesitation to take off his mask.
"If I get infected with COVID when the selection process is in full swing, I won't be able to apply to the companies I want to work for. I don't want to take off my mask during interviews because it might affect opportunities for future recruitment," the Rikkyo student said.
Most want to wear masks
Many job hunters appear to be reluctant to remove their masks. A survey conducted earlier this month by Gakujo Co., a job-hunting information company, found that 52.8% of university juniors "would like to wear a mask" or "would rather wear a mask" during face-to-face interviews. A total of 350 valid responses were received.
Gakujo also found that 25.7% of respondents would "follow the company's instructions," while only 10% said they "do not want to wear a mask" or "would rather not wear a mask."
In contrast, more than 70% of corporate hiring managers said wearing masks during interviews was optional in a survey conducted via Twitter in February by One Career Inc., which operates a job-hunting information site.
"It seems unlikely that companies will force students to take off their masks, so there will be more occasions in which students themselves will have to decide," a company official said. "If they're not sure about whether to wear a mask, they can communicate with the interviewer to confirm their decision."
No effect on success
Some companies are showing consideration for job hunters who feel uneasy about not wearing a mask.
Kirin Holdings Co. conducts the final interview in person, and wearing a mask is optional. Interviewers will remove their masks to show their facial expressions, but they will keep a safe distance from applicants and set up partitions to prevent infection.
"What's important in an interview is learning about the student's values through conversation. So, we focus on creating an environment in which it's easy for students to talk," a company spokesperson said. "We don't decide whether to accept or reject applicants solely based on whether they wear a mask."
A representative of Tokio Marine & Nichido Fire Insurance Co. said: "We'll tell applicants that it's up to them whether to wear a mask. Of course, it has no effect on whether they pass the interview."
Add TheJapanNews to your Google News feed.