Shibuya schools using students' online search histories to detect 'worrying issues'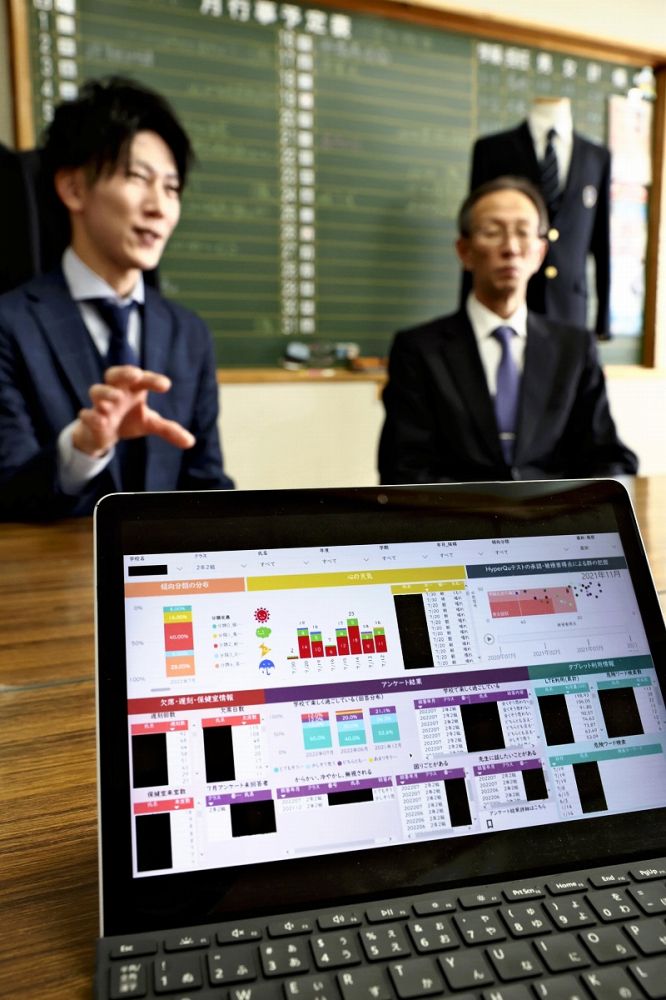 11:50 JST, March 25, 2023
Municipal elementary and junior high schools in Shibuya Ward, Tokyo, are analyzing students' online search histories and other information logged on municipally loaned computer tablets with the aim of using the data to dispense tailored guidance.
The tablets are configured to notify teachers when certain keywords, such as "bullying" and "suicide," are found to have been used by students. In one case, a school was able to help a student who was experiencing personal difficulties.
However, the system has given rise to concerns over users' privacy, and related discussions on a national level have only just begun.
'Risk words'
"I'm a little concerned because one of my students has searched online with the phrase, '[What can I do] if I fail the exam for my first-choice school?'" said teacher Yasuhiro Saito at a staff meeting in the principal's room of Hiroo Junior High School in Shibuya Ward, Tokyo, in January. In light of the concerns flagged by 38-year-old Saito, who also acts as a guidance teacher for students, the school arranged for a counselor to meet with the student in question.
The ward's board of education has since 2017 loaned out tablets to the approximately 9,500 students who attend the 26 ward-run elementary and junior high schools.
The municipal government pays the online fees for the tablets and encourages students to use the devices even when at home. The children also use the devices to respond to questionnaires about school life and their mental health.
Last September, the ward created a system that enables teachers and others to view 12 kinds of data including words and phrases used while online, search histories, academic test results and school-attendance records.
Teachers are immediately notified when students use ward government-decreed "risk words," such as "suicide."
When a teacher of a junior high school received a risk-word notification, the student told the teacher about having overdosed at home on over-the-counter medicine, which led to support for the student from the entire faculty.
'Everyone benefits'
The system can also be used to monitor prevailing moods and trends in the classroom. At Hiroo Junior High School, teachers swapped such guidance-related ideas as, "Students in this class lack composure; we should give them a break before the start of the school day."
The school's principal, Shigehiro Yamamoto, 60, said: "There's been an increase in covert online bullying and a rise in the number of kids who hide their frustrations. In some cases, the tablets allow us to perceive students' true feelings. With access to this kind of data, it's easier for us to explain things to parents."
According to the Education, Culture, Sports, Science and Technology Ministry, about 20% of the nation's public elementary school teachers have less than 10 years of work experience, due to a wave of retirements among teachers in the baby boom generation.
Yasuo Shinohara, a ward-appointed digital media expert said: "Today, data can supplement teachers' instructions, which previously were primarily based on experience and intuition. This benefits the teachers and the children."
Privacy concerns
In keeping with the Personal Information Protection Law and local government ordinances, the ward informs parents that their kids' data will be used only for education-related purposes. The only people who can view such information are full-time teaching employees, and data are not used after graduation.
Encryption and printing of data are strictly prohibited. "We've taken all possible measures to prevent leaks," a board of education representative said. "There have been no complaints from parents."
A 53-year-old mother whose 15-year-old son attends a municipal junior high school said: "I didn't even know they were monitoring online search info. I don't see any problems if it helps prevent bullying."
Conversely, a 40-year-old mother of a 7-year-old municipal elementary schooler said, "To be honest, I'm reluctant to endorse the strategy, even if it is for educational purposes."
In this connection, the Nagoya municipal government was forced to temporarily suspend a similar system in 2021 after it came to light that parents had not been informed that their children's online search histories were being collected. "At the time, we lacked sufficient awareness that such data were strongly linked with privacy issues," a board of education official said.
The central government's desire to promote information and communication technology (ICT) has given rise to various related efforts across the country. For example, the Osaka City government compiles lists detailing students' academic assessments and sickroom usage, while the authorities in Minoh, Osaka Prefecture, draw up lists relating to pupils' academic performance — as well as their families' financial status.
Hiroaki Ogata, a professor at Kyoto University's Academic Center for Computing and Media Studies, and an education ministry panel member expert said, "Careful handling and discussions are important issues when it comes to data privacy." But Ogata also opined that "such information is essential for improving the quality of education."
Prof. Kei Kano of Shiga University's Department of Education, an expert in the use of ICT and related issues in the field of education, said: "[Analyzing] search histories can lead to inferences about thoughts and beliefs. It is personal information that could potentially touch on sensitive matters. It's necessary to carefully consider the purpose and usage of such info so as not to infringe upon children's rights, while also making efforts to gain the understanding of kids and parents."
Add TheJapanNews to your Google News feed.