¥24 Million Raised by Crowdfunding to Repair Cultural Properties at Kotohira-gu Shrine in Kagawa Pref.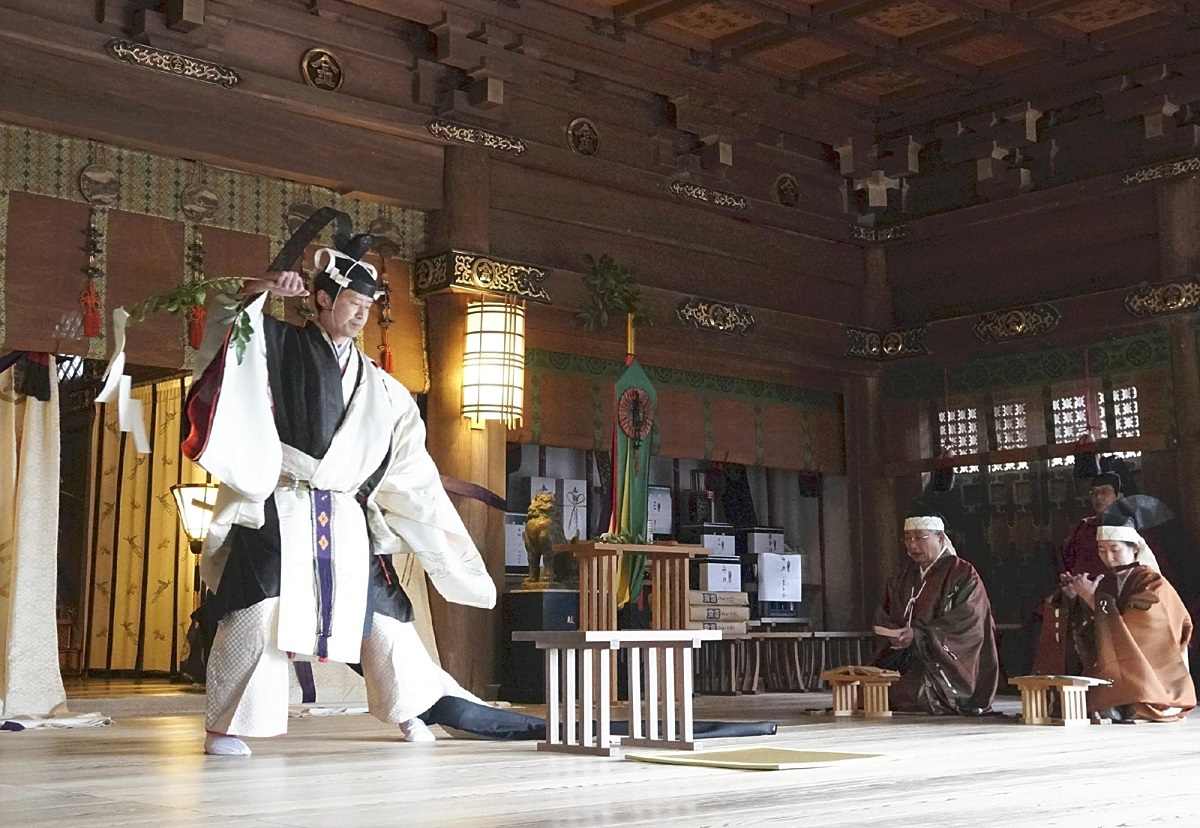 12:18 JST, March 19, 2023
KOTOHIRA, Kagawa — A crowdfunding campaign by Kotohira-gu shrine in Kotohira, Kagawa Prefecture, had raised about ¥15 million in two weeks, and finally collected more than ¥24 million by Friday.
The shrine began soliciting donations on Feb. 1 to cover the costs of repairing tangible cultural properties, including partitions and wall paintings by Edo period painter Ito Jakuchu.
According to the shrine, donations were received from various parts of the country along with messages of support. "I'm truly grateful. I get a new sense of the obligation of our cultural properties," said Yasuhiro Kotooka, chief priest of the shrine.
The shrine used crowdfunding for the first time to cover the cost of repairing "Hyakka-zu" (Hundreds of flowers) by Ito Jakuchu and Tachi Mei Sukezane (sword signed Sukezane), both of which are tangible cultural properties of the prefecture, as it faced a difficult situation after the number of visitors plummeted due to the COVID-19 crisis.
The target amount of ¥15 million was achieved on Feb. 15.
On Feb. 17, a ceremony was held at the shrine's main hall to report to the gods the success of the crowdfunding, which came in time for an annual ceremony held on the same day to pray for peace and a good harvest.
Kotooka recited a prayer to report the success of the crowdfunding with the support of many people so that preservation and repair work will be carried out. Then, a priest dedicated a performance to the gods.
"We were able to achieve our funding target more quickly than we expected. We were delighted at the amount of interest and strongly realized that people sincerely hope that cultural properties will be preserved," Kotooka said. "Being grateful is all I can do, as our lives are becoming increasingly financially difficult."
The crowdfunding campaign continued through Friday. The number of contributors was 528, with the amount of support exceeding ¥24 million.
"[With the support,] I realize the history and tradition of the shrine, which has been loved by people as a 'shrine to visit at least once in a lifetime.' We will use the amount that exceeds the target for future cultural property restoration works," Kotooka said.
The repaired "Hyakka-zu" will be on limited display from April 8 to June 11 at the shrine.
Add TheJapanNews to your Google News feed.