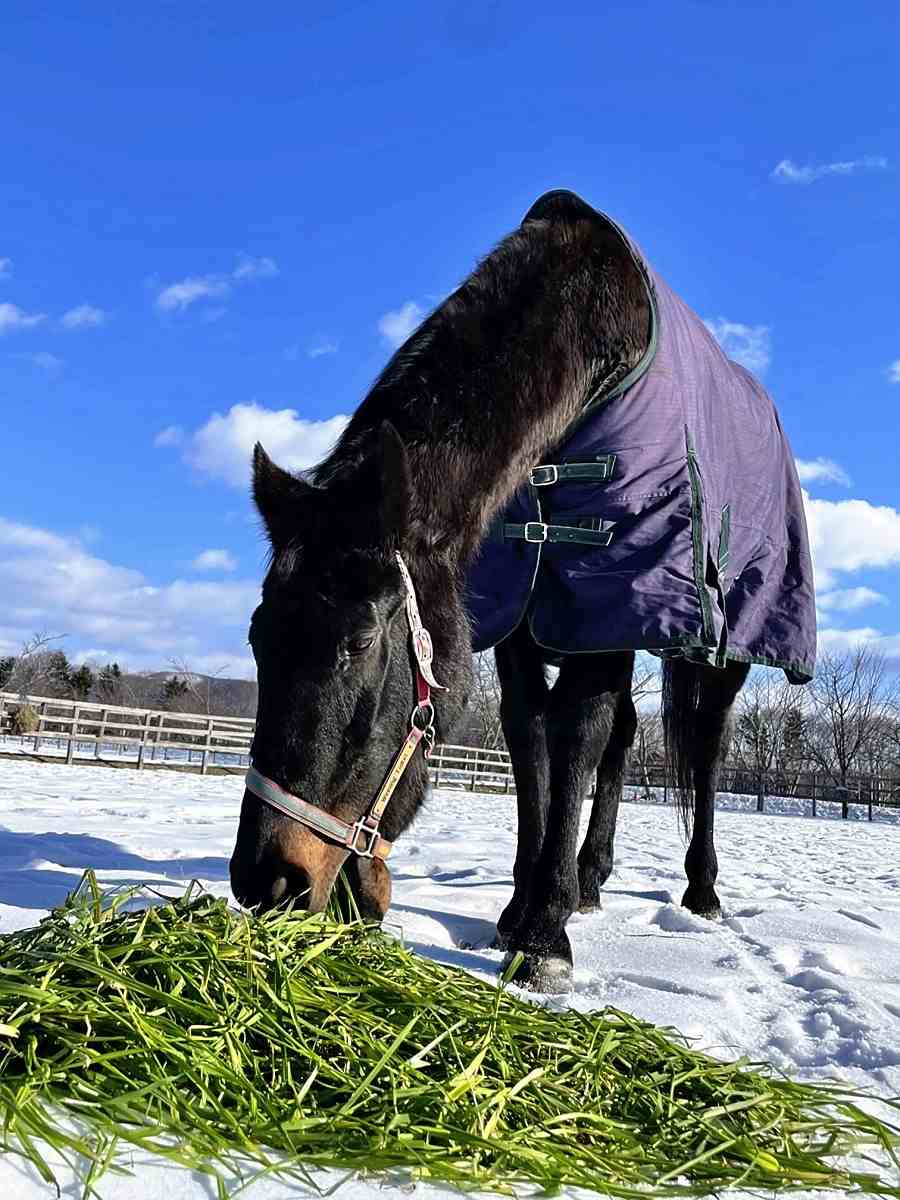 11:15 JST, March 19, 2023
An online service called "Nama Bokuso Bank," or "fresh fodder bank," has quickly gained popularity among horse racing fans hoping to give retired horses something good to eat.
The service is operated by Chuo Bokuso Center Corp., a Yotsukaido, Chiba Prefecture-based company that produces animal feed. Under the scheme, fans purchase fresh fodder online and have the company deliver it to their favorite horses.
More than 200 retired racehorses have been registered on the service, and over 2,000 people have registered themselves to be donors.
The service also helps to support ranches, which are having to grapple with the surging price of animal feed. "I hope the horses, ranches, horse racing fans — everybody will be happy," said a company representative.
According to the company, their fodder consists mainly of grasses and legumes. Compared to hay, the fresh stuff just after harvest makes for a special treat for herbivores.
However, fresh fodder cannot be kept for long and is costly. This makes it hard to regularly provide fresh feed to retired racehorses and other animals likewise living out their remaining days on ranches.
The company, which was established in 1975, has produced feed for racehorses competing at such venues as the Nakayama Racecourse in Funabashi, Chiba Prefecture.
Later, the company intensified production of near-naturally grown fodder. In 1990, the company labeled this offering "Nama Bokuso," and began retail sales.
The company cultivates various kinds of fodder at six production sites in and outside Chiba Prefecture, making it possible to provide year-round fresh grass, which is usually grown in summer.
In summer 2021 in the midst of the novel coronavirus crisis, imported animal feeds repeatedly shot up in price due in part to disruptions of maritime transportation. Ranch operators came to the company for help.
Initially, the company delivered fresh fodder free of charge, but it wasn't clear how long it could keep this up.
Joko Masuda, 43, senior managing director of the company, then drew inspiration from how owners of racehorses had purchased fresh fodder as gifts for their horses. In October last year, the company began its online service, from a desire to "assist both ranches and horses without burdening anybody."
Those wishing to donate first choose their favorite horses registered on the Nama Bokuso Bank website, and then purchase fresh fodder.
One box contains about five kilograms of fodder, serving as two meals for a horse and costing ¥6,000 with tax.
Donors can also choose to have a designated number of boxes delivered every month, or purchase a "bite-size" portion for ¥2,000.
When the company registers a new horse on the website, it confirms whether the operators of the horse's ranch are ready to accept fresh fodder. The company also adjusts the volume sent to avoid surpluses and burdening the ranches.
More and more horses are being registered on the site to meet the wishes of horse racing fans, according to the company.
A social media account for Yogibo Versailles Resort Farm in Hidaka, Hokkaido, features videos of famous, now retired racehorses devouring fresh green grass delivered through the service. The horses include Tanino Gimlet, who won a derby title in 2002.
Fresh fodder is also delivered to Urakawa Yushun Village Aeru, a tourist resort where visitors can take a ride on horseback, in Urakawa, Hokkaido.
Atsushi Ota, 37, manager of the resort, welcomed the scheme, saying, "It's unbelievable that we can provide fresh fodder in winter. It's a wonderful project."
"I hope lots of fans will use our service to deliver a box of good will to the horses," Masuda said.
Add TheJapanNews to your Google News feed.