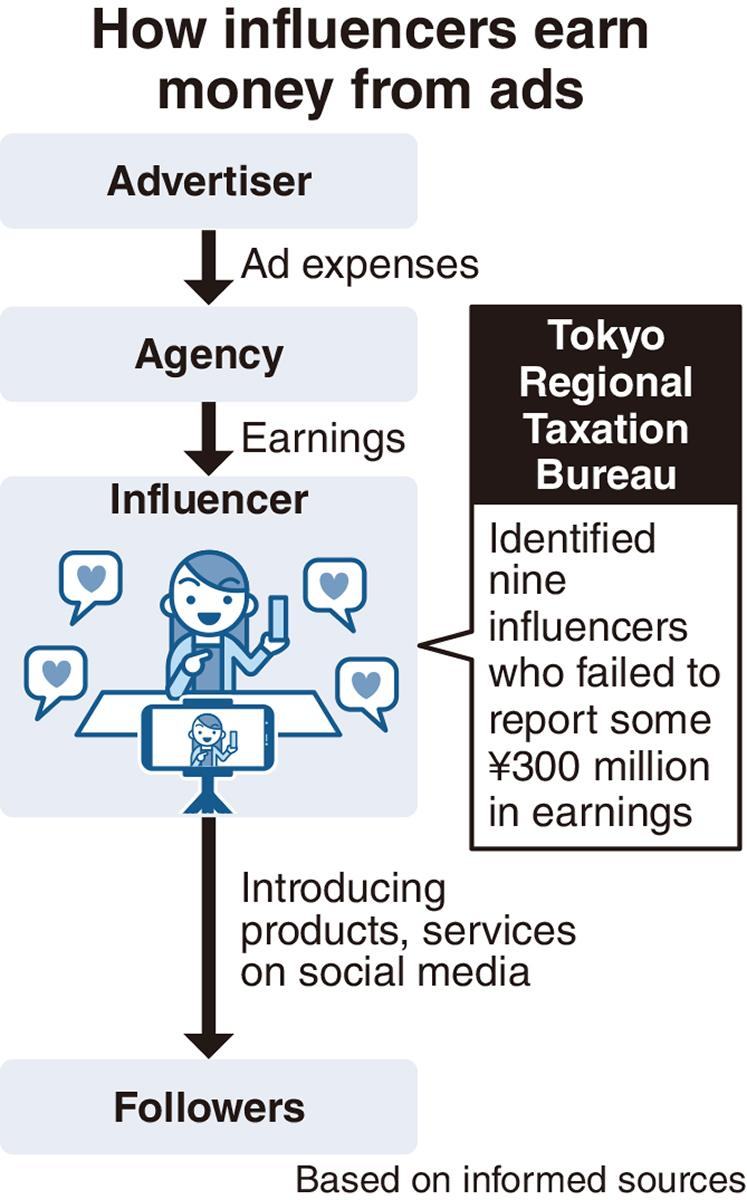 7:00 JST, March 9, 2023
Nine social media influencers have failed to report earnings totaling some ¥300 million over the six-year period through 2021, The Yomiuri Shimbun has learned.
According to sources familiar with the matter, the influencers earned large sums of money by introducing various products or services on their social media accounts, but did not fully report these earnings.
The nine investigated by the Tokyo Regional Taxation Bureau, all women, were ordered to pay amounts ranging from more than ¥1 million to about ¥30 million as back taxes for their unreported earnings. Their total back taxes are estimated to come to about ¥85 million.
The bar for being recognized as an influencer is said to be a minimum of 10,000 followers on social media. Influencers are known to have earned more than ¥1 million per post by advertising products. Previously, such advertisements mainly focused on cosmetics and food products. However, the range of ads has recently grown to include real estate and financial products.
According to the sources, the nine influencers have follower counts ranging from several thousand to hundreds of thousands on their Instagram, YouTube and other social media accounts.
Most of the women are in their 30s and live in Tokyo or a neighboring area. They tend to post photos of their daily lives with their families and friends, and are popular mainly among their own generation.
Agencies connected the women with advertisers, and they posted photos of themselves using cosmetics and facial care products on social media, promoting the advertised items with statements such as "This product was jointly developed by a doctor and a manufacturer" and "Give [the product] a try!"
Influencers reportedly make large profits from such sponsored content, with earnings varying based on an individual's follower count.
In its investigation of the women beginning in 2021, the regional taxation bureau found many cases where earnings were not fully declared or tax returns had not been filed for certain years. One of the women had disguised sales of information products made via social media as the income of an overseas shell corporation.
The Yomiuri Shimbun contacted some of the women for interviews, but received no response.
According to CyberBuzz, Inc., a Tokyo-based company specializing in social media marketing, the market is this year estimated to be worth ¥74.1 billion, more than double its value in 2020. Its worth is projected to grow to ¥130.2 billion by 2027.
Company employees sometimes work as influencers to earn money on the side, but those earning more than ¥200,000 per year outside their main job must file a tax return with their tax bureau. The National Tax Agency is stepping up its investigations and is calling on influencers to file appropriate tax returns through the agencies that connect them with advertising work.
Add TheJapanNews to your Google News feed.