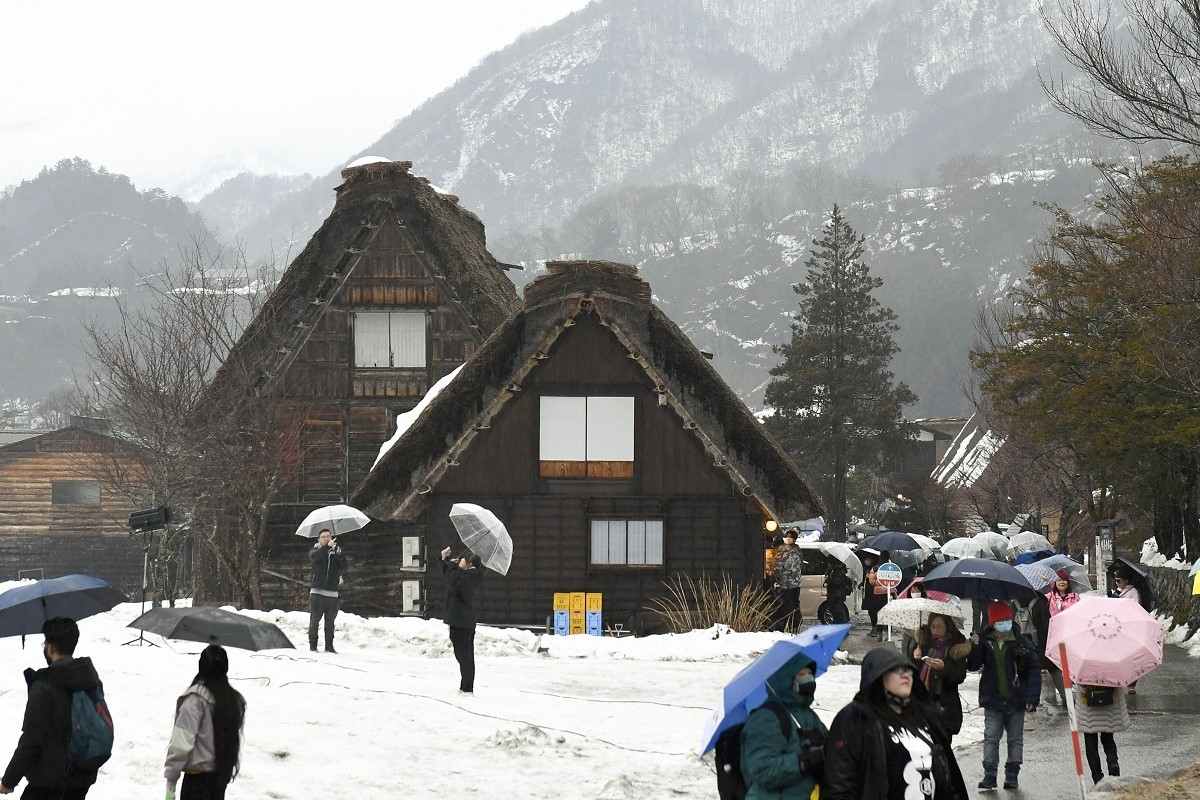 11:38 JST, March 7, 2023
Residents of Shirakawa-go in Shirakawa Village, Gifu Prefecture, are set to revise the community's half-century-old rules that prohibit leasing traditional houses in the World Heritage site, shifting toward accepting people from outside the site as tenants.
The rules have been in place to preserve the site's traditional appearance, which is closely tied to its gassho-zukuri style farmhouses. The threat of a dwindling population, however, has pushed more residents to be concerned about the future of the site and prompted them to change the policy. Applications will first be opened to those residing near the site and eventually be made available nationwide.
 Shirakawa-go was registered as a UNESCO World Heritage site in 1995. Currently, the village's Ogimachi district contains 59 gassho-zukuri houses, which feature large distinctive thatched roofs, and some are around 300 years old. About 300 such houses were believed to be in the village before World War II, but the number had dropped to about 130 by 1971.
Increasingly alarmed by the situation, the residents in the same year established an association for protecting the district's natural environment and buildings, and compiled a residents' charter based on the three principles of "not selling, not leasing and not demolishing gassho-zukuri houses." Since then, local residents have continued to protect the houses with the help of community ties and relatives.
However, more than 30% of the roughly 500 people living in the district are now 65 years old or older. The village's population peaked in 1960 and has since decreased by 80% to about 1,500.
Of the roughly 110 households that responded to a 2020 resident survey, 30% said they were anxious about having to keep up their houses. One homeowner even said they would not do anything for their house if it fell into disrepair after they left the village.
Under such circumstances, it is becoming increasingly difficult for locals to maintain patrols to prevent fires — a major problem with gassho-zukuri houses.
"If we don't take measures now, we won't be able to preserve the houses for future generations," said Shinji Nodani, 46, who heads the local association.
To improve the situation, the association has decided for the first time to ease one of the three principles and allow the leasing of properties to third parties.
As for new tenants, it is considering giving priority first to people originally from the district and then to villagers living in the district's vicinity, before taking on people outside the village. It will begin surveying the district's residents for their opinions to devise new rules.
To avoid situations where newcomers neglect their house's upkeep or get into trouble with locals, the association is also considering imposing conditions on them, such as that they be able to maintain the gassho-zukuri houses and that they take initiative in planning local events.
"We want to establish rules that both residents and newcomers are happy with," said Nodani.
The Gokayama district in Nanto, Toyama Prefecture — a World Heritage site also known for gassho-zukuri style houses — decided to accept new residents in 2012, and the following year, families with children moved to the district from outside the prefecture.
With more young people coming in, there have been more cases of people originally from the district returning, and more new arrivals are planned for this spring.
Maiko Fukuda, 41, was allowed to move from Chiba City into Shirakawa-go's Ogimachi district seven years ago after working as a member of the Local Vitalization Cooperator, a government-sponsored scheme. "Residents here need to help one another with things like shoveling snow," said Fukuda. "Newcomers are required to show their willingness to integrate into the community."
Add TheJapanNews to your Google News feed.